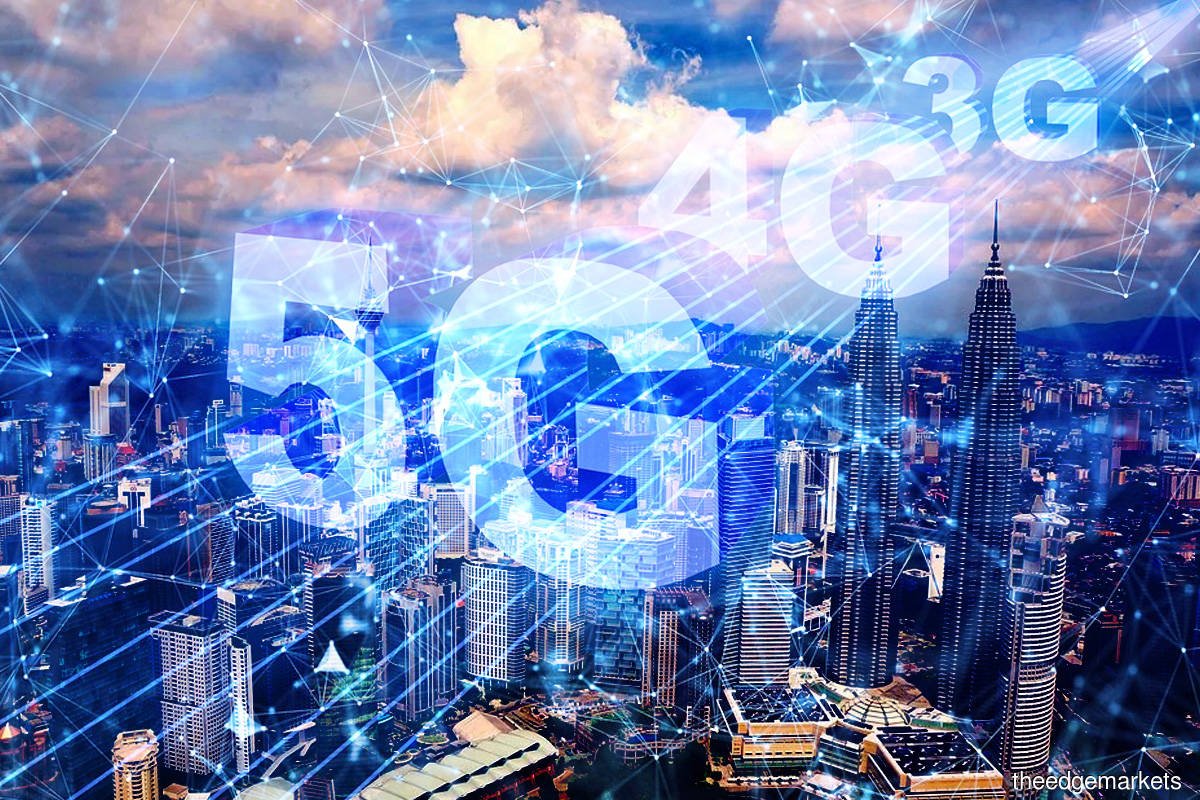 KUALA LUMPUR (Sept 7): Analysts have maintained their "neutral" rating of the telecommunications (telco) sector, as they believe the market has already priced in a 5G model that is less favourable to telco operators. 
However, some pointed to the emergence of the single wholesale network (SWN) model for 5G deployment, which could lead to margin dilution. 
Kenanga Research said that improved nationwide 4G coverage under the Jendela initiative and the 5G roll-out will take the role of telecommunications to a whole new level, and lay the foundation for long-term growth of the industry.
"The just concluded 2QCY22 results season (for the second quarter ended June 30, 2022) saw all stocks under our telco universe meeting expectations, which was unchanged from the previous reporting season. Broadly, all the telcos saw improvement in subscription, both locally and regionally. Their blended ARPU (average revenue per user) rebounded after having come under tremendous pressure in quarters prior. 
"These trends look likely to sustain into 2HCY22 (the second half ending Dec 31, 2022), as economies reopen and the pandemic moves towards an end," said Kenanga in a note on Wednesday (Sept 7). 
CGS-CIMB, meanwhile, believes greater clarity of the 5G situation may emerge in September, given recent comments from the communications and multimedia minister.
"[Thus], we keep an 'overweight' rating of the Malaysian telco sector, as we think the potential earnings hit from 5G wholesale fees has already been factored into telcos' share prices, which are down by an average of 19% year-to-date. 
"Greater clarity of the 5G situation could be a rerating catalyst, in our view. Even if telcos were to sign-up on DNB's (Digital Nasional Bhd) current wholesale terms, it would still help to provide certainty and dispel fears over potentially even worse-case scenarios, while more favourable outcomes could lead to a more significant upside, in our view," the research house said in a note on Monday.
MIDF Research, which maintained its "neutral" rating of the sector, said the completion of DNB's stake offerings will most likely help reduce ambiguity over 5G deployment. 
But it said mobile network operators must continue to create attractive value-added service offerings to maintain their respective market share, due to the emergence of the SWN model for 5G deployment. 
"Since the model may cause profit margin dilution, having an efficient cost management plan in place is critical to defending profit margins," said MIDF. 
Top picks 
Kenanga named Axiata Group Bhd, Digi.Com Bhd and Telekom Malaysia Bhd (TM) as its top picks with "outperform" calls. 
The target price (TP) for Axiata was raised to RM3.65 (from RM3.45), after the research house rationalised the valuation basis to enterprise value/earnings before interest, tax, depreciation and amortisation (EV/Ebitda) for Axiata's operating businesses, while Digi's TP was raised to RM4.25 (from RM3.70), after Kenanga switched to valuing the soon-to-be-merged Celcom-Digi entity. 
Meanwhile, TM's TP was raised to RM7.75 (from RM6.70), after Kenanga rationalised its valuation base to seven times EV/Ebitda for the financial year ending Dec 31, 2023. 
The top pick of both CGS-CIMB and MIDF is TM, because it is the nation's largest fixed-line provider and offers numerous business opportunities under the MyDigital initiatives. CGS-CIMB has an "add" rating with a TP of RM7.30, while MIDF has a "buy" rating with a TP of RM6.91. 
Axiata was down one sen or 0.34% to RM2.91 as at the time of writing on Wednesday, giving it a market capitalisation of RM26.71 billion. Digi slipped 0.28% to RM3.58, with a market value of RM27.83 billion, while TM declined 0.17% to RM5.79, valuing it at RM21.93 billion. 
Last Friday, the Government asked the remaining four mobile operators in the deal (Celcom, Digi, Yes and TM) to increase their stakes in DNB, following the withdrawal of Maxis Bhd and U Mobile Sdn Bhd. 
Finance Minister Tengku Datuk Seri Zafrul Tengku Abdul Aziz said talks were still ongoing. He hoped to conclude the exercise in two weeks, adding that the merged Celcom-Digi entity would only be allowed to hold a maximum 25% stake in DNB.