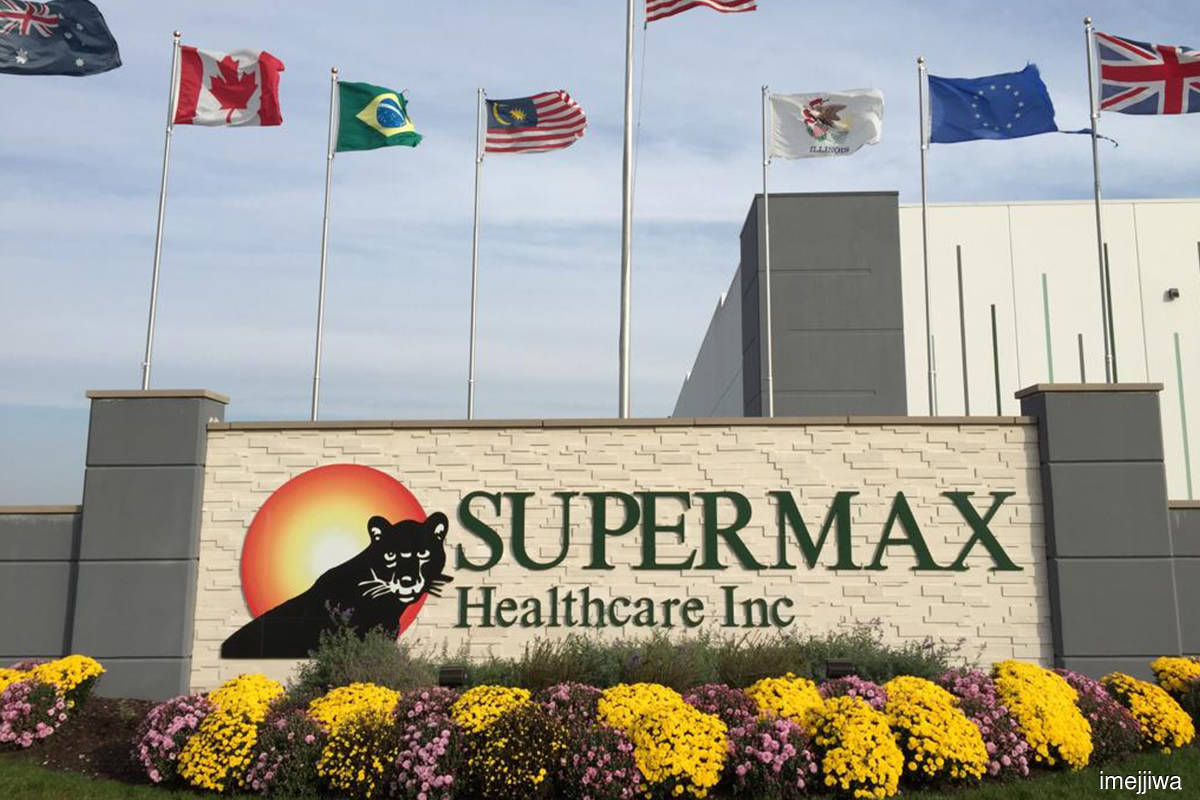 KUALA LUMPUR (Oct 22): Analysts on Friday (Oct 22) cut their earnings forecasts for Supermax Corp Bhd after the US Customs and Border Protection (CBP) said it will detain imports of disposable gloves produced by the group on forced labour allegations.
"We have cut our earnings forecasts for Supermax for FY22 (the financial year ending June 30, 2022) to FY24 by 22% to 54% as we believe that it would take at least a year for Supermax to resolve the issue with the CBP and given the likely pressure on its average selling prices (ASPs) due to its significant exposure to the US market," said Affin Hwang Investment Bank in a note.
As a result, it cut its target price (TP) for Supermax to RM1.70 based on an unchanged 5.5 times 2022 price-earnings ratio (PER), and downgraded the stock to "sell" from "hold".
According to the research house, the ban would no doubt have an impact on Supermax's profitability as around 20% of Supermax's sales come from the US market.
It also opined that Supermax will need to lower its ASPs in other markets to fill the void.
MIDF Research also in a note revised down its earnings estimates for Supermax for FY22 by 26.9% and FY23 by 11.1% as 51% of its revenue is derived from the US market.
The research house also revised down its TP to RM1.67 for Supermax, from RM2.72, and downgraded the stock to "trading sell" from "neutral".
"Just like its top peer (Top Glove Corp Bhd), with the immediate ban in effect, we can expect Supermax to start distributing in-stock rubber gloves meant for US exports to other continents," it said.
With already-high competition in other continents, it said, the utilisation rate of Supermax's production might decrease in preparation for customers being careful with purchases in the view of declining ASPs.
"The decrease in the utilisation rate has been factored into our earnings estimates since we assume that ASPs will remain above pre-pandemic levels given potential higher social compliance costs," it said.
Meanwhile, CGS-CIMB Research maintained its "hold" rating of Supermax at RM2.05 with a lower TP of RM2.16, from RM3.20 previously, and said the latest development is negative for Supermax as 40% to 50% of its FY21 sales volume came from the US market.
"Hence, Supermax would now need to sell its gloves in other markets, which may have lower ASPs, until the CBP matter is resolved.
"We reiterate 'hold', with a lower TP of RM2.16 (12.8 times calendar year 2023 PER)," it said.
At 10.25am on Friday, Supermax had shed 0.98% or two sen to RM2.03, valuing it at RM5.52 billion.
Read also:
US Customs issues seize order on Supermax products on forced labour finding
US import ban expected to have significant impact on Supermax's earnings, say analysts