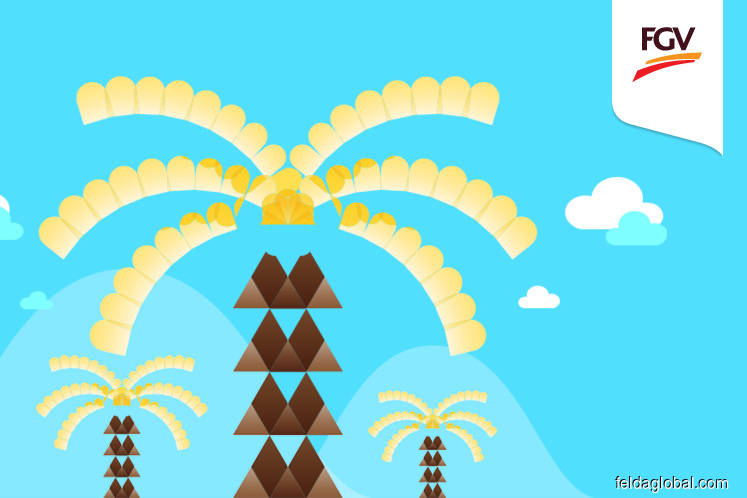 KUALA LUMPUR (Sept 4): Analysts remained cautious on FGV Holdings Bhd, despite the group announcing its "Immediate Turnaround Plan" in an analyst briefing yesterday to improve productivity and financial performance for its financial year 2018. 
TA Securities Research maintained its Sell call on the stock, as it revised downward the target price for FGV to RM1.50, previously RM1.68, to reflect its greater earnings risk and potential impairments, going forward. 
"More importantly, we do not see any rerating catalysts in the near term that could incentivise a rally," TA Securities analyst Angeline Chin wrote in a note today. 
She said she was impressed by the turnaround plan, but observed that the plan will confront a lot of obstacles and challenges, not only from operations but also at the management level as well.
Chin said the management highlighted there is still a lot of room for improvement of its core businesses, especially in the plantation segment. 
"The immediate plan is to improve FFB (fresh fruit bunches) yields and OER (oil extraction rate)," she noted. 
The management set the target of FFB production for FY18 and FY19 to be at 4.65 million tonnes and 5.6 million tonnes respectively, while FFB yield is expected to improve from 15.4 tonne/ha in FY17 to 17 tonne/ha in FY18 and improve further to 20 tonne/ha in FY19. 
Meanwhile, Chin said management expects crude palm oil (CPO) production cost to reduce from RM1,811/tonne in 1HFY18 to average at RM1,600/tonne for FY18 and FY19.
However, FFB production for the first seven months of FY18 increased by merely 1.9%, he noted. 
"Thus, we believe that the management's growth targets are probably a bit too optimistic. In our forecast, we are more conservative and expect the FFB production to be lower than management's estimates at 4.4 million tonnes (+4.2%) for FY18 and 4.9 million tonnes (+11.8%) for FY19. We also maintain our production cost assumption at RM1,745/tonne," she said. 
Meanwhile, MIDF Research maintained its Neutral call on the stock, with an unchanged target price of RM1.54. 
"Despite the weak earnings prospect, the share price is trading at below Book Value of RM1.54, hence suggesting limited downside," its analyst Alan Lim wrote in a note today. 
Lim said he returned from the analyst briefing yesterday, feeling neutral on the company's near term prospect, due to low CPO price and the fact that its turnaround strategy may take time to see results.
"We maintain our assumption of core net loss of RM72.7 million for FY18. Things should improve in FY19, with expected FFB volume recovery," Lim said.