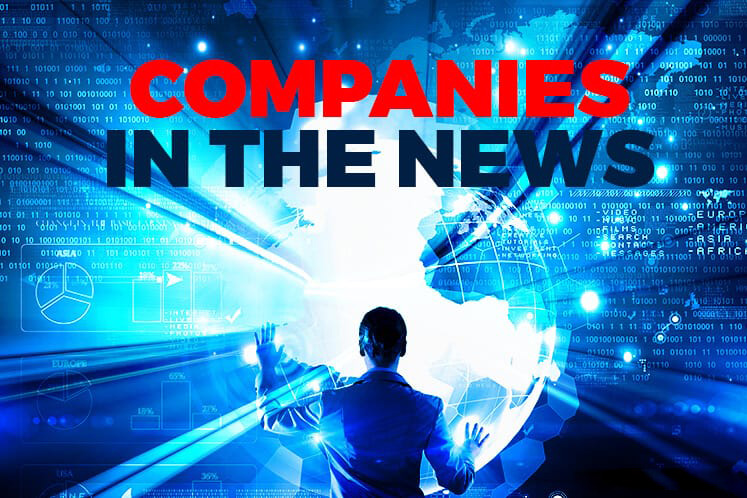 KUALA LUMPUR (Jan 30): Based on corporate announcements and news flow today, stocks in focus on Friday (Feb 2) may include: AmProp, AppAsia, Ecofirst, Genetec, Ikhmas Jaya, MBSB, Mudajaya, Perstima, Pintaras, Salcon, SunCon and WZ Satu.
Amcorp Properties Bhd's joint-venture unit with Grosvenor Europe Investments Ltd has acquired a residential development project in the Chamberi district of Madrid, Spain.
The JV — in which Amcorp increased its capital commitment to €50 million from €35 million this month — will develop 15 exclusive apartments and two penthouses in a seven-storey building in consultation with architectural firm Cano Y Escario.
The Malaysian Institute of Accountants (MIA) has appointed AppAsia Bhd's unit as the service provider for the development of a platform to facilitate the audit company's bank accounts confirmation process.
The contract sum and period for the platform — dubbed Electronic Bank Confirmation Platform — was not disclosed. However AppAsia said that it will fund the contract through internal funds and/or external borrowings, and that the contract will contribute to its books throughout its duration.
Ecofirst Consolidated Bhd's net profit for the quarter ended Nov 30, 2017 (2QFY18) rose over five-fold to RM27.52 million from RM5.23 million a year ago, thanks to higher contribution from its property development division, and a land sale worth RM28.4 million.
Quarterly revenue more than tripled to RM40.43 million from RM12.07 million previously, mainly from two property development projects — Liberty @Ampang Ukay and Upper East @Tiger Lane, Ipoh.
For its half-year period ended Nov 30 (1HFY18), Ecofirst saw net profit rise almost five-fold to RM31.12 million, from RM6.56 million in 1HFY17, while revenue nearly tripled to RM85.22 million from RM29.61 million.
Genetec Technology Bhd plans to set up a consortium with China Rainbow International Investment Co Ltd (CRIIC) and India-based VBC Fertilisers & Chemicals Ltd (VBC) to develop an ammonia and urea manufacturing plant with annual capacity of 2.5 million tonnes in India.
The three companies inked a Memorandum of Understanding (MoU) with the Malay Chamber of Commerce Malaysia (MCCM). Under the MoU, Genetec will facilitate CRIIC's participation in the project, which will provide funding totalling 30% of the project costs.
Ikhmas Jaya Group Bhd has bagged two contracts worth RM38.5 million to undertake subcontract bored piling works under the light rail transit line 3 (LRT3) project.
Its wholly-owned subsidiary Ikhmas Jaya Sdn Bhd has accepted the letters of award from Mudajaya Corp Bhd to undertake subcontract bored piling works in Zone 2 and 3 for Package GS01 — comprising works for guideway, stations, 'park and ride', ancillary buildings and other associated works for the project delivery partner MRCB George Kent Sdn Bhd.
Malaysian Building Society Bhd (MBSB) announced a single-tier final dividend of five sen per share for the financial year ended Dec 31, 2017 (FY17), after its net profit almost tripled in the fourth quarter ended Dec 31 (4QFY17) to RM123.98 million from RM45.64 million in 4QFY16.
The higher net profit was helped by lower cost of funds and lower allowances for impairment losses, as its kitchen-sinking exercise first initiated in 4QFY14 comes to an end. This came despite revenue coming in slightly lower at RM818.27 million, versus RM819.4 million a year earlier.
For the full-year period, net profit more than doubled to RM417.13 million from RM201.41 million, while cumulative revenue retreated slightly to RM3.26 billion from RM3.27 billion.
Mudajaya Group Bhd's wholly-owned unit has issued Green Sustainable and Responsible investment (Green SRI) Sukuk Wakalah worth RM245 million to fund its proposed 49MW solar photovoltaic (PV) plant in Kuala Kangsar, Perak.
The sukuk — rated AA-IS  by Malaysian Rating Corp Bhd — has a tenure of up to 18 years from the issue date, with coupon rates between 4.96% and 6.35%, payable semi-annually.
Perusahaan Sadur Timah Malaysia Bhd (Perstima) saw its profit fall 76% in its third quarter ended Dec 31, 2017 (3QFY18) to RM3.4 million from RM14.16 million a year ago, no thanks to lower profit margins and sales volume.
Quarterly revenue, however, was up 0.4% to RM233.89 million from RM233.04 million, as higher average selling price made up for the lower sales volume.
Pintaras Jaya Bhd has been awarded a contract worth RM68.5 million by Bina Puri Development Sdn Bhd for works related to a mixed development in Brickfields, Kuala Lumpur.
The job scope entails piling and substructure works for a proposed development comprising 54 levels of office suites, two blocks of 63 levels of service apartments, food court, commercial lots and car parks.
In the nine months ended Dec 31, 2017 (9MFY18), Perstima's net profit slumped by 75.1% to RM9.75 million from RM39.2 million in 9MFY17, though revenue rose 15.94% to RM705.73 million from RM608.69 million.
Salcon Bhd's indirect 60%-owned unit has secured a RM18.95 million contract from China State Construction Engineering (M) Sdn Bhd (CSCE) for a 20-month work order under a mixed development on Jalan Segambut.
The project involves the construction of two blocks of service apartments, related facilities, one guard house, and one unit of electrical substation. Salcon said it will contribute to the company's books in its financial years ending Dec 31, 2018 (FY18) and FY19.
Sunway Construction Group Bhd (SunCon) is forming a 49:51 joint venture (JV) with Singapore-listed Hong Leong Asia Ltd to jointly tender for the lease of a piece of land in Singapore from Singapore's Building and Construction Authority (BCA).
If successful, the two companies plan to develop the land for the manufacture and sale of precast concrete building components. SunCon said it will also benefit from the proposed JV in the long run through productivity improvement and reduced reliance on foreign workers, but did not elaborate.
WZ Satu Bhd's net profit in the quarter ended Nov 30, 2017 (1QFY18) slumped 94% to RM497,000 from RM8.5 million a year ago, dragged by weaker results in the mining and civil engineering and construction segments, and losses incurred by its associates.
This is despite revenue rising 6% to RM138.16 million against RM130.17 million, helped by higher topline contribution from its oil and gas (O&G) division, but which was largely offset by lower revenue from other subsidiaries.