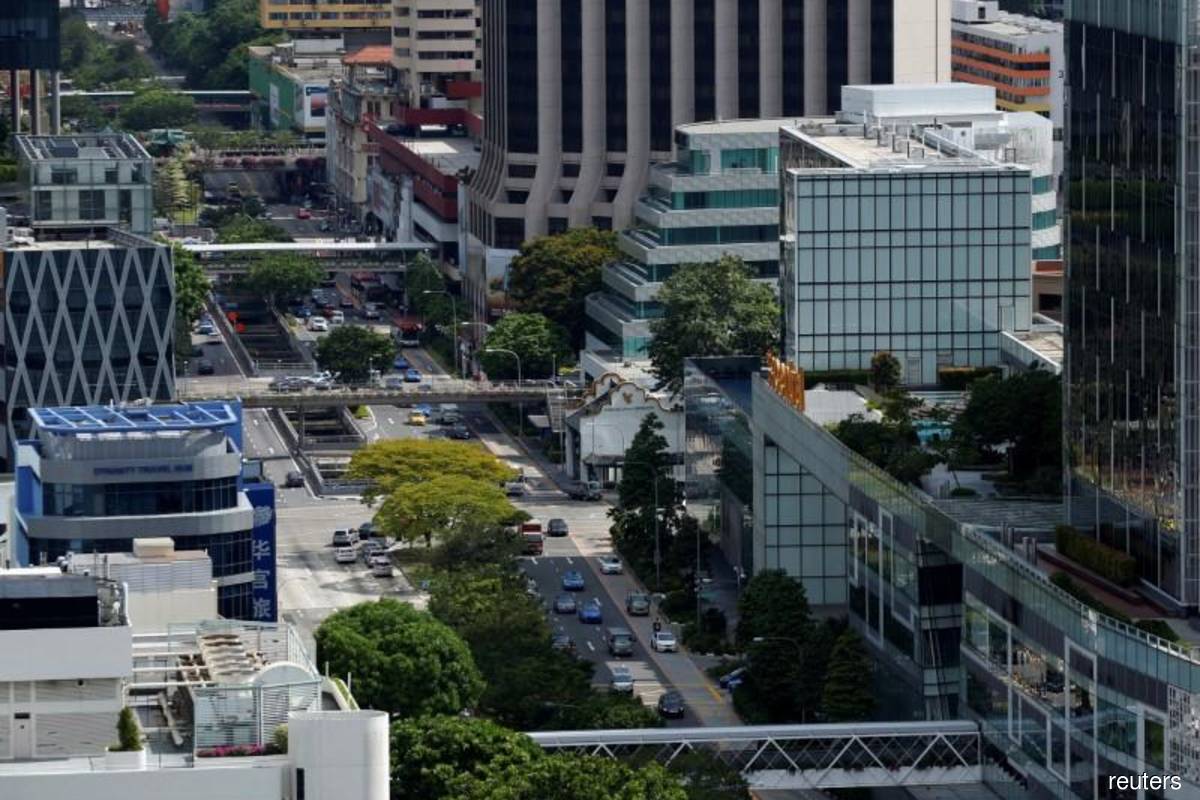 SINGAPORE (July 29): Ample liquidity amid a low-interest environment continued to support investments in the commercial sector and spur residential activity late in the second quarter of 2020 (2Q20) despite an overall subdued real estate market.
In its Real Estate Times Singapore 2Q20 report, Edmund Tie noted that investment sales in the quarter current review plummeted 53.5% from the previous quarter to S$1.9 billion (RM5.87 billion), having dropped from nearly SS$4 billion, as investors adopted a wait-and-see stance in addition to a lack of significant land tenders under the Government Land Sales programme.
The office market saw a relatively better performance with transactions valued at S$1.3 billion during the quarter — an increase of 68.9% from the previous quarter. The sale of 30% and 50% stakes in TripleOne Somerset and AXA Tower — amounting to S$155.1 million and S$840 milion — respectively will lead to Hong Kong- and Macau-based Shun Tak Holdings holding a 100% stake in the former building, while China-based Alibaba Group will own a 50% stake in AXA Tower. 
Meanwhile, Saudi Arabia-based Olayan Capital has also acquired the retail podium and three office floors of 30 Raffles Place for S$315 milion.
Edmund Tie executive director of investment advisory Swee Shou Fern noted that these substantial foreign investments indicate sustained investor confidence in Singapore's economy and real estate to weather shocks and eventually rebound.
As Singapore has long established itself as a gateway city and safe haven in Southeast Asia, Edmund Tie chief executive officer (CEO) Ong Choon Fah said that this position had become important considerations for capital seeking to hedge against devaluation and geopolitical uncertainties elsewhere.
"Notwithstanding the current pandemic and the fallout it has caused, investors still have access to ample liquidity amid a low-interest environment, so real estate with good site and locational attributes in land-scarce Singapore will continue to attract investors seeking stable assets that will maintain their value well over the long term."
Nevertheless, occupancy rates and rents in the office sector have been exerted due to various factors, such as economic contraction and telecommuting. Edmund Tie estimated that occupancy rates of office developments island-wide contracted by 0.8% quarter-on-quarter (q-o-q) to 92.8% in 2Q20, while rental rates across all locations slipped between 0.4% and 2%. The Shenton Way/Robinson Road/Tanjong Pagar subzone bore the brunt of rental contraction.
The industrial and retail sectors were among the hardest hit by the pandemic and the subsequent implementation of the circuit breaker, disruption to global production and supply chains, social distancing requirements, plummeting visitor arrivals and residents spending more time at home.
Demand for warehouse spaces in the quarter under review remained resilient. However, as e-commerce gains traction among consumers and businesses continue to stockpile groceries and other essentials, this sub-sector is expected to expand in the months to come.
According to Urban Redevelopment Authority statistics, private home prices in 2Q20 registered a slight q-o-q growth of 0.3% after a decline of 1% in the preceding quarter.
Housing loans continued to grow for the third consecutive quarter by 49.2% year-on-year (y-o-y) in 1Q20 amid a low-interest environment, suggesting robust underlying demand for homes. As show flats and sales galleries reopened in June, transaction volume doubled from May's 486 units to hit 998 transactions.
Edmund Tie executive director of residential sales Margaret Thean noted that as physical viewings by appointment and interactions are now able to take place, the firm expects pent-up demand, supported by supply coming on stream in the second half of 2020 (2H20), to catalyse buying activity.
"While it may be premature to expect activity to bounce back to pre-Covid levels, developments that are well located, attractively priced and possessing strong project attributes will continue to attract buyers," she added.