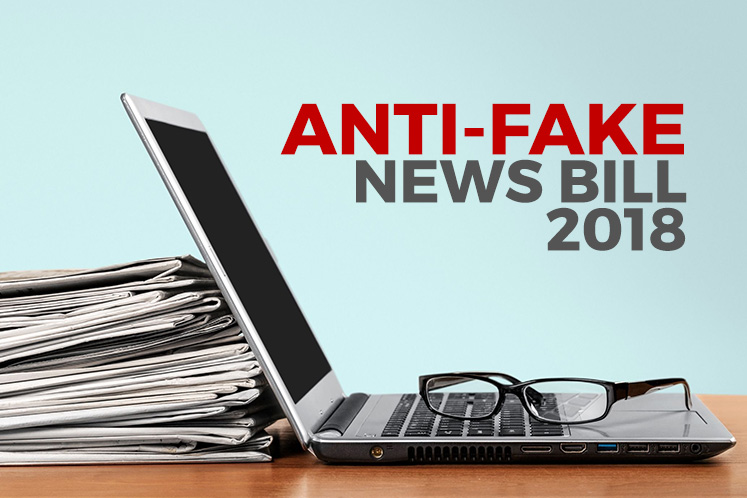 KUALA LUMPUR (March 28): Amnesty International has joined the chorus of outrage against the Anti-Fake News Bill that was tabled just ahead of the country's 14th general election, calling the proposed law an "assault on freedom of expression in Malaysia", and urged the Malaysian government to withdraw it immediately.
"The Bill appears to be designed so as to open opportunities for the government to crack down on journalists, human right defenders and government critics, in order to further protect it from peaceful criticism," the human rights watchdog said in a statement today.
It added that the proposed law could be used to intimidate and punish those expressing views on alternative media and online portals, including Whatsapp group administrators, and Facebook users.
"In addition, the Bill seeks to prosecute individuals regardless of their nationality, citizenship or location at the time of the offence as long as the 'fake news' concerns Malaysia or if the person affected is a Malaysian citizen," Amnesty International said.
"As such, it is a clear attempt to control the behaviour of Malaysians living abroad, including those who may have left because of the inability to exercise their right to freedom of expression inside Malaysia," the group said.
Amnesty International also lambasts the Bill for combining vague and broad definitions of 'fake news' with severe punishments and arbitrary arrest powers for the police. "The Bill's definition of 'fake news' could easily include honest or marginal mistakes, as well as statements that may be a matter of opinion," it highlighted.
In addition, it said the Bill defines all offences as seizable offences, which allows police to arrest persons suspected of such acts without a warrant, the group said.
The proposed law would not protect individuals' reputations or prohibit hate speech but rather "shield the government from peaceful criticism," it argued.
If the Bill isn't withdrawn, the organization urges Parliament to vote against it in order to safeguard freedom of expression and prevent the entry of another restrictive law into the country.
The watchdog also opined that since the Barisan Nasional coalition government lost the popular vote in 2013, the ruling party has used a wide range of laws to silence peaceful government critics, including the Sedition Act 1948, the Communications and Multimedia Act 1998, the Peaceful Assembly Act 2012, and the Security Offences and Special Measures Act 2012.
"All these laws have overbroad, vague definitions of offences which can be and are exploited to stifle peaceful dissent," it added.