This article first appeared in The Edge Malaysia Weekly, on January 7, 2019 - January 13, 2019.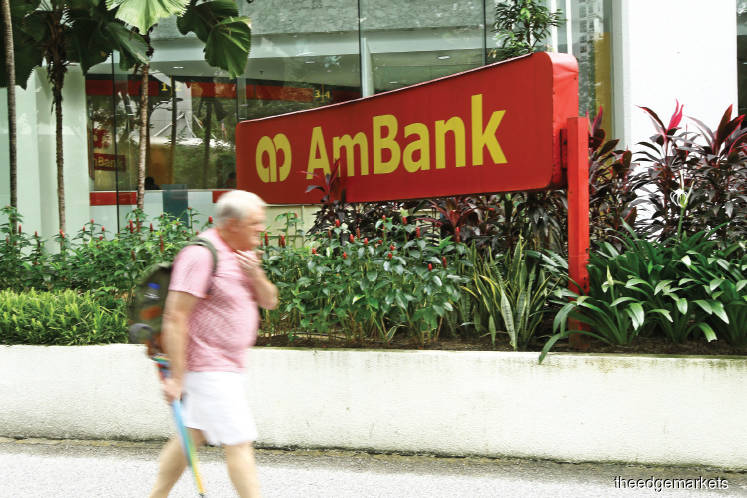 AMMB says Aiqon Capital had submitted 'the best and highest bid' in a competitive, multi-party sale process. Photo by Haris Hassan/The Edge
AMMB Holdings Bhd's sale of non-performing loans (NPLs) to Aiqon Capital Group Sdn Bhd for an estimated RM553.91 million is an arm's length transaction, says Ibrahim Hussain, the controlling shareholder of Aiqon Capital.
The proposed sale, announced by AMMB last Thursday, is a related-party transaction (RPT) as Ibrahim is the son-in-law of the banking group's substantial shareholder, Tan Sri Azman Hashim. Azman owns a 12.97% stake in AMMB.
It is not uncommon for banks to occasionally sell NPLs to third parties as it enables them to focus on growing their business rather than managing distressed assets, but AMMB's NPL sale — its first since 2007 — set tongues wagging in the industry because of the RPT factor.
According to Ibrahim, Aiqon Capital clinched the deal through an open bidding process.
"It was an e-bidding process. There were a number of other parties [who bid], but we were not privy [to the details]. It was done in an open, transparent manner. KPMG [the financial adviser to AMMB] managed the whole process, and they picked us," he says when contacted by The Edge.
He also clarified that Azman has no direct or indirect shareholding in Aiqon Capital.
"Certainly, it was an arm's length deal by every standard. Obviously, there is a relationship with one of the directors [Azman], but the test of RPTs should really be, are we qualified, are we capable, do we have the track record, is the process done in a very fair manner that everybody is given due chance to see all the data, all the information? I think, in this case, it was done very professionally, in an open and transparent manner," he says.
Aiqon Capital, in which Ibrahim holds a 49% stake, is owned by two shareholders — Zetovest Sdn Bhd (50%) and Kurnia Quantum. Ibrahim is the controlling shareholder of Zetovest.
AMMB, in a response late Friday to queries from The Edge, says Aiqon Capital had submitted "the best and highest bid" in a competitive, multi-party sale process that commenced in November 2017. Both foreign and local investors had submitted several rounds of bidding for the NPLs.
It says the transaction with Aiqon Capital is being undertaken "on an arm's length basis, is in the best interest, is fair and reasonable and not detrimental to the interest" of the AMMB group.
In 2007, AMMB undertook its first-ever NPL sale to a third party. This latest transaction with Aiqon Capital, however, is the first time it is selling NPLs to a related third party.
"Aiqon Capital's bid underwent a stringent and robust review process by the independent and non-interested directors of the [AMMB] group at both audit committee and board levels. They decided to accept Aiqon Capital's bid based on the advice of the banking group's financial adviser (KPMG) and independent adviser (Ferrier Hodgson)," AMMB says.
Aiqon Capital, previously known as Beukhen International Sdn Bhd, has over 20 years of experience in the distressed asset management business. To date, it has acquired over RM43 billion in face value of NPLs in Malaysia, Singapore, the Philippines, Thailand, Australia and Spain.
In Malaysia, it has bought NPLs from Standard Chartered Bank Bhd, Alliance Bank Bhd and AEON Credit Service (M) Bhd.
Face value of the NPLs
According to sources, the RM553.91 million selling price is 10% of the face value of the NPLs, which would mean they amounted to about RM6 billion. Aiqon Capital would only need to recover 20% to 30% of the NPLs to make money, the sources say.
AMMB declined to comment on the actual amount of the NPLs sold.
"We would like to highlight that the [NPL] portfolio comprises accounts that are of a long vintage and the valuation of the portfolio falls within the range as provided by the financial adviser and supported by the independent adviser. Hence, the total loan amount is notional in respect of the portfolio and the valuation range of RM450 million to RM570 million is key," it tells The Edge.
The final selling price will be adjusted for any collection/receipts netted against the relevant costs up to the completion date of the transaction.
Out of the selling price of RM553.91 million, RM428.11 million is for NPLs at AmBank (M) Bhd while RM125.8 million is for those at AmBank Islamic Bhd. Aiqon Capital set up two special purpose vehicles — Aiqon Amanah and Aiqon Islamic — to purchase and manage the NPL portfolios of the respective banks.
Bank Negara Malaysia has given its green light for the proposal, which is part of the debt recovery strategy to strengthen both AmBank's and AmBank Islamic's financing management and to monetise the portfolios.
The portfolios comprise 537,068 accounts in the retail banking space. The borrowers include individuals and corporations who had undertaken industrial hire purchase, small and medium industry loans, auto financing, mortgage, personal loan or financing under cooperatives, and credit cards.
As these NPLs have been fully written off in AMMB's books, there will be no writeback of provisions. It will also not alter the group's impaired loans ratio, which stood at 1.7% as at end-September 2018.
The deal requires the High Court's approval, and the sale is expected to be completed by March 31 this year.
Meanwhile, analysts say the disposal will be positive for AMMB.
"We see the proposal as a surprise as it was not previously guided by AMMB. It would be positive for the group due to the potential gains, which could enhance its net profit in the year ending March 31, 2019," says CIMB Research.
It will also help AMMB exceed its targeted ROE of 8.5% for FY2019, other analysts say.
AMMB has said the proceeds from the disposal will be used for working capital purposes within a year of the expected completion date.
In 2007, AMMB sold corporate and retail NPLs to third parties ABS Enterprise One Bhd, Neptune ABS One Bhd and Neptune ABS Two Bhd — all SPVs — for RM328.5 million.
In the same year, Malayan Banking Bhd completed a landmark sale of NPLs for RM428.8 million, which was the first ever in Malaysia by competitive open auction. CIMB Group Holdings Bhd too has sold NPLs over the years to an SPV that is wholly owned by it.
Save by subscribing to us for your print and/or digital copy.
P/S: The Edge is also available on Apple's AppStore and Androids' Google Play.