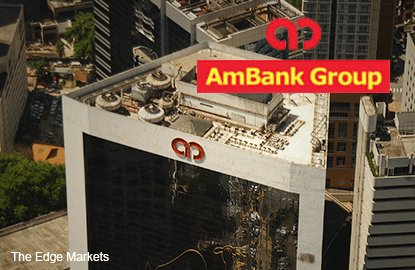 KUALA LUMPUR (Feb 26): AMMB Holdings Bhd's net profit dropped 27.96% to RM300.15 million for the third quarter ended Dec 31, 2015 (3QFY16), against RM416.65 million a year ago, on lower income reported from other operating income, net interest income, net income from insurance business and net income from Islamic banking business.
Revenue for the quarter also narrowed marginally to RM2.12 billion compared to RM2.13 billion in 3QFY15, a filing to Bursa Malaysia showed.
Earnings per share for the quarter dropped to 9.99 sen from 13.86 sen in the previous year.
For the nine months ended Dec 31 (9MFY16), net profit came in 26.96% lower at RM1.02 billion against RM1.4 billion a year ago.
Similarly, revenue for 9MFY16 decreased 9.25% to RM6.31 billion against RM6.92 billion in 9MFY15.
According to the filing to Bursa Malaysia today, AMMB said net interest income for the quarter declined 4.63% to RM1.03 billion from RM1.08 billion a year ago.
AMMB said the reduction in earnings for the quarter was mainly due to lower income reported from other operating income, net interest income, net income from insurance business and net income from Islamic banking business by RM485.3 million, RM259.7 million, RM36.4 million and RM24.6 million respectively.
Besides, share in results of associates and joint ventures reported a loss of RM1.3 million for current quarter as compared to profit of RM13.8 million in the previous corresponding period.
"This was cushioned by writeback on impairment on loans, advances and financing, writeback on acquisition and business efficiency expenses, writeback on impairment on financial investments and higher writeback on provision for commitments and contingencies by RM153.4 million, RM84.5 million, RM16.1 million and RM13.7 million respectively," it said.
In addition, lower transfer to profit equalisation reserve by RM18.6 million was reported during the current period.
Gross loans, advances and financing reduced to RM86.9 billion as compared to RM87.8 billion reported for the last financial year ended March 31, 2015 (FY15). This was mostly due to reduction reported from term loans, hire-purchase receivable, credit card receivables, trust receipts and bills receivables, AMMB said.
As at Dec 31, 2015, the group's total assets stood at RM135.6 billion. Meanwhile, the total capital ratio from the aggregation of the consolidated capital positions and risk weighted assets of the regulated banking institutions stood at 16.2%, it added.
Commenting on the group's delivery of the strategic growth agenda, AMMB group chief executive officer Datuk Sulaiman Mohd Tahir said, "The group remains focused with the business showing moderate momentum towards delivering on our strategic agenda."
"We will pursue immediate opportunities and quick wins to drive revenue uplift whilst reinforcing compliance and there are some bright spots in the economy that we will focus on immediately.
"Most importantly, I have initiated comprehensive reviews of our current business operating models to develop our FY17–FY19 strategic priorities and growth plans.
"We have much to do. Ultimately we will create a leaner organisation through process reorganisation and structural reform with a focus on 'making it happen' — achieving quantum leaps to implement faster, smarter and more innovatively," he added.
At 12.30pm, AMMB shares rose 16 sen or 3.69% to RM4.50, with 9,573 units changing hands.