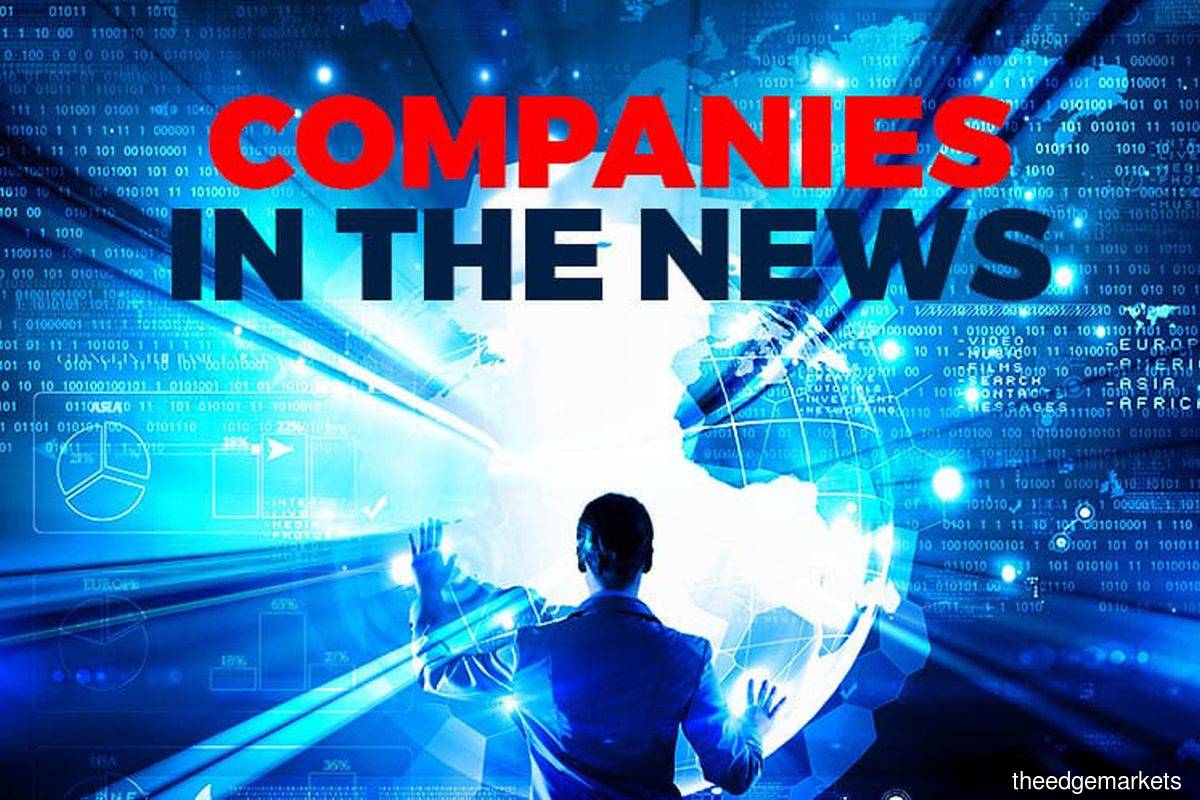 KUALA LUMPUR (Dec 1): Here is a brief recap of some corporate announcements that made news on Thursday (Dec 1): AMMB Holdings Bhd, QL Resources Bhd, KNM Group Bhd, Sime Darby Plantation Bhd, Sime Darby Property Bhd, Ireka Corp Bhd, Kumpulan Perangsang Selangor Bhd (KPS), Ranhill Utilities Bhd, Malaysia Marine and Heavy Engineering Holdings Bhd (MHB), TAFI Industries Bhd, YLI Holdings Bhd, Bank Islam Malaysia Bhd, AmFIRST Real Estate Investment Trust (AmFIRST REIT), S P Setia Bhd, MSM Malaysia Holdings Bhd, Pertama Digital Bhd, Top Builders Capital Bhd and LYC Healthcare Bhd.
AMMB Holdings Bhd and QL Resources Bhd will be included in the FBM KLCI 30-stock benchmark index come Dec 19, replacing Top Glove Corp Bhd and Hartalega Holdings Bhd, whose shares have been under selling pressure in most of 2021 and this year, as the threat of Covid-19 subsides amid rising vaccination rates globally. This year alone, the two glovemakers' share prices have fallen by almost 70%.
KNM Group Bhd's proposed €220.8 million (RM1.03 billion) sale of its key subsidiary Borsig GmbH has fallen through, after KNM decided not to extend the deal's long-stop date from the latest Nov 30 deadline. This raises the question on how the company will meet its debt obligations. It has term loans amounting to US$23 million (RM106 million) and €68.5 million supposedly due at end-November, following a payment extension previously. The date passed without the sale of Borsig to Vorsprung Industries GmbH — formerly known as GPR Siebzigste Verwaltungsgesellschaft mbH — being completed "since the relevant conditions precedent have not been fulfilled".
Sime Darby Plantation Bhd is disposing of 949 acres of freehold land in Kapar, Klang to Sime Darby Property Bhd for RM618 million. The deal is in pursuant to one of the nine call option agreements entered into between both companies in 2017, when Sime Darby Bhd embarked on a "pure play" exercise, which involved the creation of stand-alone listed entities in plantation, property, trading and logistics sectors. Sime Darby Property added that the land would be developed into an integrated sustainable industrial township, given the strategic location and sizeable net land area.
Ireka Corp Bhd has been slapped with a RM97.91 million suit from a joint venture (JV) partner linked to obligations of a JV agreement for a development project. The dispute is related to a JV agreement dated Dec 31, 2009, entered between the company, ASPL M9 Ltd and Urban DNA Sdn Bhd (UDNA), with the primary objective of overseeing the development of the RuMa project. UDNA was to be the developer of the project, with a 70:30 shareholding split between ASPL M9 and Ireka.
Kumpulan Perangsang Selangor Bhd (KPS) via its wholly-owned unit Perangsang Dinamik Sdn Bhd (PDSB) is acquiring the entire stake in computer numerical control machining company MDS Advance Sdn Bhd for RM85 million. The purchase consideration of RM85 million values MDS Advance within the industry benchmark in terms of enterprise value to earnings before interest, tax, depreciation and amortisation (EV/Ebitda) ratio of 7.9 times, which will be fully satisfied by internally-generated funds. PDSB had signed a conditional share sale agreement with the vendors Gan Lian Ban and Chuah Mooi Kheng. MDS Advance will become KPS' indirect wholly-owned subsidiary upon completion of the proposed acquisition.
Ranhill Utilities Bhd's indirect subsidiary Perunding Ranhill Worley Sdn Bhd (PRW) has been awarded a RM50 million contract to perform detailed engineering design for the Kasawari carbon capture and storage (Kasawari CCS) project. Malaysia Marine and Heavy Engineering Holdings Bhd (MHB)'s wholly-owned unit Malaysia Marine and Heavy Engineering Sdn Bhd (MMHE) had on Nov 11 awarded the contract to PRW, which is principally involved in the provision of engineering and design services of oil and gas facilities. The award is a result of a winning submission by MMHE and PRW for the Front End Engineering Design (FEED) design competition in August.
TAFI Industries Bhd has bagged a RM23.64 million contract to construct the Ministry of Health's staff quarters in Labuan. The one-year contract was awarded to its wholly-owned subsidiary, TA Furniture & Projects Sdn Bhd, by Lambaian Delta Sdn Bhd and is expected to contribute positively to the earnings and net tangible assets of the company for the financial year ending Dec 31, 2023.
YLI Holdings Bhd is disposing of two parcels of freehold land in Penang to ZW Packaging Sdn Bhd for RM17.31 million in cash. The two pieces of land have a combined size of 4.675 acres, both located in Seberang Perai Tengah. Proceeds from the disposal will be used to upgrade machinery, and to fund the working capital requirement, as well as repayment of bank borrowings. The lands are currently used as a storage yard for its pipes and fittings.
After 12 years of service on the board of Bank Islam Malaysia Bhd, non-independent and non-executive director Mohamed Ridza Mohamed Abdulla has stepped down from the post. In tandem with his exit from Bank Islam's board, Mohamed Ridza, 53, is also leaving behind his post as chairman of the Islamic bank's investment arm, BIMB Investment Sdn Bhd.
AmFIRST Real Estate Investment Trust (AmFIRST REIT) chief executive officer Raja Nazirin Shah Raja Mohamad has stepped down from his post. Nazirin, 59, has resigned as CEO and director of the REIT "to pursue other opportunities". Nazirin has spent over three years at the helm of the REIT since his appointment to the post on April 22, 2019, when he succeeded then-acting CEO Chong Hong Chuon.
S P Setia Bhd announced the appointment of Annuar Marzuki Abdul Aziz as its new chief financial officer (CFO) effective Dec 1. He replaced Datuk Yuslina Mohd Yunus, 55, who had held the post as acting CFO since May 9. Prior to holding the CFO position at S P Setia, Annuar Marzuki, 52, was CFO and chief investment officer of KLCC Property Holdings Bhd.
MSM Malaysia Holdings Bhd has appointed Dr Mazatul 'Aini Shahar Abdul Malek Shahar as the company's new CFO, replacing Ab Aziz Ismail. Ab Aziz, 55, has held the CFO position since June 2019, after he served as deputy CFO for a month from April 2019. Prior to holding the CFO position at MSM, Mazatul 'Aini, 50, was an independent non-executive director at 7-Eleven Malaysia Holdings Bhd and TH Heavy Engineering Bhd, and an audit committee member for both companies.
Main Market-listed Pertama Digital Bhd has appointed Saify Akhtar as its new chief executive officer and Sivabalan Poobalasingam (Balan) as its chief financial officer. Saify will be responsible for spearheading and driving the company forward, with bold and innovative business plans, to ensure a sustainable and profitable future. Meanwhile, Balan will be tasked with structuring and focusing on improving Pertama Digital's financial health through prudent financial management, as required of any public-listed company.
Top Builders Capital Bhd, whose shares have been suspended since Nov 8 for the pending submission of its 2022 annual report, has also failed to submit its quarterly financial report for the period ended Sept 30, 2022. Trading suspension of Top Builders "will continue until further notice". The deadline for Top Builders to release its first quarter for the financial year ending June 30, 2023 report was Wednesday (Nov 30). In a separate announcement, Top Builders said the delay in the release of its 2022 annual report was because the auditors require more time to finalise the identification of assets.
LYC Healthcare Bhd's unit LYC Nutrihealth Sdn Bhd has inked an exclusive distribution agreement with CuraLife Spain SLU to distribute a diabetic supplement product known as Curalin in Malaysia and Singapore. The supplement reduces the craving for sugars and other carbohydrates and promotes healthy weight loss. Curalin has more than 100,000 active daily consumers and is available in 20 countries. LYC managing director cum group chief executive officer David Sui Diong Hoe said the addition of Curalin will widen the company's growing portfolio of nutraceutical products which are targeted to improve health, increase life expectancy and slow the ageing process.