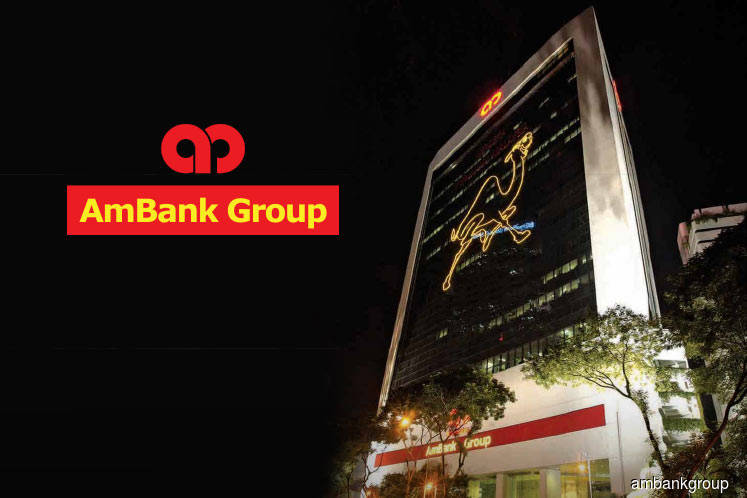 KUALA LUMPUR (June 29): AMMB Holdings Bhd (AmBank Group) saw its net profit fall 46.2% to RM247.54 million in its fourth financial quarter ended March 31, 2020 (4QFY20), from RM459.67 million a year ago, due to a RM194.85 million allowance for impairment on loans, advances and financing, versus a RM271.56 million writeback of allowance for impairment on loans, advances and financing in 4QFY19.
This resulted in a lower earnings per share of 8.23 sen for 4QFY20 compared with 15.28 sen for 4QFY19. Quarterly revenue was also down 5.1% to RM2.21 billion, from RM2.33 billion in 4QFY19.
A filing with Bursa Malaysia showed that operating profit before impairment losses for the quarter, however, stood at RM487.97 million, 37.6% higher from RM354.64 million a year ago.
Net interest income was 16.49% higher at RM492.49 million, from RM422.76 million in 4QFY19.
The group also declared a final dividend of 7.3 sen per share for the financial year ended March 31, 2020 (FY20), with a payment date to be announced later. This brings the total dividend for the year to 13.3 sen and a dividend payout ratio of 30%.
For the full year of FY20, its net profit was 10.9% lower at RM1.34 billion compared with RM1.51 billion in FY19, while revenue grew 2.24% to RM9.32 billion from RM9.12 billion.
In a statement today, AmBank Group chief executive officer Datuk Sulaiman Mohd Tahir said higher net provisions impacted the bank's net profit for FY20, but noted that included in the previous year's result was a one-off gain from the retail non-performing loans sale of RM285 million.
"In fact, our underlying net profit of RM1.47 billion was up 15.4% year-on-year, after normalising the one-off gain and the additional macro provision that was set aside as additional prudence," he added.
Moreover, Sulaiman also highlighted that AmBank Group is on a strong footing to navigate the economic uncertainties and challenges, particularly given the current Covid-19 pandemic.
"With the end of the 2020 fiscal year, we mark the conclusion of AmBank Group's Top 4 Strategy. Over these four years, we have made significant strides in transforming our business. The strong growth we have been able to record in our targeted segments and products is testament to the success of our strategy," he said.
Having also placed targeted emphasis on strengthening its digital capabilities and strategic partnerships, improving operating leverage, rationalised cost base and established a much firmer foundation for the group, Sulaiman said the bank now has a stronger balance sheet and is well-capitalised and more diverse in its liquidity profile compared to just four years ago.
In light of the economic disruption resulting from the pandemic and amid the decrease in global oil price, the group had set aside an additional macro provision of RM167.3 million in 4QFY20 to reflect a more challenging outlook, said Sulaiman. As a result, the bank's net credit cost for the year increased to 30 basis points from a net recovery position last year.
The group will also continue to closely monitor the impact of the pandemic on its credit portfolios during the moratorium period, said Sulaiman, adding that RM65 billion, or 61% of its total loans in the retail and SME segments are under the Bank Negara Malaysia's repayment moratorium until Oct 1.
Moving forward into FY21, Sulaiman said the bank will remain steadfast in exercising credit vigilance and look to proactively reach out to its customers during this difficult time.
"Greater emphasis has been placed on risk management, stress testing, capital planning and liquidity management in order to safeguard the group's financial resilience in the face of heightened market volatility," he said, adding that the bank will also continue its cost discipline and prioritise investments.
"The group will continue to drive operational efficiencies through simplification and automation in line with the second phase of our BET programme. We expect a gradual recovery of the economy, however, we will exercise caution against all aspects of risks in the short term," he said.
At midday break, AmBank Group shares were seven sen or 2.24% lower at RM3.06, valuing the counter at RM9.27 billion.