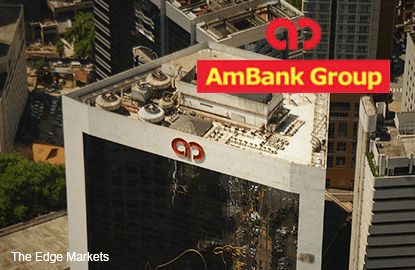 KUALA LUMPUR (Feb 24): AMMB Holdings Bhd's net profit in the third quarter ended Dec 31, 2016 (3QFY17) increased 4.3% to RM313.17 million from RM300.15 million a year ago, primarily due to higher net interest income which grew by 5% on higher net interest margin of 2.02%, reflecting active margin management.
Quarterly revenue fell 6.5% to RM1.98 billion, from RM2.12 billion a year ago, despite AMMB chalking higher gross loans, advances and financing, which rose to RM90.7 billion from RM87.9 billion previously, thanks to growth in mortgages, overdrafts and trade facilities offset by decrease in auto finance, according to AMMB's filing with Bursa Malaysia this afternoon.
"We continue to actively manage our net interest margin (NIM) and this has translated to stabilised NIM as well as higher net interest income this quarter. Fee income was up quarter-on-quarter from investment banking and loans related fees," AMMB group chief executive officer (CEO) Datuk Sulaiman Mohd Tahir said in a statement.
For the cumulative nine months ended Dec 31, 2016 (9MFY17), AMMB saw its net profit slipped 3.3% to RM988.79 million from RM1.02 billion in 9MFY16, due to lower non-interest income, which was affected by heightened pressures in the country's bond market.
However, this was mitigated by write-backs on impairment on loans, advances and financing services, other recoveries, together with higher operating income from related-business, which include insurance business and associates and joint ventures, it said.
AMMB's 9MFY17 revenue also dropped 2.7% to RM6.14 billion from RM6.31 billion a year ago.
Going forward, Sulaiman expects the overall banking industry to see slower loans and deposits growth, which he added is in line with the country's moderate economic growth.
This year, AMMB expects Malaysia to clock in a gross domestic product growth (GDP) of between 4% and 5%, from 4.2% that the country registered in 2016.
"Margins likely to remain under pressure, mainly attributable to intensified competition for deposits on elevated loan-to-deposit ratio from tightening of liquidity in the system.
"This may further exert pressure on funding costs. We expect credit costs to normalise from lower recoveries, while some sectors may experience stress in asset quality," he said.
Despite mixed global economic indicators and cautious business sentiments, Sulaiman added that AMMB continue to see pockets of opportunities in the market, particularly in the small and medium enterprise sector, which has outpaced the GDP growth since 2005.
Separately, AMMB also announced the appointment of Raja Teh Maimunah Raja Abdul Aziz as the CEO of AmInvestment Bank Bhd and managing director of Wholesale Banking. Raja Teh Maimunah was the former chief at Hong Leong Islamic Bank Bhd.
In addition, AMMB also said it has roped in Datuk Iswaraan Suppiah from CIMB Bank Bhd and appointed him as its group chief operations officer, overseeing information system and digital banking divisions.
At the same time, AMMB has also appointed Jeroen Thijs, formerly from Bank Islam Malaysia Bhd, as group chief risk officer.
"We have laid out a clear strategic plan for the next four years and we will continue to align our business to deliver optimal returns for our shareholders as we progress towards achieving our FY2020 Top 4 Aspirations," Sulaiman said.
Shares in AMMB, the fifth-largest bank in Malaysia, paused unchanged at RM4.63 during the noon break today, giving it a market capitalisation of RM13.96 billion.