This article first appeared in The Edge Financial Daily, on February 28, 2020.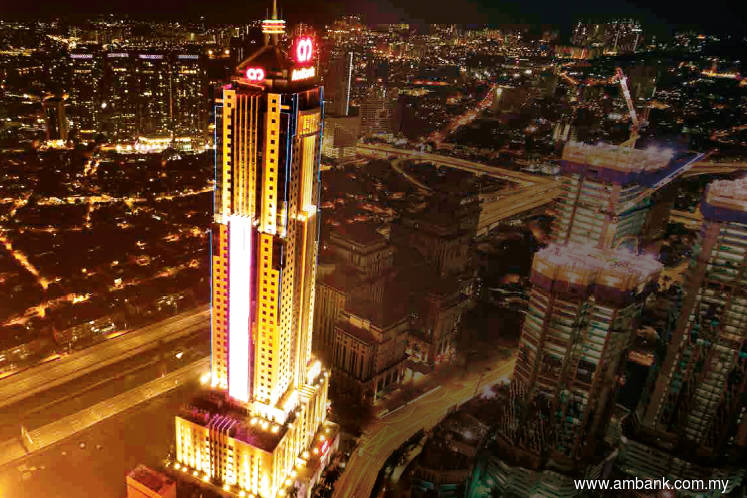 KUALA LUMPUR: AMMB Holdings Bhd said its net profit rose 9.2% to RM382.15 million or 12.71 sen per share for the third quarter ended Dec 31, 2019 (3QFY20), from RM349.88 million or 11.63 sen per share for the year-ago quarter.
Quarterly revenue rose 3% to RM2.37 billion from RM2.30 billion previously, the group's stock exchange filing yesterday showed.
For the nine-month period, AMMB said its net profit increased 4.5% to RM1.09 billion, from RM1.05 billion for the corresponding period a year ago. Cumulative revenue grew 4.8% to RM7.11 billion from RM6.79 billion.
AMMB said during the period, fund-based income from interest bearing assets increased mainly from interest on fixed income securities and customer lending, whereas non-interest income recorded substantial increase compared with the same period last year.
Interest income from securities grew mainly from hold-to-collect and sell securities, and interest income from customer lending increased from term loans, trade financing and mortgages offset by reduction from hire purchase.
Fee based income recorded an increase of RM42.3 million, while market based income increased from gains on trading/liquidation of securities and revaluation of trading securities offset by decrease in gain from trading in foreign exchange. Decrease in other income was attributable to a significant gain on the disposal of foreclosed property in prior period, it said.
Net income from insurance business decreased mainly due to higher commission expense and insurance claims despite an increase in net earned premium, AMMB added.
AMMB's share of profits from associates and joint ventures reduced mainly due to the insurance-based joint ventures which recorded higher reserving mitigated by higher investment and trading income from revaluation of securities.
Overall, the group's cost-to-income ratio improved to 49.6% from 51.6% a year ago. Impaired loans ratio was at 1.7%.
"Deposits from customers was lower compared to March 31, 2019 at RM105.7 billion. Low-cost deposits constituted 23.4% of total deposits from customers, a marginal increase compared to 23.3% as at March 31, 2019," it added.
AMMB said for the year ahead, loans are projected to grow around 4.3% — versus 3.9% in 2019 — based on the view that the country's gross domestic product will continue to expand moderately by 4.2%.
The group sees another 25 to 50 basis points (bps) cut from the current overnight policy rate of 2.75% on the cards.
Should there be a 50bps cut, it is unlikely for the economy to experience a "negative real returns", it added.
The group said it will continue to drive its income growth momentum especially in the areas of transaction banking, foreign exchange, small and medium enterprise and wealth management.