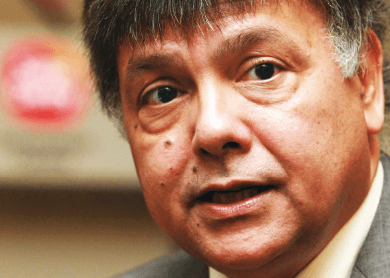 KUALA LUMPUR: Integrax Bhd's co-founder Amin Halim Rasip, in a clear attempt to thwart Tenaga Nasional Bhd's acquisition of Perak Corp Bhd's entire 15.74% stake in Integrax, has offered to take 5% off Perak Corp's stake in the port operator for RM52.64 million.
Amin is offering to buy the stake, which represents some 15.04 million Integrax shares from Perak Corp, for RM3.50 per share from Taipan Merit Sdn Bhd, a wholly-owned unit of Perak Corp.
Amin also, in a notice issued to shareholders and directors of Perak Corp (fundamental: 1.9; valuation: 1.2) yesterday, recommended that Perak Corp's shareholders reject TNB's (fundamental: 1.3; valuation: 1.8) offer of RM3.25 per share.
Following Amin's offer, Perak Corp will now convene an extraordinary general meeting (EGM) on March 27, to seek the approval of its shareholders on the disposal of the shares.
"I gave the offer to Perak Corp. Now Perak Corp has to inform its shareholders of the offer. At the EGM, a decision will be made," Amin told The Edge Financial Daily when contacted over the phone.
Amin, the single largest shareholder of Integrax with a 24.61% stake as at March 13, 2015, reiterated that he is "not a seller at RM3.25", and that his offer to Perak Corp yesterday is "a national service duty".
Integrax (fundamental: 1.65; valuation: 1.2) owns port assets Lumut Maritime Terminal Sdn Bhd (LMT) and Lekir Bulk Terminal Sdn Bhd (LBT), which among others, handles the coal supply for TNB's power hub at Janamanjung in Perak.
Hence, to Amin, the sale of Integrax's shares by Perak Corp would undermine LMT's position, as LMT is dependent on LBT, via an operations and management agreement which is due to expire or be renegotiated in 2017.
"It is crucial and strategic to the interest of the Perak state going forward, for the port assets to continue as a multi-user foundation base, focusing on its customer base to stimulate Perak's development and industrial user base and economy," he said.
He added that it is "fair and reasonable" for Perak Corp's shareholders to receive alternative competing offers, as accepting TNB's offer of RM3.25 per share is "commercially imprudent".
Amin has also expressed his intention to proceed with LMT's growth plan, to develop it into a hub for bulk liquids and dry cargoes. As for LBT, the plan is to turn it into a coal hub.
Meanwhile, sources close to TNB said Amin's offer to acquire the 5% stake from Perak Corp raised the question why he did not extend the offer to Integrax's minority shareholders.
"Amin now has about 24.6% of Integrax, why does he only want 5% of Perak Corp's stake? Is this to merely avoid an MGO (mandatory general offer) or does he have funding problems should an MGO be triggered?" asked the source.
"Should Perak Corp accept Amin's offer, this would place Perak Corp as a party acting in concert (PAC). What is the Securities Commission's ruling on this?" the source further questioned.
He also noted that even if Perak Corp sold its Integrax stake to TNB, Perak Corp will still have control over the port via its stake in LMT, thus the state would still have a say in the port's development.
TNB had earlier highlighted that it is fully aligned to helping the state grow through its investments in Janamanjung power plants, and will continue to invest in Perak.
"Given the assurance from TNB, the question of developing the port further should not arise," added the source. 
To recap, Perak Corp's board had agreed to dispose of its entire 15.74% stake in Integrax to TNB at RM3.25, following TNB's revision of its initial offer of RM2.75. As at March 16, 2015, TNB has a 23.09% stake in Integrax. 
While Integrax's board had rejected TNB's offer, the national utilities company said it was standing firm by its revised offer, expressing optimism that its offer will be well-received by the shareholders of the port operator. 
Integrax closed one sen or 0.32% higher at RM3.18, bringing its market capitalisation to RM953.55 million.
Perak Corp was up two sen or 0.68% at RM2.98, translating in to a market capitalisation of RM296 million.
TNB, however, fell two sen or 0.14% to RM14.66, with a market capitalisation of RM82.74 billion.
---
The Edge Research's fundamental score reflects a company's profitability and balance sheet strength, calculated based on historical numbers. The valuation score determines if a stock is attractively valued or not, also based on historical numbers. A score of 3 suggests strong fundamentals and attractive valuations. Go to www.theedgemarkets.com for more details on a company's financial dashboard.
This article first appeared in The Edge Financial Daily, on March 19, 2015.