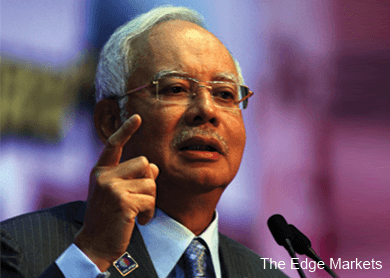 KUALA LUMPUR (Mar 20): All 13 Barisan Nasional component parties had yesterday pledged their support for embattled Prime Minister Datuk Seri Najib Razak, whose lacklustre leadership has come under intense attacks from critics including former prime minister Tun Dr Mahathir Mohamad.
MCA president Datuk Seri Liow Tiong Lai, in representing all the presidents of the partners in the ruling pact, said they all stand together "as one" to support Najib.
However, Parti Pesaka Bumiputera Bersatu (PBB) president and Sarawak chief minister Tan Sri Adenan Satem added that it was also "to avoid any unnecessary speculations".
"We will be standing all the way behind him to lead BN to ensure the transformation of the country continues.
"We are confident that the national transformation plan will achieve its target before the year 2020," Liow told reporters in Parliament yesterday.
All the 14 component parties' presidents were also present at the press conference yesterday.
He said it was important that all component parties were united and strong to face the coming challenges and be on the same page in their support for Najib.
The transport minister however was coy when asked if the pledge was due to the incessant attacks on Najib by various quarters, including Dr Mahathir.
"I think it's good we show our support through the media, and that's why we called for a press conference," he said.
Dr Mahathir has renewed his attacks on Najib, just two days after the Federal Court's February 10 verdict to uphold opposition leader Datuk Seri Anwar Ibrahim's sodomy conviction and five-year jail sentence.
He said in a public forum in Kuala Lumpur in reference to Najib, that "if you do not perform and people say you are no good, please resign".
Najib and his family have also been exposed in the New York Times over their wealth, including the ownership of multimillion dollar homes in the United States.
Digital newsweekly The Edge Review reported last month that with Anwar out of the way, Najib's critics from within his ruling party were more likely to train their guns on him and up the ante in their attacks of the beleaguered leader.
Although Najib may appear entrenched in Umno, given the lack of a mechanism to depose him, the criticism will likely worsen if he fails to address economic concerns.
These include financially troubled strategic investment fund 1Malaysia Development Bhd (1MDB); the high national debt; and decreased revenues from oil and gas, of which Malaysia is a net exporter.