This article first appeared in The Edge Financial Daily, on February 17, 2020.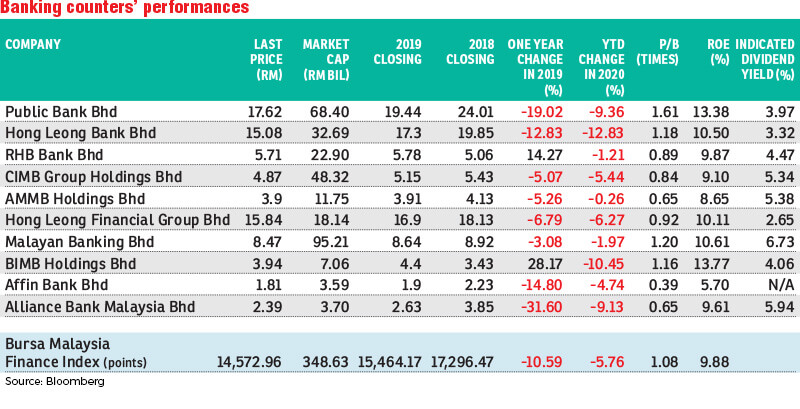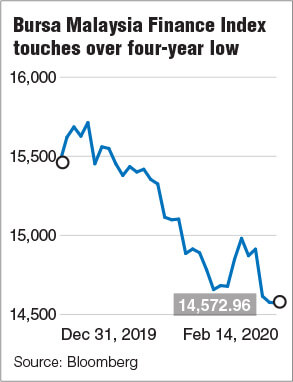 KUALA LUMPUR: Local banking stocks are facing selling pressure after the announcement last week of lower-than-expected fourth-quarter (4Q) gross domestic product (GDP) growth.
Bank Negara Malaysia announced that 4Q GDP expanded by only 3.6%, the weakest growth rate since 2009. BNM governor Datuk Nor Shamsiah Mohd Yunus went on to say that there is "ample room" for another interest rate cut given the slower economic growth.
The central bank's overnight policy rate (OPR) is already at its lowest point since March 2011, after 25 basis points' (bps) reduction to 2.75% on Jan 22.
Fundsupermart research senior analyst Jerry Lee Chee Yeong said the banking sector is a cyclical sector and its outlook is usually correlated with the economic growth of a country.
"Hence, the slowing economic growth as well as the hint of another rate cut by BNM have affected investors' sentiment on the local banking sector, which could explain the recent selldown of the banking shares," he told The Edge Financial Daily.
Lee said the impact of further rate cuts on banks' net interest margin (NIM) is likely to be minimal and short-lived, as some banks have prepared for it by reducing the rate and tenure of their fixed deposit accounts.
Lee also said that although the banking sector's outlook might look dim at this juncture given the slowing economic growth and low-interest-rate environment, banks are expected to see a stronger loan growth from businesses.
He said the optimism is fuelled mainly by the expectation that the government will roll out more stimulus, including for infrastructure-related projects, to support economic growth.
The government is set to announce an economic stimulus package on Feb 27 to bolster the economy amid fierce headwinds.
AmBank Group chief economist and head of research Dr Anthony Dass said the outcome of the stimulus package will eventually depend on the severity of the Covid-19 outbreak's impact on the domestic economy as well as external factors affecting the economy.
Dass said the pre-emptive OPR cut last month already provided a good measure of the buffer from the current challenges although there is room for further rate cuts.
He expects banks to face mild earnings impact for every 25bps cut in OPR. "Based on our simulation, for every 25bps rate cut, the banks' earnings will be impacted by between 1% and 3%, while the impact on most banks' NIM will be between 2bps and 4bps.
"The impact of any OPR change will be short-term (estimated three months to six months) as the repricing of deposits to lower rates will eventually catch up with the drop in lending rates," he said.
Overall, he expects the OPR cut's impact on banks to be "manageable" given that the banking industry's impaired loan is on a low base.
"While the banking sector will continue to face uncertainties, margin pressure, modest loan growth and tame capital market activities, the sector is expected to remain well capitalised and should continue to display resilience in terms of asset quality. At the same time efforts to contain overhead costs will remain," he added.
Areca Capital Sdn Bhd chief executive officer Danny Wong Teck Meng, noting the decline in the banks' share prices, said the market has priced in another rate cut.
Wong said the lower-than-expected 4Q GDP has somewhat neutralised some positive views of the banking sector.
"Weaker earnings outlook and asset quality is the concern if GDP slows further this year," he told The Edge Financial Daily.
Having said that, he still holds a positive view on selected banking counters, particularly those with strong underlying growth and high dividend yields.
All bank counters on Bursa Malaysia have fallen so far this year.
Hong Leong Bank Bhd led the loss, with its price down 12.83% to RM15.08 last Friday from RM17.3 on Dec 31, 2019. BIMB Holdings Bhd was down 10.45% to RM3.94, Public Bank Bhd 9.36% to RM17.62 and Alliance Bank Malaysia Bhd 9.13% to RM2.39.
Year-to-date (YTD), the Bursa Malaysia Finance Index has fallen 5.76% to 14,572.96 as at last Friday. This marks a new lowest point over four years for the index since Jan 17, 2017.
In comparison, the FBM KLCI index has shed 2.79% YTD to 1,544.46 last Friday from 1,588.76 on Dec 31, 2019. The benchmark index skidded to a nine-year low of 1,521.95 on Feb 3 after reporting 10 consecutive trading days of losses.
With the fall in banks' share prices, their dividend yields are now more appealing, with some above the current fixed deposit rates. For example, Malayan Banking Bhd's dividend yield is 6.73% based on its closing price last Friday and annualised dividend.
Other banks with dividend yield of above 5% include Alliance Bank (5.94%), AMMB Holdings Bhd (5.38%) and CIMB Group Holdings Bhd (5.34%).