This article first appeared in The Edge Malaysia Weekly, on June 22, 2020 - June 28, 2020.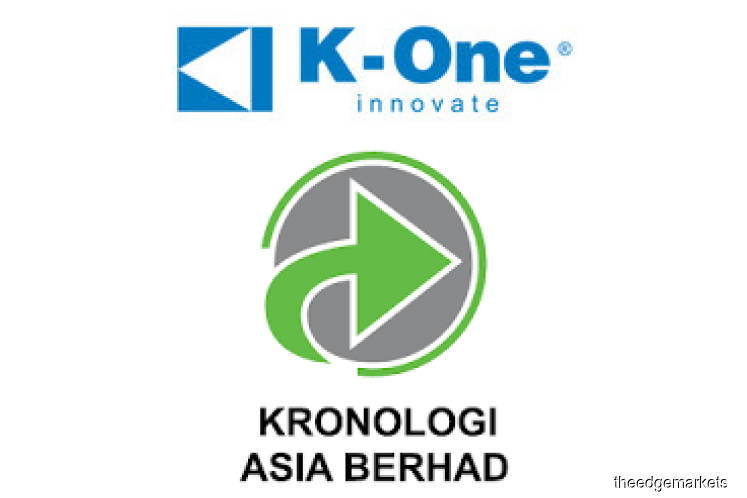 MUCH has been said about how the Covid-19 pandemic has accelerated the move to cloud services and digitalisation. Among the beneficiaries of this trend are K-One Technology Bhd and Kronologi Asia Bhd — both listed on the ACE Market of Bursa Malaysia.
K-One's wholly-owned cloud computing arm G-AsiaPacific Sdn Bhd is a fully integrated cloud advisory and brokerage firm that represents four principals, namely Amazon Web Services (AWS), Google Cloud, Microsoft Cloud and Alibaba Cloud.
Kronologi, meanwhile, is an on-site and off-site enterprise data management (EDM) and data storage solutions provider that offers "as-a-service" and customisable solutions on-premise, cloud-based and hybrid. It has a diversified customer base, consisting of government sectors, large enterprises, food and beverage companies, banks, financial institutions, stock exchanges, data centres and telecommunications, and media and broadcasting companies.
However, K-One and Kronologi, being small-cap companies with a market value of RM375.7 million and RM287.8 million respectively, have largely remained off the radar screen of many big institutional funds.
Well, until lately. Based on their share price performance over the past three months, the two tech stocks have certainly piqued investors' interest.
Since March 19, K-One has seen its share price jump 380% to close at 48 sen last Friday, while shares in Kronologi gained 60% to settle at 54.5 sen.
According to International Data Corp (IDC), there are pockets of opportunity around the cloud as it has been identified for budget allocations in response planning, such as videoconferencing, remote access and collaborative applications.
"The key difference with the financial crisis is that the cloud is now a major factor. Overall infrastructure spending may sustain as a result of continued and even increased cloud usage," it said in a report this month.
For investors looking to invest into locally listed companies that are involved in the cloud business, perhaps they need look no further than K-One and Kronologi.
But what are the factors that investors should take into consideration? What business opportunities are there for the likes of K-One and Kronologi?
It is worth noting that Green Packet Bhd has also ventured into the cloud space after its unit Kiplepay Sdn Bhd signed an agreement with the cloud computing arm of Chinese tech giant Tencent Holdings Ltd last month.
Besides, LEAP Market-listed Cloudaron Group Bhd provides cloud-tech platforms that could transform its customers' legacy infrastructure to the cloud.
In a sweet spot
Kronologi CEO and executive director Edmond Tay Nam Hiong believes every business owner should now be focused on not only surviving the Covid-19 crisis, but also how to thrive in the new reality.
"Covid-19 is accelerating many societal and technology shifts and reversing others. It is a technology-driven era with widespread and often forced adoption of trends," he tells The Edge in a video call.
Interestingly, Tay points out that cloud services are no longer used for backup storage alone. The cloud has become essential as businesses nowadays are more analytically based and production-based, which require high-performance solutions to handle massive amounts of unstructured data.
"Historically, you stored your data there, you don't care, you don't use it. It functioned more as a safe box or an archive. But today, even data centre operators are contacting us for support as they grow their capacity and infrastructure to manage hyperscale data as a result of digitalisation," he explains.
Tay notes that in the difficult times, businesses would prefer an operating expenditure model over a capital expenditure model, knowing that cash flow is as important as ever.
"Businesses need to change and adopt. The most sensible thing for them to do is not to spend one lump sum, but to consume it as-a-service according to their demand requirements. And this is exactly what we are offering them."
Whether or not a sustainable vaccine is found or when it will be found, Tay opines that as people develop new behaviours, digitisation will start to make sense to them.
"In the modern economy, you do businesses online, allowing you to be more productive and far reaching. So, why go back to the old ways? The new normal is here to stay, it is not going to go away. I expect the Covid-19 experience to give birth to a new, more rapid digital age for businesses. Let me put it this way, once you taste honey, you wouldn't want to go back to sugar," he says.
From a tech stock's perspective, Tay says Kronologi has a unique and sexy business model as the company offers pay subscription, opex-based, as-a-service.
"If you believe cloud and data management companies will benefit from the new normal, I would say Kronologi could be an attractive stock for you to look at. With the new normal, the business landscape has changed tremendously, and we feel we are in a sweet spot," he adds.
Catalyst for cloud adoption
K-One executive chairman and co-founder Edwin Lim Beng Fook concedes that there is tremendous market potential in Malaysia and Asean as the adoption of cloud technology is still in the early stages.
"Even in the developed world, the cloud is still at its growth phase. The Covid-19 provided a catalyst to accelerate the pace of cloud adoption," he tells The Edge via email.
Lim says the pandemic has enhanced K-One's cloud business conducted through G-AsiaPacific, which scaled north as a result of its clients' employees indulging more on e-meetings and increased internet communication.
"The steep rise in data usage and increased internet traffic boosted the cloud business. Sales revenue for the cloud business is expected to register respectable growth during the MCO period."
Lim adds that cloud usage will be boosted with the world adapting to the new normal of remote working or working from home and with enterprises and individuals conducting more internet activities, which includes e-learning, e-commerce and e-gaming.
"This new normal of remote working is anticipated to continue when the lockdowns are lifted as both employers and employees realise that remote working may not be such a bad idea as it seems to promote productivity for certain categories of staff," he says.
Meanwhile, Lim highlights that G-AsiaPacific, which was established in 2008, is one of the pioneers in Malaysia's cloud industry as it has always stayed focused on cloud computing.
"There are competitors and quite a number have emerged in recent years to take advantage of the robustly growing cloud market in Malaysia and the region. We have the first-mover advantage as we have built a strong management and technical team over the years to give us the competitive edge. Nevertheless, we welcome competition as the cloud market is large enough and is still in its growing phase," he says.
He says K-One will continue to strengthen its cloud business as the group sees it as a sunrise industry with immense business potential.
"We expect the cloud business to take up an increasing portion of K-One's total revenue and earnings when it spreads its wings to the Asean region, with rising contributions from the region in the next few years. As for 2020, we forecast that the cloud business will represent a significant portion of K-One's total business."