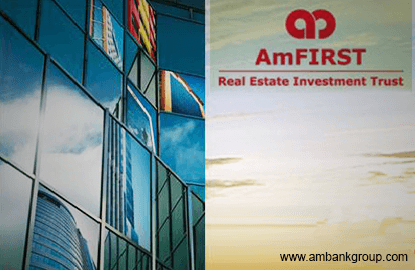 KUALA LUMPUR (Nov 14): AmFIRST Real Estate Investment Trust's (AmFIRST REIT) net property income (NPI) rose 23.6% to RM18.07 million in the second quarter ended Sept 30, 2016 (2QFY17) from RM14.622 million a year ago.
Gross revenue for the quarter rose 13.3% to RM27.99 million from RM24.7 million a year ago.
In a filing to Bursa Malaysia today, AmFIRST REIT said NPI for the first six months to Sept 30, 2016 (1HFY17) rose 18.03% to RM35.58 million from RM30.144 million a year ago.
Gross revenue rose 12.3% from RM49.59 million a year ago to RM55.67 million, mainly contributed by additional revenue from the newly acquired Mydin Hyper Mall in Penang as well as higher occupancy and rental reversion in Menara AmBank.
"However, the increase was partially offset by lower revenue from Prima 10, The Summit Subang in USJ and Wisma AmFIRST as a result of lower occupancy as well as the exclusion of AmBank Group Leadership Centre upon its divestment on March 31 [this year]," the trust said.
AmFIRST REIT has declared an interim income distribution of 1.93 sen per unit for 1HFY17 amounting to RM13.25 million representing approximately 100% of the realized distributable net income for the period.
The income distribution will be made on Dec 13.
Overall distributable realised net income from operation for 1HFY17 was RM13.3 million, marginally lower by RM600,000 or 4.7% compared to the preceding year's corresponding period.
AmFIRST REIT noted that interest expense for 1HFY17 rose 44% to RM17.8 million from a year ago due to additional borrowings to finance the acquisition of the Mydin Hyper Mall as well as various asset enhancement initiatives of its existing properties.
The trust acquired the Mydin Hyper Mall on Jan 29, 2016 for RM250 million.
Commenting on the commercial property market, AmFIRST REIT opined that the prevailing slow economy would continue to negatively impact the overall office and retail market as "tenants are not expanding".
"We see several requests to downsize the existing premises due to unfavourable business performance. The lethargic demand and ongoing supply continues to exert downward pressure on rental and occupancy rates," it said.
"Mindful of the tight market conditions, the manager will continue to push and vary appropriate leasing and marketing strategies to improve the occupancy while focusing on completing the asset enhancement initiatives and enhancing good service levels to improve the marketability of the buildings in attracting new tenants and retain existing tenants," it added.
AmFIRST REIT is managed by Am ARA REIT Managers Sdn Bhd.
Additionally, the Mydin Hyper Mall is expected to "provide a full year's contribution" to the trust's performance in FY17.
The refurbishment exercise for The Summit Retail Podium has been completed. The trust has also managed  to  secure the  tenancy of a  "major  international  tenant"  that will take up  substantial  space, who has set the target to commence business in December 2016.
Meanwhile, the renovation works at Menara AmBank to accommodate the existing tenant from AmBank Group Leadership Centre has also been completed and the tenant has moved in.
"The manager will continue to strengthen the operation initiatives and step up leasing efforts to ensure the properties under the trust's portfolio deliver improved results. Barring any unforeseen circumstances, the Manager expects the Trust to deliver a moderate performance for FY17," it said.
AmFIRST REIT traded 0.6% higher to close at 85 sen per unit, giving it a market value of RM576.58 million.