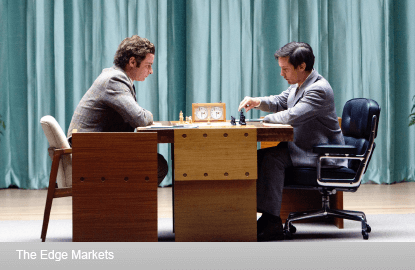 This article first appeared in The Edge Financial Daily, on September 25, 2015.
Director: Edward Zwick
Cast: Tobey Maguire, Peter Sarsgaard, Liev Schreiber, Michael Stuhlbarg
Rating: 3.5 out of 5
Length: 116 minutes
Opening: Now playing
On March 9, 1943, a baby boy named Robert James Fischer—better known as "Bobby"—was born in Chicago, and the world of chess was forever changed. From childhood, Fischer was beating chess masters around America, and at age 20, he became the 1963-64 US Chess Championship with the only perfect score in the history of the tournament. In an era when chess was dominated by Soviet players, the Americans became entranced by their very own prodigy — the poor boy from a single-parent family who rose to become a legend. 
 
Pawn Sacrifice, a gripping true story set in the height of the Cold War tells the tale of Fischer, played by Tobey Maguire and his struggle with being a "pawn" in the Americans' fight against the Soviets in some of the most dangerous decades in history. Liev Schreiber plays Boris Spassky, the reigning Soviet chess world champion, whom Fischer regards as "the one to beat". 
 
Fischer was not only famous in his day; he was a living legend. Crowds of photographers, journalists and fans would stalk and follow him around all day, and he was hailed as a hero for taking on the Soviets all on his own. 
 
Sadly, as is common, with genius comes great strife — Fischer was plagued by a myriad of mental illnesses throughout his life. The chess genius suffered from severe hallucinations and was constantly living in fear of being spied upon. 
 
Maguire plays his role to perfection, juxtaposing Fischer's great intelligence and chess brilliance with his eccentricities and emotional outbursts. Even during scenes where no words are being spoken and only two people are sitting down in an intricate game of chess, one can see a host of emotions playing through Maguire's eyes. 
 
Fischer's real-life relationships were strained at best ­— his mother left him as a teenager, and he only had the company of his mentor, William Lombardy (Peter Sarsgaard) and lawyer, Paul Marshall (Michael Stuhlbarg) throughout most of his career.
 
Pawn Sacrifice's creators decided to focus the film on the game instead of Fischer's relationships with those around him, which could at certain points, bore the audience. Long games of chess are played over and over, and while integral to the story, they also take away from the other plot lines that could have been better developed.
For instance, we are never shown what becomes of Fischer's difficult relationship with his mother, or if his sister ever came to his aid in the end. The story of Fischer's legendary win against Spassky in 1972 is the stuff of legends — almost every American who had a television set in 1972 was enthralled by the matches played by the two greatest chess masters, so the writers could have decided to focus on Fischer's mental state and relationships instead of the game itself. 
 
Pawn Sacrifice, however, still manages to be interesting enough that viewers would be strapped to their seats, wondering what will happen next. Unlike A Beautiful Mind, which gave us all a great insight into the world of those suffering from schizophrenia, Pawn Sacrifice does no such thing. So, we are left to wonder about the internal struggles that the real Bobby Fischer faced throughout his life, both when he was a much beloved darling of the nation and when he was a wanted man, fleeing from the American authorities.