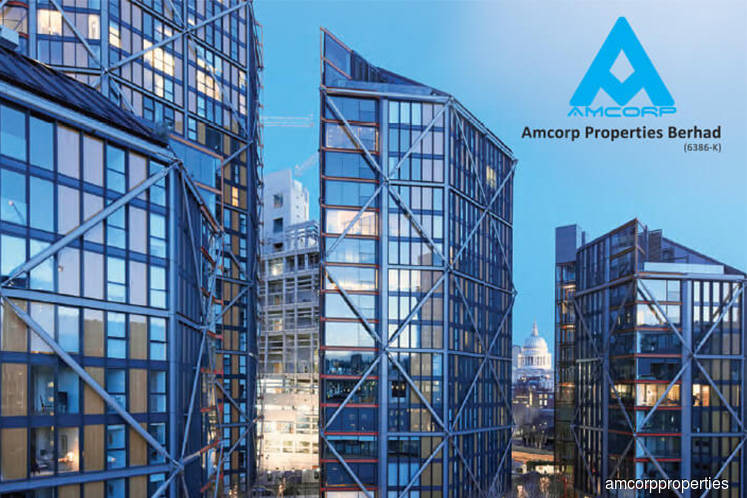 KUALA LUMPUR (Aug 7): Amcorp Properties Bhd's (AMPROP) indirect wholly-owned subsidiary Amcorp Dynamic Ltd will acquire a 40% stake in Daning Partners Ltd for US$22.95 million (about RM96.18 million) to undertake the planned purchase of four office blocks within Shanghai's Daning International Commercial Plaza for RMB1.454 billion (about RM865 million).
AMPROP told Bursa Malaysia today that Daning International Commercial Plaza is located along Gonghexin Road within Shanghai's Jing'an district.
AMPROP said Amcorp Dynamic had signed a co-investment agreement yesterday with Chelsfield Asia Fund 1, Ltd Partnership, KHI Overseas Ltd and JRN Holdings Ltd for the 40% stake buy in joint venture company (JV Co) Daning Partners, which will be established with a capital commitment of US$57.38 million.
"The co-investment agreement takes effect from the date of its execution. The co-investment is expected to contribute positively to the future earnings and growth of AMPROP group.
"The capital commitment of Amcorp Dynamic will be funded by advances from AMPROP by way of internally generated funds of AMPROP group and/or bank borrowings, the breakdown of which would be ascertained at a later date," AMPROP said.
AMPROP said Chelsfield will own a 30% stake in Daning Partners while KHI and JRN will hold 15% each in the JV Co. Daning Partners will own 100% equity interest in Daning Holdings Ltd.
Simultaneously, Daning Partners and Extra Noble Ltd will sign a shareholders' agreement whereby Extra Noble will subscribe for 50% equity interest in Daning Holdings, according to AMPROP.
AMPROP said Daning Investment Ltd, a wholly-owned subsidiary of Daning Holdings, will sign a share purchase agreement (SPA) to acquire the entire stake in Bassan Development Inc from Time Best Global Ltd.
Bassan, in turn, owns the entire stake in four property holding companies which are incorporated in Hong Kong, AMPROP said. The four companies, China Real Estate I Ltd, China Real Estate II Ltd, China Real Estate III Ltd and China Real Estate V Ltd, own the strata titles within the leasehold office blocks, according to AMPROP
"Upon execution of the SPA, Daning Investment will acquire the entire equity interest in Bassan from the vendor (Time Best) for a total consideration of RMB1.454 billion (equivalent to approximately RM0.865 billion) subject to adjustment for the net asset of Bassan at the completion date.
"The proposed acquisition is expected to be completed by the fourth quarter of 2019," AMPROP said.