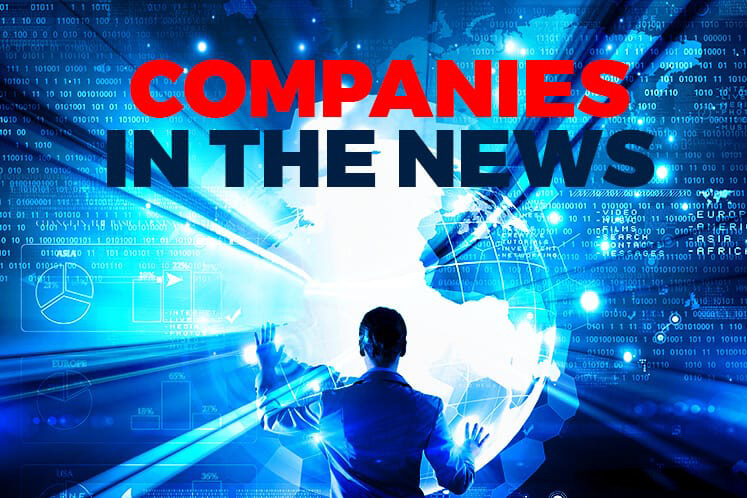 KUALA LUMPUR (Aug 7): Based on corporate announcements and news flow today, stocks in focus on Thursday (Aug 8) may include Amcorp Properties Bhd, Eita Resources Bhd, MRCB-Quill REIT, Acme Holdings Bhd, Bina Puri Holdings Bhd, Bioalpha Holdings Bhd, GSB Group Bhd, Metronic Global Bhd, Pestech International Bhd and Gets Global Bhd.
Amcorp Properties Bhd's (AMPROP) indirect wholly-owned subsidiary Amcorp Dynamic Ltd will acquire a 40% stake in Daning Partners Ltd for US$22.95 million (about RM96.18 million). The deal is for AMPROP to undertake the planned purchase of four office blocks in Shanghai's Daning International Commercial Plaza for RMB1.454 billion (about RM865 million).
AMPROP said Daning International Commercial Plaza is located along Gonghexin Road within Shanghai's Jing'an district.
AMPROP said Amcorp Dynamic had signed a co-investment agreement yesterday with Chelsfield Asia Fund 1, Ltd Partnership, KHI Overseas Ltd and JRN Holdings Ltd for the 40% stake buy in joint venture company (JV Co) Daning Partners, which will be established with a capital commitment of US$57.38 million.
Eita Resources Bhd's contract to supply lifts and escalators for the Light Rail Transit Line 3 (LRT3) project has been revised, with the contract sum cut by a whopping 65.42% to RM67.45 million, from RM195.07 million previously.
The group said it has received a new letter of appointment and notices of termination from MRCB George Kent Sdn Bhd, which is LRT3's project delivery partner (PDP).
MRCB-Quill REIT (MQReit)'s net property income (NPI) for the second quarter ended June 30, 2019 (2QFY19) fell 12.4% year-on-year (y-o-y) to RM29.49 million from RM33.65 million.
The lower NPI was due to lower income recognition from properties such as Platinum Sentral, Wisma Technip, Quill Building 5 as well as gain from the disposal of Quill Building 8-DHL (XPJ) which was recognised in the second quarter of 2018.
MQReit said quarterly revenue came in at RM39.19 million down 10.3% y-o-y versus RM43.69 million.
MQReit declared an income distribution of 3.43 sen per unit, payable on Sept 23.
For the cumulative six-month period (6MFY19), MQReit saw its NPI fall 9.3% to RM61.87 million from RM68.18 million a year ago. Revenue also dropped by 8% to RM80.91 million from RM87.99 million a year earlier.
Plasticware products manufacturer-cum-property developer Acme Holdings Bhd proposes to acquire a mixed property development project in Penang for RM22 million cash.
Acme said the acquisition of the property development project involves investing RM20 million to acquire a company called Medan Tropika Sdn Bhd, which owns two pieces of freehold adjoining land collectively spanning 178,841 square feet or 4.1 acres, in Penang.
Acme said it has also entered into a conditional share purchase agreement for the acquisition of Focal Products Sdn Bhd for RM2 million cash.
Medan Tropika, as land owner, had in January 2016 entered into a joint venture agreement with Focal Products, as the developer, to develop these lands into mixed residential and commercial development.
At the same time, Acme is proposing to raise up to RM21.72 million through a private placement at 24.26 sen per share.
The placement involves the issuance of up to 89.53 million shares, representing 30% of the group's enlarged issued shares, to third party investors to be identified later
Acme also proposed to undertake a bonus issue of up to 59.69 million free warrants on the basis of one warrant for every four existing shares.
The exercise price of the warrants has been fixed at 25 sen apiece
Bina Puri Holdings Bhd plans to raise up to RM39.54 million through a rights issue, sweetened by one free three-year warrant for every rights share.
Bina Puri said the proposed rights issue involves up to 439.35 million new shares together with up to 439.35 million free warrants.
As at July 12, the group has 382.04 million issued shares and up to 57.31 million share issuance scheme options, indicating that shareholders are entitled to subscribe to one rights share for every existing share they hold.
Bioalpha Holdings Bhd said its subsidiary, Bioalpha International Sdn Bhd, has been contracted to manufacture food-based products to be sold in China.
The subsidiary has signed an agreement with Jinrui Yandetang Co Ltd to develop a formulation and manufacture eight food-based products for Jinrui.
Jinrui, on the other hand, will be responsible to ensure the requested manufactured products, raw materials and packaging, are compliant with China's laws. Jinrui will carry out the relevant needful processes with the Chinese Customs, in order for the products to be commercialized.
Compact disc (CD) manufacturer GSB Group Bhd's share trade has been suspended since 11:28am today pending an announcement.
Metronic Global Bhd has teamed up with China's Zhuhai Singyes New Materials Technology Co Ltd (Singyes) to jointly develop smart city solutions in Malaysia.
Metronic said the joint venture (JV) represents part of its initiative to seek out for value accretive investments while leveraging on its existing engineering capabilities.
Power system engineering and technical solutions provider Pestech International Bhd is partnering with China's Huainan Sungrow Floating Module SCI & Tech Co Ltd to explore floating solar system solutions.
Pestech said it has inked a Memorandum of Understanding (MoU) with Sungrow to collaborate on floating solar system solutions, localisation of parts and other possible co-operation in Southeast Asia.
The Employees Provident Fund (EPF) is suing a subsidiary of Gets Global Bhd to recover RM708,938 of unpaid contributions.
Gets Global said the suit against Pengangkutan Awam Putrajaya Travel & Tours Sdn Bhd (PAPTT) was in respect of arrears for the period from February 2010 to November 2014.
On top of that, EPF is claiming another RM928,425 being late payment charges, said Gets Global.