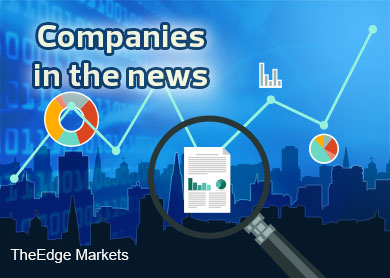 KUALA LUMPUR (Nov 11): Based on corporate announcements and news flow today, the companies that may be in focus tomorrow (Thursday, Nov 13) could be the following: Amcorp Properties Bhd, Boustead Heavy Industries Corp Bhd (BHIC), UOA Development Bhd, Yinson Holdings Bhd, Gas Malaysia Bhd, Amway (M) Bhd, Malaysian Pacific Industries Bhd (MPI) and Shell Refining Company (Federation of Malaya) Bhd.
Amcorp Properties Bhd's net profit for the second financial quarter ended Sept 30 (2QFY14) has surged 154% to RM7.03 million, from RM2.77 million, thanks to revenue from its local development project and disposal of associated company, Augustland Sdn Bhd.
Revenue surged almost 86% to RM44.4 million from RM23.91 million in 2013, due to contribution by its Malaysian and London projects (RM20.4 million), and its renewable energy and contracting division (RM24 million). Earnings per share has improved to 1.2 sen, from 0.48 sen a year ago, it told Bursa Malaysia today.
Its six months ended Sept 30 this year, registered a net profit of RM24.7 million — up 76.4% from RM14 million in 2013, while revenue climbed 50.8% on-year to RM85.11 million from RM56.44 million.
Its counter dropped 1.12% to close at 88 sen today, giving it a market capitalization of RM521.05 million.
Boustead Heavy Industries Corp Bhd's (BHIC) joint-venture company has been awarded a €63.08 million (RM292.69 million) contract to supply combat system equipment and related services for the Littoral Combat Ships Programme.
It told the exchange that its JV firm, Contraves Advanced Devices Sdn Bhd (CAD), has received the Letter of Award from Boustead Naval Shipyard Sdn Bhd (BNS). CAD is BHIC's joint venture via BHIC Defence Technologies Sdn Bhd.
Under the LoA, CAD will build and deliver six second generation patrol vessels with littoral combat capabilities (Frigate Class) — a job that was awarded to BNS by the Malaysian government.
BHIC said the awarded works were expected to have a positive impact on its earnings for the financial year ending Dec 31, 2014, and subsequent years, given the long term nature of the contract.
The ship builder's counter fell two sen to RM2.49 today, giving it a market capitalization of RM5.14 billion.
UOA Development Bhd has taken over property developer Concord Housing Development Sdn Bhd — which owns six parcels of freehold land at Jalan Ipoh, Kuala Lumpur — for RM2, and will now assume the company's RM134.3 million liabilities.
It told Bursa Malaysia that the latest land acquisition will enable the property developer to integrate the land with the existing 16.8 acres (6.8 ha) that it currently owns.
"UOA is proposing to develop the area — which will be highly accessible via major highways such as Duta-Ulu Klang Expressway (DUKE) and Jalan Kuching — into an integrated mixed development," it said.
It expects development to start by the fourth quarter of 2015, but has not finalised its detailed development plan for the project. It closed unchanged at RM2.10, with a market capitalization of RM3 billion.
Yinson Holdings Bhd said its associated company, Yinson Energy Sdn Bhd (YESB), has been awarded three licenses by Petronas: a floating offshore facilities (SWEC SF2010000) license, a mobile offshore facilities (SWEC SF2020000) license and a naval architecture and marine engineering (SWEC SE2010500) license.
"The award of these licenses qualify YESB to tender and participate in upcoming works relating to the categories of the listed licenses for Petronas and other oil companies and/or operators in Malaysia," Yinson told the exchange.
The upstream O&G service provider expects the new opportunities that come with the licenses, to contribute positively to its future earnings and net assets. It closed one sen higher at RM2.64, bringing its market capitalization to RM2.73 billion.
Natural gas supplier Gas Malaysia Bhd's net profit jumped 16.5% on-year to RM53.8 million in the third quarter ended Sept 30, 2014 (3QFY14), from RM46.2 million, due to higher volume of gas sold and the upward revision of natural gas tariff.
Revenue for the quarter also went up 25.8% to RM734.4 million, from RM583.7 million in 3QFY13, the natural gas distributor's told Bursa.
Its nine-month (9MFY14) net profit rose 9.9% on-year to RM144.3 million, while revenue climbed 16.3% on-year to RM1.99 billion.
On current prospects, Gas Malaysia anticipates the increase in gas volume and number of customers to sustain in the remaining quarter of the current financial year. It ended the day 1 sen or 0.3% higher at RM3.50, translating to a market capitalization of RM4.49 billion.
Weaker consumer sentiment has affected Amway (M) Bhd's third quarter earnings ended Sept 30, 2014 (3QFY14), with net profit falling nearly 25% to RM25.02 million, from RM33.28 million in 3QFY13.
The decline was due to lower sales, the direct selling company told Bursa in an announcement. Quarterly revenue also weakened to RM219.12 million — down 7.8% against RM237.57 million in 3QFY13, while earnings per share (EPS) dropped about five sen to 15.22 sen, from 20.24 sen.
Despite lower earnings, it declared a third interim single-tier dividend of 10 sen net per share for the financial year ending Dec 31, 2014, payable on Dec 9.
For the nine months ended Sept 30, Amway's net profit fell 4.23% to RM76.67 million from RM80.08 million in 3QFY13, while revenue fell 1.71% to RM625.93 million from 636.79 million.
It closed at RM11.56 today, down four sen or 0.34%, with a market capitalization of RM1.9 billion.
Electronics component manufacturer Malaysian Pacific Industries Bhd (MPI), which is linked to veteran banker Tan Sri Quek Leng Chan, said its net profit for the first quarter ended Sept 30, 2014 (1QFY15) grew 11.6% to RM19.91 million, from RM17.84 million a year ago.
MPI, which is linked to Quek through Hong Leong Manufacturing Sdn Bhd which owns a 52.35% stake, also declared an interim dividend of 7 sen per share, payable on Dec 12, 2014.
MPI told Bursa that the better earnings performance was due to higher product margins and lower material costs arising from lower commodity price. Revenue, however, slipped 1% to RM327.72 million from RM330.62 million in 1QFY14, attributable to a 24% drop in contribution from its US operations.
Its operations in Asia contributed 71% to operating profit, while its operations in Europe put in 13%, with the US making up for the remainder 16%, it said.
Year-to-date, MPI shares have appreciated RM1.97 or 61.95%. It fell 15 sen to close at RM5.15 today, translating to a market capitalization of RM1.02 billion.
Shell Refining Company (Federation of Malaya) Bhd posted net loss of RM199.8 million in the third quarter ended Sept 30, 2014, compared with net profit of RM42.9 million in the previous corresponding quarter.
Revenue dropped 12.7% to RM3.44 billion, from RM3.94 billion a year ago. It posted loss per share of 66.59 sen, against earnings per share of 14.29 sen in the previous corresponding period.
The petroleum refiner and manufacturer attributed the poor performance to stockholding losses of RM153.7 million.
The firm's loss for the nine-month period widened 129% to RM271.9 million, from RM118.6 million a year earlier; but revenue rose 3.6% to RM11.33 billion, from RM10.94 billion in the same period last year.
Shell Refining said the bigger loss was also mainly contributed by stockholding losses of RM179.4 million, due to the decline in oil prices. Comparatively, the company recorded a stockholding gain of RM46.5 million last year.
On prospects, Shell Refining expects refinery margins to be weak for the rest of the year, but said it would continue to focus on operational and product quality to maximize margin opportunities.
Its share gained 23 sen or 4.1% to close at RM5.80, translating to a market capitalization of RM1.74 billion.