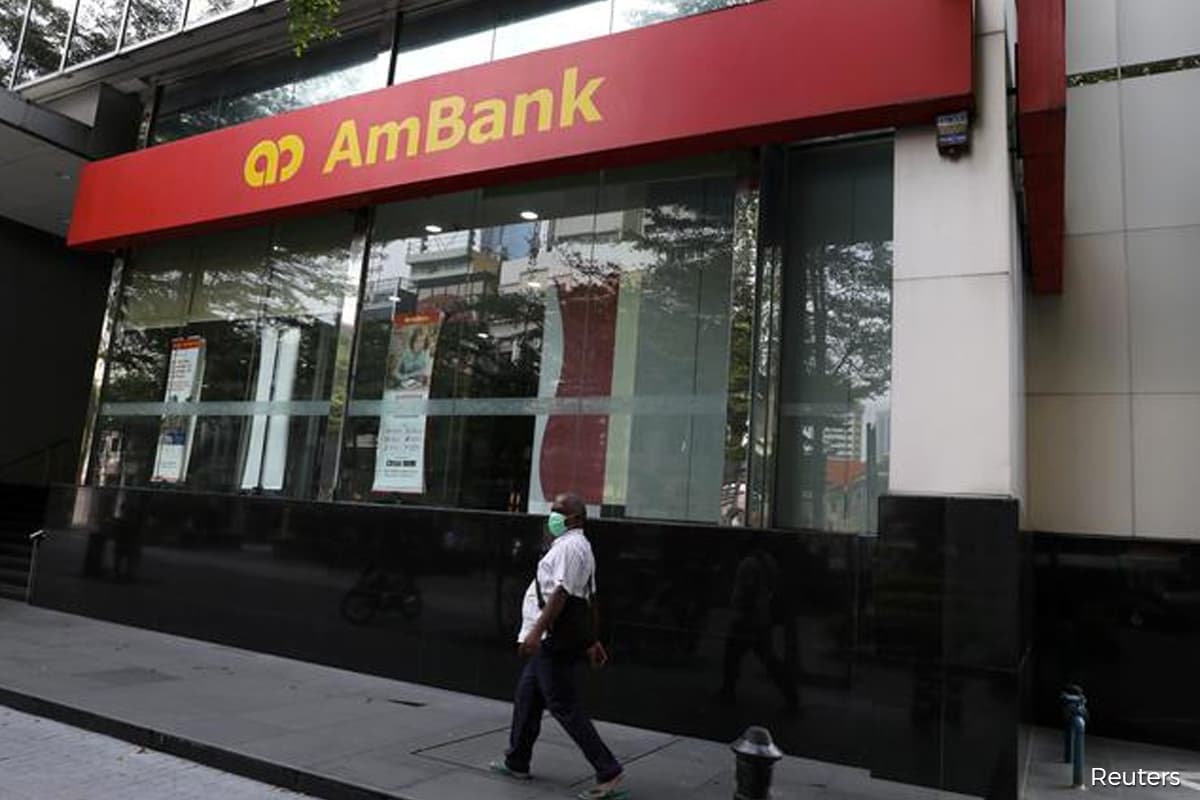 KUALA LUMPUR (March 1): As of last Friday, AMMB Holdings Bhd (AmBank) was one of the banking stocks that had a high number of buy recommendations by investment analysts who believed its valuation was attractive.
However, investment analysts are expected to revise their recommendation after the banking group last Friday dropped a bombshell announcing that it has to bear a RM2.83 billion global settlement in relation to the involvement in the 1Malaysia Development Bhd (1MDB) corruption scandal.
Analysts said AmBank's share price will be punished for the negative surprise that will cost the group pro-forma loss per share of 93.83 sen in the current financial year ending March 31, 2021 (FY21). Due to the massive settlement, the banking group will not be able to afford to declare any dividend in FY21.
The knee-jerk selldown is expected to be intensive, said analysts, simply because AmBank's share price has not factored in the likelihood of such a massive sum of global settlement prior to the news.
The RM2.83 billion settlement is equivalent to nearly 30% of its market capitalisation based on last Friday's closing of RM3.16.  
When contacted, MIDF Amanah Investment Bank Bhd research head Imran Yassin Yusof said the news was a big negative surprise to him as he thought that the RM53.7 million fine imposed by Bank Negara Malaysia (BNM) in 2015 would have been the final penalty on AmBank for its involvement linked to 1MDB.
"Certainly we believed that the news will have a negative impact on its (AmBank) share price as well as its financial performance … there is possibility that it would be overshoot in terms of the selling of AmBank's share price when there is panic selling, Imran told The Edge.
The news has prompted MIDF to downgrade its call on AmBank, to "trading sell" from "trading buy", with a substantially lower target price (TP) of RM2.75, versus RM3.60 previously.
"AmBank has been well-navigated despite the pandemic that has brought along loan moratorium. We were very optimistic about its prospects, as we were expecting them to continue from strength-to-strength as things would have started to improve despite some weaknesses expected in their third quarter result [ended Dec 31, 2020]," he noted.
"We believe at least in the short term, the bank's valuation would be negatively impacted by the news and could possibly send its valuation to trade below its current price-to-book-value of 0.5 times due to knee-jerk sell down," said Imran.
Based on his projection, AmBank would suffer an annual net loss of RM1.36 billion for the financial year ending March 31, 2021 (FY21), a sharp contrast to the initial forecast of an annual net profit of RM1.28 billion prior to the announcement on the global settlement.
As at last Friday, Bloomberg showed that there are 11 analysts who have "buy" calls while three have "hold" calls and another three have "sell" calls. The 12-month average TP is RM3.75 — implying 18.7% upside compared to its closing price of RM3.16 on last Friday (Feb 26).
"By looking at expectations on AmBank, the consensus has leaned towards "buy" call on the stock, due to its cheap [valuation] and riding on recovery play. Because expectation is skewed up,  when a negative event like this comes, it posts more downside risk to its valuation due to missed expectation," said an analyst who tracks the stock on the condition of anonymity.
"Simple mathematics is the impact of this global settlement sum to its valuation is roughly the same as [share price] limit down, about 30% of its market capitalisation," he said.  
Going forward, there are concerns on how swift AmBank could generate enough profit to recover the shortfall given that the bank has lesser capital on hand to drive growth.
"The more profit the bank makes, the sooner it will be able to rebuild its capital," said the analyst, noting that it would not be an easy feat, at least in the near term, for AmBank against the backdrop of harsh  economic conditions and growing cost base.
"My estimate is it will take them (AmBank) at least three years, or as long as five to rebuild their capital," said the analyst.  
With the foreseeable downside risk, the analyst advised investors to avoid the stock.
MIDF's Imran, on the other hand, views that it will take AmBank two years to recover their capital base to where it stood before the provision made for the global settlement, based on its average annual profit of RM1.4 billion for the past two financial years.
Imran said the capital base would recover slightly faster, assuming AmBank continues not to pay dividend in FY22. But, he said it is unlikely as he expects AmBank to resume dividend payment once it returns to black. He has projected AmBank to earn an annual net profit of RM1.44 billion in FY22.
AmBank has estimated pro forma impact on the group's Core Equity Tier 1 (CET1) to be a reduction to 11.01% from 13.52%.
Nevertheless, Imran said AmBank's CET1 at 11.01% is still at a good level and believes the bank will continue chart its growth trajectory as the economic recovery wave and loan demand accelerate are boon to the company.
For the cumulative six months ended Sept 30, 2020 (1HFY21), AmBank's net profit shrunk by 15.3% to RM602.48 million from RM711.03 million a year ago. Cumulative revenue fell 8.2% to RM4.35 billion from RM4.74 billion.
AmBank has yet to release its third quarter financial result last month.
Read also:
Trading of AMMB securities halted until end of tomorrow pending announcement
ANZ writes down AmBank stake after 1MDB scandal settlement
Analysts slash target prices for AmBank on 'negative surprise' of RM2.83b 1MDB settlement
AmBank's 3Q net profit down 30.96% on higher allowance for loans impairment