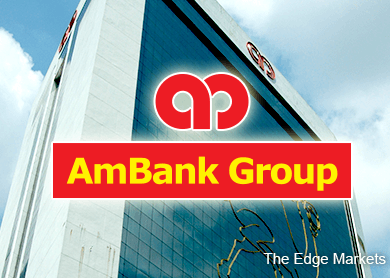 KUALA LUMPUR (July 16): AMMB Holdings Bhd (AmBank Group) said it is investigating the identity of those behind a blog that orchestrated an elaborate hoax with claims about the personal accounts of Prime Minister Datuk Seri Najib Razak, and vows to take legal action against them for defaming Ambank Group.
The blog was published by a supposed non-governmental organisation that calls itself the Citizens for Accountable Governance Malaysia (CAGM), led by one Md Zainal Abidin as its chairman.
"We are continuing our investigations and inquiries into the Citizens for Accountable Governance Malaysia and its purported chairman, Md Zainal Abidin, to ascertain the real identity of those behind the postings.
"Once their identities and motives are ascertained, we will take such action as is available to us under the law," said AmBank Group in a statement today.
It said regardless of the motives behind the hoax, the blog's postings on July 12 and 14, "contained malicious and defamatory statements against AmBank Group, its chairman and employees".
"This was compounded by the republication of these statements in other media publications thereby gaining unwarranted attention and traction," it said.
"It is of little comfort to us that the so-called Citizens for Accountable Governance Malaysia now admits that this hoax was directed at the media and presumably not at us," it said.
It was reported that CAGM had first sent a statement to the media on July 12, saying it had court documents in its possession to prove its claim about funds from Najib's accounts going to Barisan National parties for the 2013 general election.
The blog then purported to corroborate that statement by publishing a posting entitled "The sworn affidavit that implicates the PM" on July 14, 2015, which contained what it described as a "Statutory Declaration" (SD) from an alleged former employee of "AmBank Malaysia Berhad".
The staff had claimed in the SD that he was sacked after questioning the transfer of millions into Najib's account.
But on July 15, after the press statement was picked up by various news portals, the same blog announced that the whole thing was "just an experiment in social media in Malaysia".
It had also admitted that the statutory declaration by the AmBank staff was a fake.
Meanwhile, AmBank Group said it is bound by the Financial Services Act 2013 (FSA) and Islamic Financial Services Act 2013 (IFSA), which are strict in their protection of client confidentiality.
It also stressed that the AmBank Group adopts good practices in corporate governance and applies Malaysian banking laws and regulations, besides having cooperated fully with the authorities in an open and transparent manner, and will continue to do so.
"We would like to reassure our valued customers that the AmBank Group operates with high levels of integrity and that our business is operating as usual," said AmBank Group chairman Tan Sri Azman Hashim in the same statement.