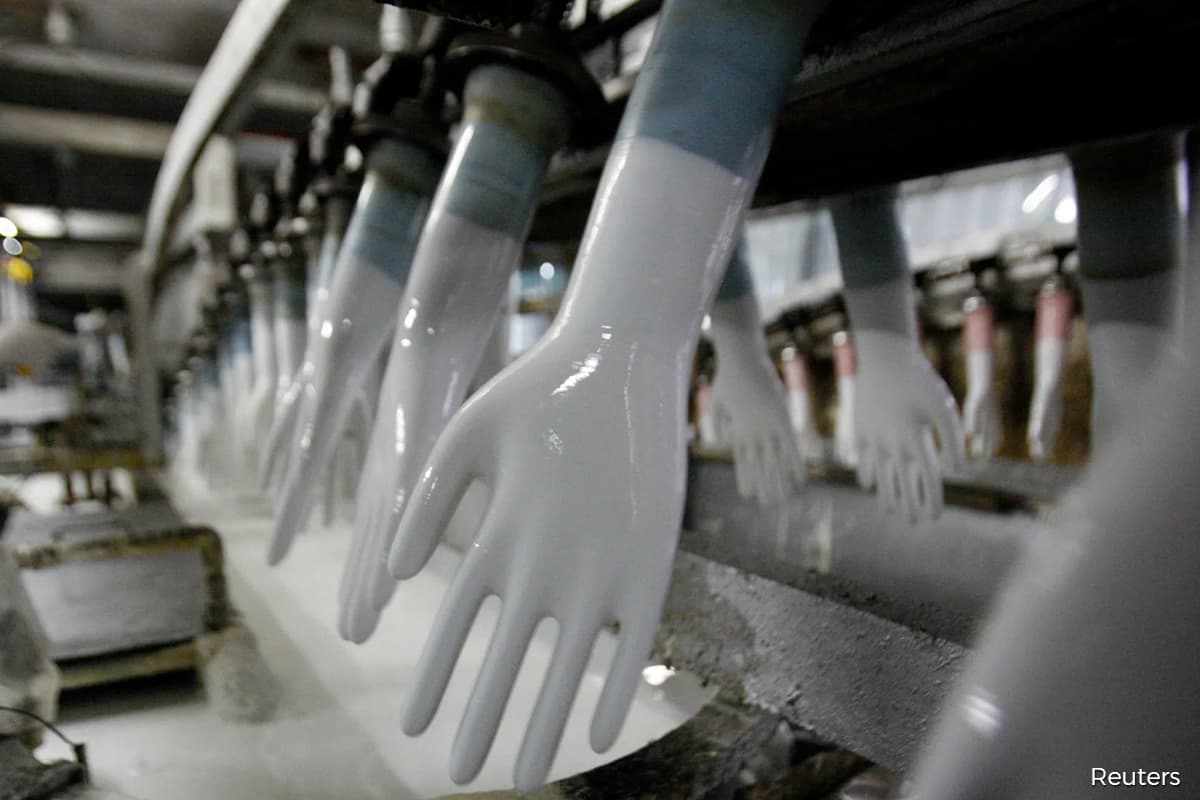 KUALA LUMPUR (Aug 25): The run-up among glove counters may have peaked, said AmBank Research, which has downgraded its call on the sector to "neutral" from "overweight" considering that the share prices are fully valued.
In a research note today, AmBank Research opined that the elevated average selling prices (ASPs) enjoyed by glovemakers "will begin to taper off in 1Q21".
The research house has Top Glove Corp Bhd, Kossan Rubber Industries Bhd and Hartalega Holdings Bhd under its coverage.
"Share prices of all of the glove companies under our coverage have exceeded their target prices," it said. "We believe that at current share price levels, the valuations for glove companies under our coverage have fully priced in the companies' earnings outlook."
"PE valuations are demanding," it added, pointing out that Top Glove is currently trading at CY21F PE of 43.3 times, which is two standard deviations (SD) higher than its three-year average forward PE of 28.9 times, while Kossan's CY21F PE of 26.0 times is almost 1SD higher than its three-year average forward PE of 23.7 times, and Hartalega is trading at a CY21F PE of 40.9 times, which is slightly higher than its three-year average PE of 39.5 times.
AmBank Research noted that the planned capacity increase of 126 billion pieces or 54% by end-2022 "will more than offset" demand increase, and that the recent strides in Covid-19 vaccines will affect ASPs as well.
"The big glove producers (Top Glove, Kossan, Hartalega, Supermax Corp Bhd and Thai-listed Sri Trang Agro Industry PCL) have plans to increase capacity by 21% in 2020, 23% in 2021 and 27% in 2022," the research house said.
However, Ambank Research maintained its earnings forecasts, as it assumes a Covid-19 vaccine would only be available by 2H21. It also opined that sales volume will continue growing next year.
"[This] as we anticipate a structural change in the way gloves are used," it said.
"There will be a new normal where glove usage per capita will increase as hygiene measures become stricter," it added, pointing to opportunities in emerging markets like China and India where glove consumption is low at around two to six units per capita, as opposed to 100 to 280 gloves in developed countries.
AmBank Research downgraded Top Glove and Kossan to "hold" with unchanged fair values of RM25.70 and RM15.74 respectively, while maintaining a "hold" call on Hartalega with fair value of RM18.74.
Shares of the four largest Malaysia-listed glovemakers fell between 5% and 11% today, as investors digested the renewed possibilities of Covid-19 vaccine being found. Currently, no glove stocks in Malaysia have any "sell" call by analysts covering the companies.
Edited by S Kanagaraju and Joyce Goh