This article first appeared in The Edge Financial Daily, on April 16, 2019.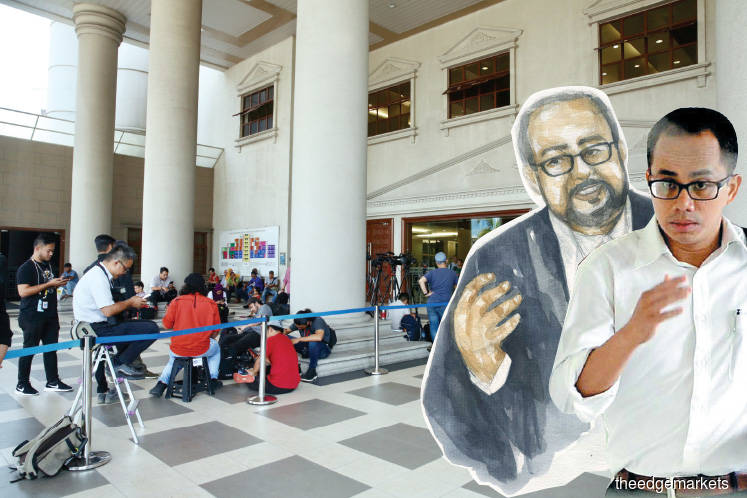 KUALA LUMPUR: A Bank Negara Malaysia (BNM) raid at an AmBank branch in 2015 took place four days after The Wall Street Journal's (WSJ) breaking report on Datuk Seri Najib Razak's accounts, the High Court heard yesterday.
The WSJ report on July 2, 2015 stated investigators were scrutinising the former premier's accounts after millions of dollars flowed into them.
BNM manager Azizul Adzani Abdul Ghafar, testifying at Najib's SRC International Sdn Bhd corruption trial, said he led a team of two other officers in the Jalan Raja Chulan AmBank branch raid four days later to obtain some documents.
Azizul Adzani said he told the branch manager, R Uma Devi, about the accounts being investigated and that the raid followed allegations of money laundering under Section 4 of the Anti-Money Laundering, Anti-Terrorism Financing Act and Proceeds of Unlawful Activities Act 2001.
Uma Devi came back later with documents which the prosecution had subsequently placed in eight folders, the BNM manager said.
He testified that four of the folders contained details regarding Najib's accounts, while another three were on SRC International accounts and one more on Gandingan Mentari Sdn Bhd, a subsidiary of SRC International.
Azizul Adzani, 41, the prosecution's second witness, was replying to Deputy Public Prosecutor Datuk Suhaimi Ibrahim's questions.
Documents marked as evidence
He said the documents from the eight folders, with details of the accounts among other information, were marked as evidence by the court. The witness also told the court that while he led the raiding team on AmBank, the investigating officer was Ahmad Farhan Sharifuddin.
Azizul Adzani said he handed the seized documents, as well as the Financial Intelligence Search List, to Ahmad Farhan.
Ahmad Farhan and Uma Devi were later called into the court to be identified by Azizul Adzani.
Najib is facing three counts of criminal breach of trust, three counts of money laundering and one count of abuse of power concerning RM42 million found in his accounts.
The money is said to be owned by SRC International, a former subsidiary of 1Malaysia Development Bhd (1MDB).
The prosecution is led by Attorney-General Tommy Thomas, along with senior lawyers and appointed prosecutors Datuk Sulaiman Abdullah and Datuk V Sithambaram.
The proceedings were adjourned at 4.15pm after the defence complained that their documents, concerning the eight folders, were not handed to them in a proper order during pre-trial.
Sithambaram told the court that the prosecution needs some time to produce photocopies of the documents, and sought the adjournment until today.
SSM witness admits mistake
Earlier, the first prosecution witness, Companies Commission of Malaysia (SSM) assistant registrar Muhamad Akmaludin Abdullah, was cross-examined by Najib's lawyer Havinderjit Singh.
Muhamad Akmaludin agreed with the defence that SRC International directors Nik Faisal Ariff Kamil and Datuk Suboh Mohd Yassin remained as directors of SRC International and Gandingan Mentari.
Muhamad Akmaludin also agreed with Havinderjit that he made a mistake in his witness statement last April 3, when he told the court that Goh Gaik Kim was appointed an additional company secretary for SRC International, whereas Goh was representing Lim Poh Seng.
The hearing is set to continue this morning.