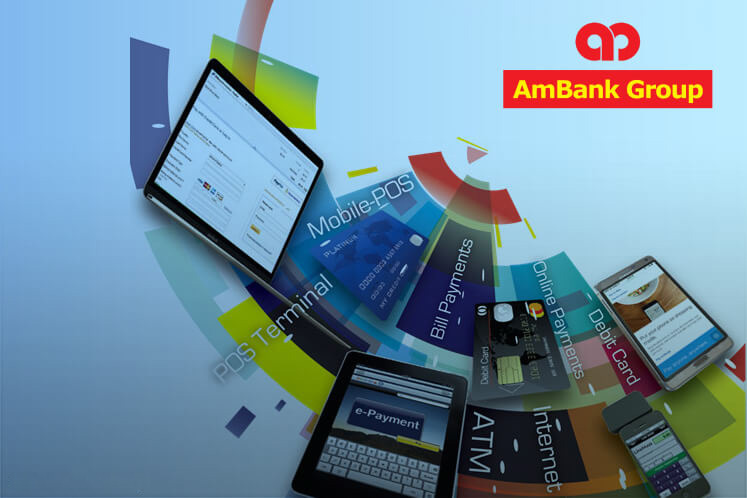 KUALA LUMPUR (Aug 21): AMMB Holdings Bhd's (AmBank Group) net profit rose 5.9% to RM347.59 million in the first financial quarter ended June 30, 2018 (1QFY19) from RM328.27 million a year ago, supported by higher net interest income (NII).
Quarterly NII increased 3.6% to RM431.37 million in 1QFY19 compared with RM416.24 million a year ago. However, net interest margin (NIM) for 1QFY19 remained flat at 2.02% compared with 1QFY18.
Earnings per share rose to 11.56 sen for 1QFY19 compared with 10.92 sen for 1QFY18. Quarterly operating revenue also came in 4.4% higher to RM2.17 billion from RM2.08 billion in 1QFY18.
Gross loans grew 1.8% year-on-year (y-o-y) to RM34.8 billion, principally from growth in mid corporate lending.
"After a year of putting in place a series of fundamental changes, we have today a solid platform to grow further, as our 1QFY19 results point to a reasonable start to the new fiscal year," AmBank Group chief executive officer Datuk Sulaiman Mohd Tahir said in a statement today.
"Our 1QFY19 income growth was broad based. Our operating leverage improved, with cost-to-income (CTI) ratio of 50.6% from 56.3 % in 1QFY18. We saw a strong pre-provision profit growth of 16.7% compared with 3.2% in 1QFY18.
At RM501 million, Sulaiman said this is the highest pre-provision profit recorded since 4QFY15, a testament to the strength of its Top 4 strategy.
"As a result of our concerted efforts over the past year to implement a philosophy of stronger cost discipline, expenses were down 7% y-o-y to RM513 million. Our cost base is now leaner following the completion of the mutual separation scheme.
"Other operational expenses were also reduced as we continue to manage costs diligently through BET300, our three-year business efficiency transformation aimed at achieving RM300 million gross cost savings across the group," he added.
AmBank Group's customer deposits grew 2.9% year-to-date (YTD) to RM98.6 billion, while its current accounts and savings accounts (CASA) increased by 2.1% YTD.
"We remain focused on driving CASA. as well as retail and business banking deposits to improve our funding resiliency. Our retail deposit mix increased to 53.9% from 51.5% on March 31, 2018. Our CASA composition stood at 21.1%," said Sulaiman.
On prospects for the financial year ending March 31, 2019 (FY19), Sulaiman said the group is on track to achieve its full year CTI target of 55%.
"We will continue to maintain our focus on driving income and CASA growth, as well as manage cost diligently through our BET300 programme to attain operational efficiencies while emphasising capital accretive growth," he added.
At 2.08pm, AmBank Group shares were up 7 sen or 1.81% at RM3.930, with 243,000 shares traded, bringing a market capitalisation of RM11.79 billion.