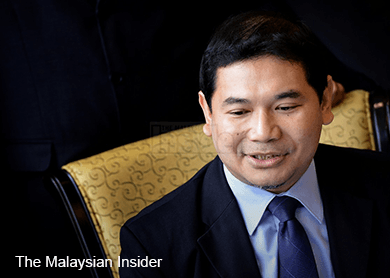 KUALA LUMPUR (Mar 4): PKR secretary-general Rafizi Ramli is standing by his claim that the departure of AMMB Holdings Berhad (AmBank Group) group managing director Ashok Ramamurthy was linked to 1Malaysia Development Berhad (1MDB), despite a denial issued by AmBank's board of directors.
He told news portal Malaysiakini that the denial was "expected", given that AmBank could not disclose internal matters.
"The information came from a whistleblower who had helped us with 1MDB before and so far the information provided has been accurate," the Pandan MP was quoted as saying by the news portal.
"I don't want to pick a fight with AmBank. What's more important is for Bank Negara Malaysia to reveal its findings (on AmBank's 1MDB dealings) and its views on the debt level of 1MDB."
Rafizi told Malaysiakini that AmBank's decision to "keep it in-house" also meant the audit non-compliance was likely not criminal in nature.
"Chances are it is not criminal but an audit non-compliance is definitely for BNM to flag out for a loan of RM2 billion," he was quoted as saying.
Yesterday, PKR charged that Ashok's departure in January was related to a deal with the controversial 1MDB.
Rafizi claimed that his resignation was allegedly due to a RM2 billion loan given to the strategic investment fund's Bandar Malaysia property development project.
Citing information from a "whistleblower", Rafizi had claimed Ashok resigned on January 21 after Bank Negara Malaysia conducted a compliance audit on the banking giant and discovered a few "irregularities" related to the loan.
He also alleged that besides Ashok, two other senior officials have also resigned.
However, AmBank said in a statement later that day that Ashok decided to return to his family in Melbourne, Australia after having lived away from them in Kuala Lumpur for several years.
He had been working with AmBank Group since 2007 and was appointed group managing director in 2012.
He will resume his career with Australia and New Zealand Banking Group.
In late January, the group reportedly said that the departure was part of a planned transition that will see him rejoin his family in Australia.