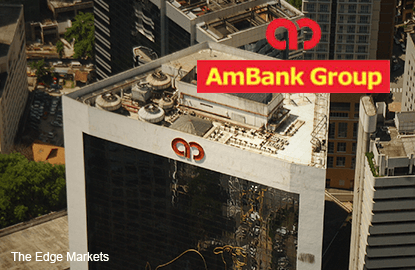 KUALA LUMPUR (July 15): AMMB Holdings Bhd (AmBank Group) will reduce its base rate (BR) and base lending rate (BLR) by 20 basis points (bps) to 3.8% and 6.65% respectively, from July 19, following Bank Negara Malaysia (BNM)'s decision to cut the Overnight Policy Rate (OPR) by 25bps on Wednesday (July 13).
In a statement today, AmBank Group and AmBank (M) Bhd chief executive officer Datuk Sulaiman Mohd Tahir said rate reduction will not impact the banking group's performance.
"While BNM's decision to reduce the OPR was unexpected, the move comes at the right time and will have positive ramifications for consumers as well as the Malaysian economy.
"With Malaysia's gross domestic product for the first quarter of 2016 slowing down on a year-on-year basis, it is evident that headwinds continue to pose a challenge to the market.
"In addition, the outcome of the recent EU referendum is expected to have an impact on global economies in the months ahead, [thus] a reduction in interest rates will help to offset these instabilities by encouraging consumption and investments," he said.
Ambank's announcement came after Malayan Banking Bhd (Maybank) announced the same quantum of cut to its BR and BLR yesterday (July 14), which saw its BR reduced to 3% per year from 3.2%, while its BLR was revised down to 6.65% from 6.85% — effective today.
Bank Simpanan Nasional also said it will lower its rates to reflect the new benchmark rates, but has yet to decide on the quantum.
Meanwhile, Sulaiman went on to say in the same statement that while deposits will be less attractive moving forward, consumers can explore other investment opportunities, such as unit trusts and other wealth management products, which can potentially yield higher earnings.
"Granted, soft consumer sentiment and low investor confidence is likely to continue affecting domestic growth.
"However, the lower base rate and BLR will benefit borrowers. On the whole, I am confident that this is a definitive step in the right direction and will play a part in supporting our economic growth in the coming months," he said.
AmBank shares ended the day up 6 sen (1.4%) at RM4.39 today, for a market capitalisation of RM13.23 billion.