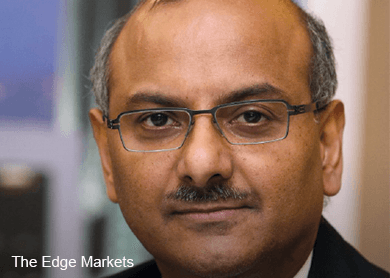 KUALA LUMPUR: AMMB Holdings Bhd (AmBank Group) has denied reports that the planned departure of its group managing director Ashok Ramamurthy (pic) was linked to 1Malaysia Development Bhd (1MDB).
"The board of directors of AmBank Group wish to clarify that online media reports today (yesterday) linking the planned departure of Ashok with 1MDB are wrong," the group said in a statement yesterday, reported Bernama.
Earlier, PKR charged that the planned departure of Ashok, who resigned in January, was related to a deal with controversial 1MDB.
Party secretary-general Rafizi Ramli, at a press conference yesterday, claimed that Ashok's resignation was allegedly due to a RM2 billion loan given to the strategic investment fund's Bandar Malaysia property development  here.
Citing information from a "whistleblower", he claimed Ashok resigned on Jan 21 after Bank Negara Malaysia (BNM) conducted a compliance audit on the banking giant and discovered a few "irregularities" related to the loan.
He also alleged that besides Ashok, two other senior officials have also resigned.
Commending the central bank's move, Rafizi said, "this raises the question on other banks which have granted loans to 1MDB".
"BNM must expose other compliance audits on all local banks which have given loans to 1MDB to enable members of parliament (MPs) and the public to evaluate how 1MDB loans affect the stability of the country's banking sector," he said at the PKR headquarters.
In late January, AmBank Group had announced that Ashok would step down as group managing director and resume his career in a senior executive role at Australia and New Zealand Banking Group Ltd (ANZ).
It had said the departure is part of a planned transition that will see him rejoin his family in Melbourne, Australia.
Ashok joined AmBank Group from ANZ in 2007, first as its chief financial officer before becoming group managing director in 2012.
ANZ is one of AmBank Group's largest shareholders.
AmBank Group had also denied media reports that its managing director of wholesale banking, coverage, Pushpa Rajadurai, managing director of wholesale banking, products, Kok Tuck Cheong and group chief financial officer Mandy Simpson would be resigning, saying that the trio "have existing contracts and are continuing to serve the group in accordance with these contracts as normal".
Besides the RM2 billion loan from AmBank Group, 1MDB had also taken loans from other financial institutions such as Malayan Banking Bhd, RHB Bank Bhd and Standard Chartered Bank.
Rafizi yesterday warned that the amount of loans taken by 1MDB from the local banks will pose a systemic risk to the entire banking sector.
"When 1MDB takes short-term loans of between six months and one year, it would not be reported fully in financial statements, so it is important for us to see all compliance audits done by BNM so that the public, analysts and the financial sector can judge 1MDB's debt levels and whether they will pose a systemic risk to the banking sector," he said.
The Pandan MP added that he had submitted parliamentary questions on the matter to the finance minister and expressed hope that they would be answered at the coming Parliament sitting that is due to start next week. — The Malaysian Insider
This article first appeared in The Edge Financial Daily, on March 4, 2015.