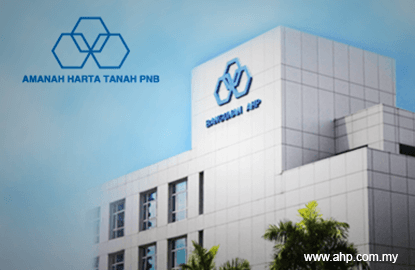 This article first appeared in
The Edge Financial Daily,
on April 5, 2017.
KUALA LUMPUR: Bursa Malaysia-listed real estate investment trust (REIT) Amanah Harta Tanah PNB (AHP), which has recently completed the acquisition of Mydin Mall Seremban 2 for RM240 million, plans to buy more assets this year to further bolster its financial performance amid the continued slump in the property market.
The REIT is managed by Pelaburan Hartanah Nasional Bhd, a wholly-owned unit of Permodalan Nasional Bhd (PNB).
AHP chief executive officer Hafidz Atrash Kosai Mohd Zihim said the group is looking to expand its portfolio of assets — regardless of asset type — to boost the group's rental yield income.
"We cannot determine yet when they (asset acquisitions) will be. I hope it will be before the end of the year.
"It can be anything that can give us good yield, either office or retail assets," he said after the REIT's annual general meeting at Menara PNB yesterday.
Hafidz said despite softer market sentiment, the group will try to find a way to better position itself for sustainable growth.
"It (the market slump) is happening to us already. The market is suppressed so everyone (industry players) is looking at attracting the same group of tenants. We have to look at the market trend right now. For example, some are giving free rental [for certain number of months], reducing the rental rate, free parking and more. Those [reflect] the creativity of the market and we have to match that. We will try anything that can give us [better] yield," he said.
The group is currently planning the refurbishment of its assets. Among the properties it owns are the Plaza Vads, a 24-storey office building with a four-storey podium block in Taman Tun Dr Ismail, Kuala Lumpur; Bangunan AHP, a four-storey commercial building in the same area; and Sri Impian, a four-storey office building in Taman Setiawangsa, also in Kuala Lumpur.
"We do have plans for refurbishment, although we don't have many assets. But we have to see if the asset we refurbish has got someone ready to rent it, and at the right yield. If they are not willing to rent at a certain rate, then we won't do it. At the moment, we haven't identified which assets will be refurbished yet," he said.
AHP's fourth quarter ended Dec 31, 2016, registered a net rental income of RM10.07 million versus RM1.96 million a year earlier, bringing its full-year net rental income to RM17.23 million versus RM7.87 million in financial year 2015 (FY15).
Distribution per unit for FY16, however, fell to 4.5 sen from seven sen in FY15, after the group enlarged its units in circulation to 220 million from 100 million, following the completion of a rights issue exercise.
Going forward, the group expects this year to be a better year for the group, earnings-wise.
"Mydin Seremban 2 will give us a positive higher yield and 2017 will be much better with the addition of Mydin Seremban 2 to AHP's stable of properties," Hafidz added.
AHP's units closed unchanged at 96 sen, with a market capitalisation of RM211.2 million.