This article first appeared in Personal Wealth, The Edge Malaysia Weekly, on June 29, 2020 - July 05, 2020.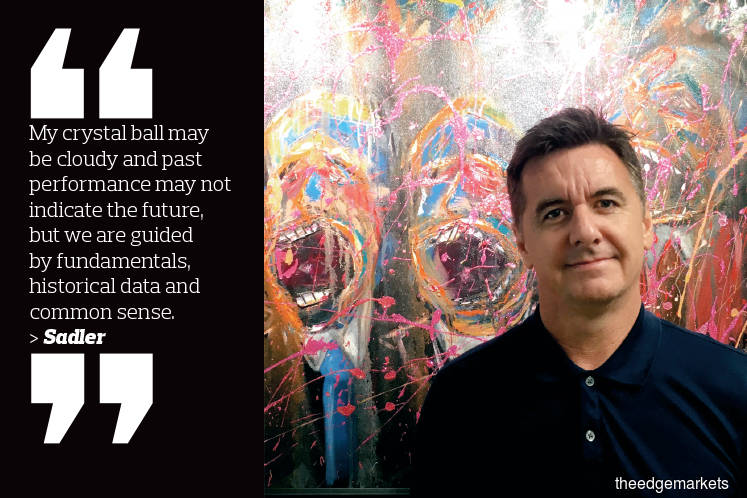 The art market is expected to remain resilient amid the volatile capital markets, says Troy Sadler, managing director of Singapore-based art gallery and boutique advisory firm Art Works.
He says the prices of artworks have not been affected by share price movements. Although a fluctuation in the equity market may have an impact on the art market's liquidity and sales volume, these are poised to recover as early as next year.
"It has been a strong year for Art Works as we have seen a 50% increase in new clients. Of course, we expect the year to be challenging. But at the same time, we think the art market will bounce back strong, like after the 2008 global financial crisis," says Sadler. 
After the collapse of Lehman Brothers, the Mei Moses All Art Index —  which was the leading index at the time —  saw a 23.5% decrease in returns. This was the single largest decline in the index since the 1991 decline of 38.7% and the second largest decline since the Great Depression. According to Beautiful Asset Advisors LLC's 2009 year-end market insights report, the declines of 2008 and 2009 occurred after five years of positive growth averaging almost 20%. 
Then, a strong recovery in sales began. From a low point of US$39.5 billion in 2009, the newly booming Chinese market and a rapid rebound in sales in the US pushed the market up to a high of about US$65 billion in 2011, according to The Art Market 2020 report by Art Basel (a privately owned and managed annual international art fair in  Basel, Switzerland) and UBS. 
After a halt and temporary correction in global sales value in 2012, another strong market followed, leading to a historic high of US$68.2 billion in sales in 2014. For the decade of 2009 to 2019, the art market grew 62% and 34% in value and volume respectively, according to the report. 
"I drew comparisons to the global financial crisis because we deal primarily with contemporary art. Up to the early 2000s, there were no modern auction houses selling contemporary artworks," says Sadler. 
"To sell at an auction, the art needs to be in extremely high demand and pretty limited supply. We saw this demand after the dotcom bubble burst when art was highly desired as an asset class. That was when the contemporary art market really got started. 
"The market continued to expand until the global financial crisis. In 2009, we saw liquidity come out of the market. The following year, there was continual growth again. 
"In 2019, we saw record prices in Asia, which essentially became the No 1 art market in the world. That is why despite what we are seeing today, I feel strongly that the art market will bounce back not too long from now." 
There has been a paradigm shift in investing post-global financial crisis, says Sadler. Investors want to have more allocation to tangible assets and art is one of the more popular ones. Investors have seen art's holding value as well as its role as a hedging tool in a portfolio against inflation and volatility, he points out. 
"Again, there are bound to be challenges this year and the next. For example, international artists may not be able to sell their artworks via exhibitions and other traditional avenues. But that does not mean they cannot sell. In fact, online auctions are becoming a popular alternative for investors all over the world," says Sadler. 
The technological evolution has strongly supported art as an asset class. Apart from increasing transparency, it allows for new opportunities in the market with the availability of online auction houses, online databases, online and real-time market data dissemination, online catalogues and artist websites. Online sales of Christie's, for example, reached US$270 million in 2019, growing for a third year despite a decline in overall sales. 
Sadler says most of Art Works' regional clients only physically see the art they have purchased or leased after the deal is completed. Prior to that, the viewing is done digitally. This is made possible as the firm works with established artists and provides all the necessary certifications of authenticity.
Sadler is positive that the global art market will see a recovery and continues to advise his clients to have a certain percentage of art in their portfolios. "We think investors can continue to enjoy good capital appreciation from their art investments. My crystal ball may be cloudy and past performance may not indicate the future, but we are guided by fundamentals, historical data and common sense," he says.