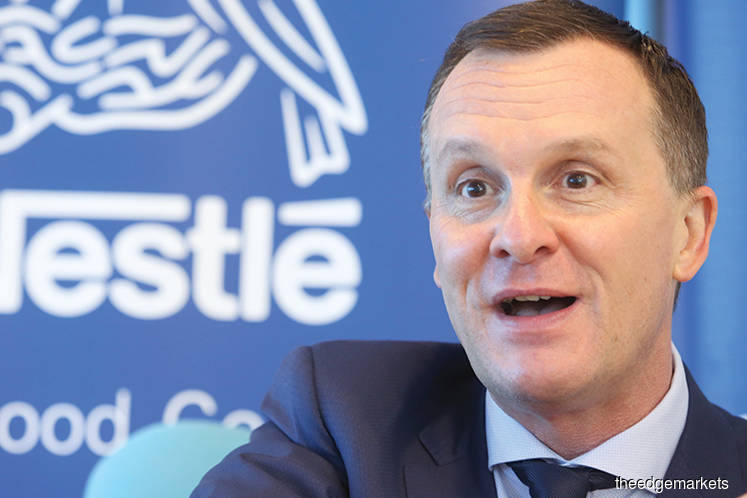 KUALA LUMPUR (Oct 4): Alois Hofbauer will be stepping down as chief executive officer (CEO) of Nestle (Malaysia) Bhd on Nov 30, 2018, as he will be leaving the Nestle Group to pursue other interests outside the company, which a news report stated would be at a leading Saudi dairy manufacturer.
He will be replaced by Juan Aranols, who will take over the post on Dec 1, Nestle Malaysia said in a statement today. Aranols is currently the chief financial officer (CFO) for the Nestle Group's Asia, Oceania and Sub-Saharan Africa zone (Zone AOA).
A Spanish, Aranols joined the Nestle Group in 1990 as an auditor for Nestle Spain. In his 28 years with the company, he has held roles of increasing responsibility across a number of different markets in Europe and Latin America.
In the last six years, he worked at Nestle Global Headquarters; first as the global group controller, and then in his current role as CFO and a member of the senior management team for Zone AOA from 2015.
Speaking about his new appointment  Aranols said: "Nestle Malaysia is a company with a long history and great future prospects. I am both humbled and excited to be given the opportunity to take this organisation forward, building on the strong foundations laid by my predecessor and his team".
According to Reuters, Hofbauer will be taking on the CEO role at Almarai, the Middle East's largest food manufacturer with an annual turnover close to US$4 billion. Headquarted in Riyadh, Saudi Arabia, Almarai is listed on the Saudi Stock Exchange with a market capitalisation of US$12 billion.
From the report, Hofbauer will be joining Almarai on Jan 1, 2019 and his appointment as CEO of the group will be effective from April 1, 2019.
Hofbauer, an Austrian, has had a long and illustrious career with the Nestle Group, having served the group since December 1990. He has been the CEO of Nestle Malaysia since Feb 22, 2013. Prior to his role in Malaysia, he was the managing director of Nestle Sri Lanka.
"I am proud that my team and I have established Nestle Malaysia as one of the top performing companies on the Bursa Malaysia. We reignited growth and achieved solid results year after year. I am confident that this success will continue, and I wish Juan all the best in his new role," Hofbauer said in Nestle Malaysia's statement.
Following Hofbauer's resignation, Alessandro Monica ceased to be an alternate director to him.