This article first appeared in The Edge Malaysia Weekly, on June 20, 2022 - June 26, 2022.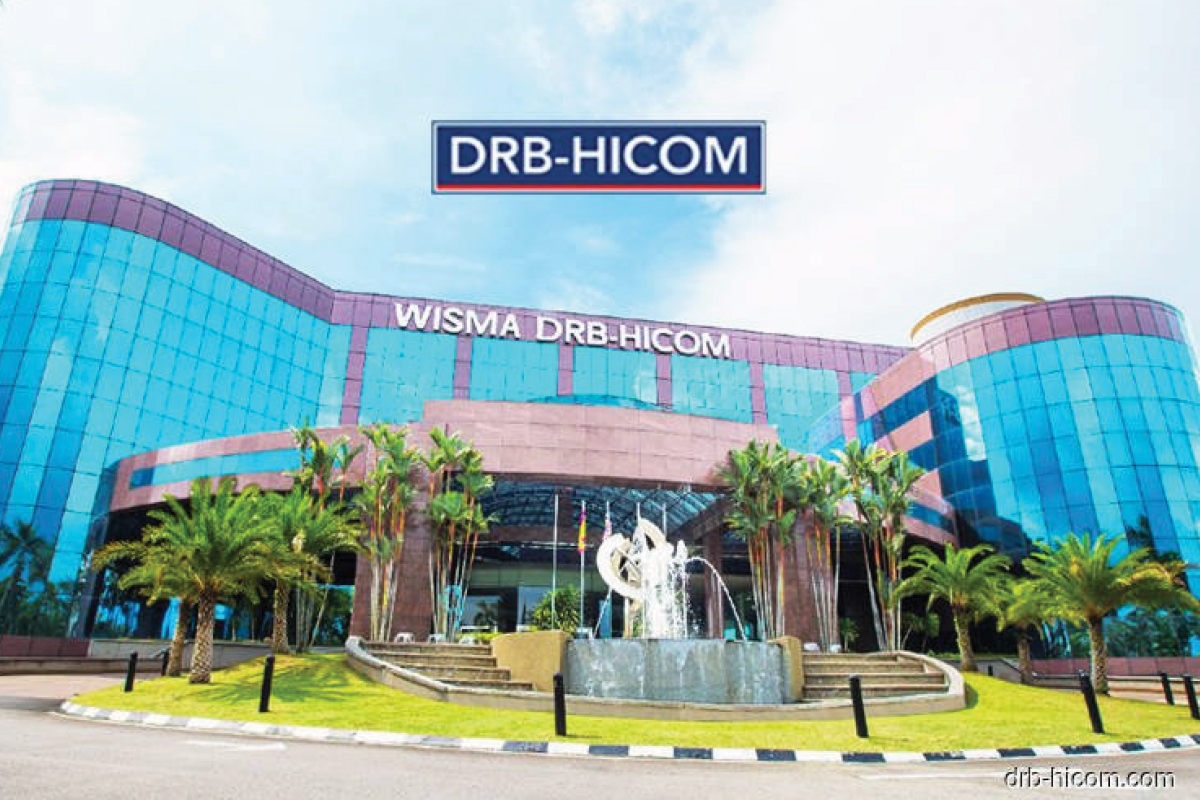 THE share price of DRB-Hicom Bhd has been on a downward trend since December 2020, when the shortage of semiconductors became apparent the world over. Last Friday, DRB-Hicom was trading at RM1.16 — its lowest since March 23, 2020.
This means DRB-Hicom is now trading at the level when stocks tumbled in reaction to the first Movement Control Order (MCO), which was implemented in March 2020 to contain the spread of Covid-19.
This is in contrast to other automotive or automotive-based groups listed on Bursa Malaysia. For example, Bermaz Auto Bhd is trading at more than double the level on March 23, 2020, and MBM Resources Bhd is 38% higher than at the start of the pandemic.
Shares in Sime Darby Bhd, which is also a conglomerate like DRB-Hicom, were up 43.5% last Friday compared with March 23, 2020. UMW Holdings Bhd, another conglomerate with a huge automotive business, is 36.6% higher than at the start of the pandemic.
"For DRB-Hicom, automotive is not the only business. There are other parts of the conglomerate that are going to be a drag," says a bank-backed analyst who covers the stock.
"From a sum-of-parts (SOP) angle, there're a lot of assets in there, there's potential, but how soon will they be able to realise the upside to the value of their assets?"
While the automotive business is often the focus when talking about DRB-Hicom because of its 50.1% ownership of Proton Holdings Bhd and other distributorship business, the group also has shares in POS Malaysia Bhd, and owns Bank Muamalat (M) Bhd as well as defence and aerospace businesses.
The automotive business was, however, still the largest contributor to DRB-Hicom's top line and the second-largest contributor to the group's bottom line as at Dec 31, 2021 (FY2021). During the year, the automotive business contributed 65% of DRB-Hicom's revenue of RM12.65 billion — higher than the 60% level in FY2020, as the performance of other businesses such as its property division fell dramatically. Therefore, what happens to the automotive market has a major impact on DRB-Hicom.
With the automotive market slowing down because of supply chain disruption, Proton, which had undergone a resurgence over the last few years under the management of Geely Group, is arguably the most affected among the automakers in Malaysia.
This is because Proton is not only affected by the shortage of semiconductors, as are other automakers, but it was especially affected by the massive flood in the Klang Valley last December. Many of its suppliers were also affected by the flood, as the Shah Alam-Klang region is home to many automotive parts manufacturers and suppliers.
"Many models of cars now are seeing a long waiting period because of a combination of pent-up demand and supply constraints. Many bread-and-butter (or entry level) cars have a three to six months' waiting period, with some high-end cars having a waiting list of more than a year," says the analyst.
In the latest quarterly results (1QFY2022), DRB-Hicom's revenue from the automotive business fell 15.3% year on year to RM2.07 billion. The segment also slipped into the red, with a segmental loss of RM9.47 million, compared with a segmental profit of RM80.87 million in 1QFY2021.
The share of results from joint ventures and associated companies increased, however, in 1QFY2022 to RM69.86 million compared with RM30.26 million a year ago. This shows that the distribution and dealership business of other marques under DRB-Hicom — such as Mitsubishi, Honda, Isuzu trucks and Yamaha motor parts — are still doing well despite the shortage of chips.
"Besides additional supply impact from the floods [which has affected national marques disproportionately more than foreign ones], it is possible that Proton is relatively less able to secure the necessary chips versus large global brands [such as Toyota and Mazda]," says the analyst.
Owing to the current situation in the automotive market, the industry through the Malaysian Automotive Association has been lobbying the government to extend the exemption on sales and services tax (SST) beyond June 30.
An estimate shows that 80,000 orders have yet to be fulfilled by automotive companies because of the shortage of chips and other parts. If the SST exemption is not extended beyond June 30, these orders may be in jeopardy.
To illustrate the potential impact these orders might have on the automotive market if they are cancelled by customers, 80,000 orders make up 13% of the annual total industry volume of the Malaysian automotive market.
"Therefore, the industry can make a strong argument for the government to extend the SST exemption period," says the analyst.
It is worth noting, however, that the government is reported to have lost up to RM5 billion so far in revenue because of the exemption. And with the government hard-pressed to increase revenue, owing to a rising subsidy bill, it will come as no surprise if the government decides not to extend the SST exemption on cars.
If this happens, the automotive business of DRB-Hicom could remain in the doldrums for the rest of the year. Car prices will be more expensive and, with inflation creeping up, consumers might hold off on their purchase of cars.
"We see affordability levels declining, given rising interest rates and a stronger US dollar against the ringgit. In the near term, the market will remain very competitive, although there is a lot of pent-up demand," says the analyst.
So, what are the prospects of DRB-Hicom this year?
PublicInvest Research analyst Denny Oh is still optimistic. In a report dated May 27, Oh writes that despite the losses in 1QFY2022, owing to lower sales from Proton as a result of supply chain disruption, demand for cars remains strong.
"We expect Proton and other marques within the group to ramp up production and accelerate delivery as supply bottleneck eases. [In view of] a potential turnaround of its postal operations and continued improvement in its banking segment, we expect stronger quarters ahead," says Oh.
But is the supply bottleneck easing? Another analyst says it is too early to tell. Although there have been signs that the shortage of chips is easing worldwide, a large portion of Proton's parts and kits are imported from Geely in China.  
With Chinese authorities still adamant about the country's zero-Covid policy, any spike in cases could mean an entire city or district going under lockdown, disrupting the supply of knocked-down kits from Geely.
Oh maintains an "outperform" call on DRB-Hicom, with an unchanged SOP-based target price of RM1.95.
HLIB Research analyst Daniel Wong is also optimistic about DRB-Hicom. He maintains a "buy" call on the stock but with a lower target price of RM2, from RM2.30 previously, based on an unchanged 25% discount to SOP valuation of RM2.66.
"Despite the short-term concerns on supply chain issues, we remain positive on DRB's outlook on strong automotive sales growth potential, leveraging the attractive model line-up from Proton. DRB will also benefit from the increasing demand for Honda and Mitsubishi [cars]," says Wong in a May 27 report.
Other analysts are more cautious on DRB-Hicom.
CGS-CIMB downgraded its call on DRB-Hicom from "add" to "hold" on May 27, with a lower SOP-based target price of RM1.40 in view of a weaker FY2022F earnings recovery, owing to prolonged supply chain disruption, ringgit depreciation and inflationary cost pressure amid rising interest rates.
"We raise our RNAV (realised net asset value) discount from 25% to 30% to reflect the uncertainty in its earnings recovery," says its analyst Mohd Shanaz Noor Azam in the May report.
Meanwhile, Muhammad Afif Zulkaplly of AmInvestment Bank Research believes the inventory shortage at Proton would have a negative impact on customers' after-sales service experience and may thwart Proton's years-long brand rehabilitation efforts.
"Over the longer term, this will hamper Proton from reaching its full potential," says Afif in a May 27 report. He maintains a "hold" call on DRB-Hicom, with a lower SOP-derived fair value of RM1.35 (from RM1.65), which implies an FY2022F price-earnings ratio of 18 times.
DRB-Hicom closed at RM1.16 last Friday, valuing it at RM2.24 billion.