This article first appeared in The Edge Malaysia Weekly, on July 25, 2022 - July 31, 2022.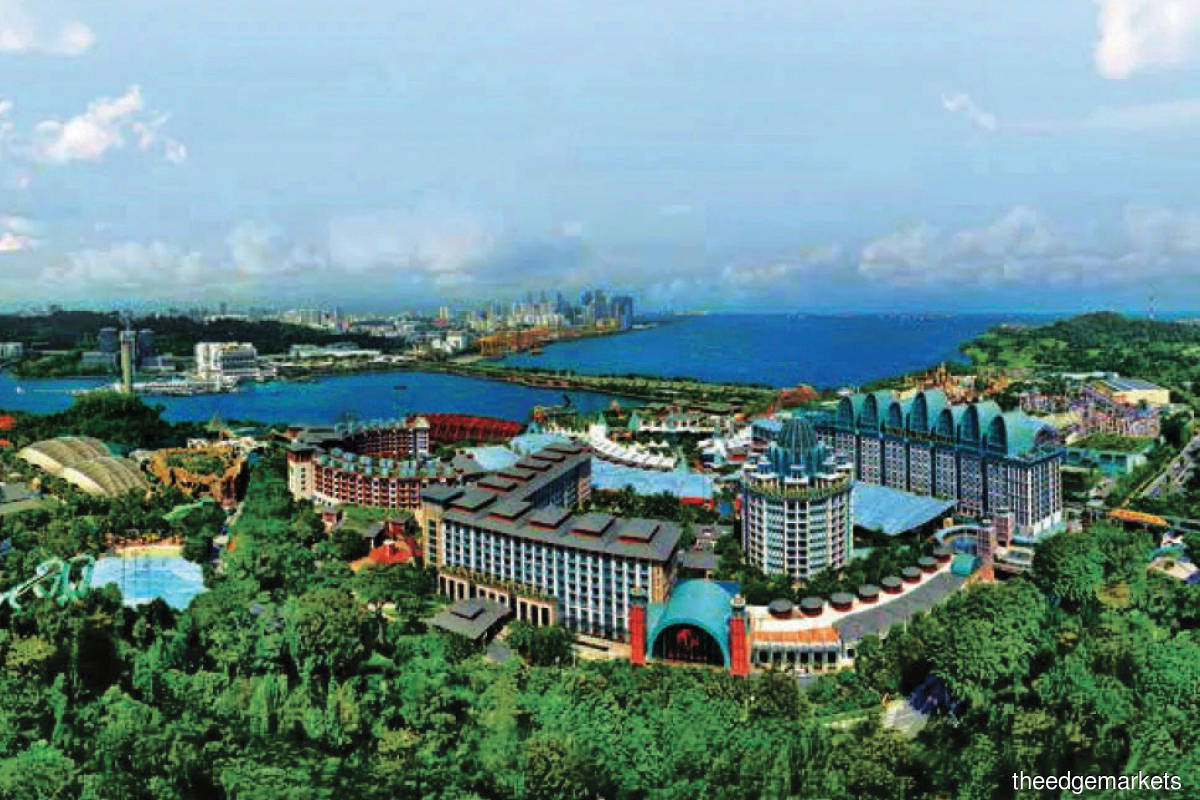 SEVERAL weeks ago, newswires reported that Genting Singapore Ltd, a 52.7% subsidiary of Genting Bhd, had attracted multiple suitors — one of which was MGM Resorts International — interested in taking over the integrated resort in the city state.
The US casino operator reportedly approached tycoon Tan Sri Lim Kok Thay — the executive chairman and chief executive of Genting Bhd who controls some 45% of the conglomerate — prompting Genting Singapore's share price to rise as much as 9.3% to 82 cents on July 15 following the news report.
In response to the Singapore Exchange's unusual trading query, Genting Singapore said it was not aware of, nor had it been a party to, any ongoing discussions concerning any potential transaction.
It said that Lim — also the executive chairman of Genting Singapore — had received an unsolicited approach for Genting Bhd's shares in the company, and that the approach had not been pursued.
The news of potential suitors left some wondering why casino operators like MGM would be interested in Genting Singapore. Then, there are others who say that it is unlikely for Genting Bhd to sell its stake in its Singaporean subsidiary.
Furthermore, some quarters raise the question of whether the Genting group will encounter regulatory issues related to the casino licence in Singapore if the controlling shareholder were to relinquish his stake.
"Companies do receive offers like this from time to time, but I don't see any reason for the Lim family to sell its interest in Genting Singapore," says an analyst who covers the Genting group of companies.
From the perspective of an interested suitor, Genting Singapore can be quite a good investment. Its Resorts World Sentosa (RWS) is one of the two integrated resorts in the country, with a casino, theme parks, event and exhibition centres as well as hotels. Visitors to RWS topped 20 million annually pre-pandemic.
The other integrated resort is Las Vegas Sands Corp's Marina Bay Sands (MBS). Both are key tourist attractions for the city state.
In terms of international visitor arrivals, Singapore welcomed 19.1 million visitors and generated tourist receipts of S$27.7 billion in 2019. In comparison, Malaysia recorded more than 26.1 million international tourist arrivals. However, despite boasting far more tourists in 2019, Malaysia's total tourism receipts for the year came in at RM86.1 billion, only slightly above Singapore's total tourism receipts based on an average exchange rate of RM3 to S$1 in 2019.
This year, Singapore's visitor arrivals have far exceeded Malaysia's, with the former recording a total of 540,430 visitors between January and April. Meanwhile, Malaysia, which has only published figures for tourist arrivals for the first quarter (January to March), saw a total of 98,050.
But it is worth noting that both Malaysia and Singapore only fully reopened their borders in April.
Financials-wise, for the first quarter of 2022 (1Q2022), RWS posted earnings before interest, tax, depreciation and amortisation (Ebitda) of S$121.67 million, up 3% from a year ago at S$118.14 million. Revenue also saw a slight increase at S$314.54 million, up 13% from S$277.9 million in the previous year.  
Comparing this to MBS' 1Q2022, the earnings of both integrated resorts came in roughly on a par. MBS' Ebitda was US$121 million, down 16% from a year ago of US$144 million. Revenue stood at US$399 million, down 6.3% from a year ago of US$426 million.
However, MBS' financial performance in 2Q2022 saw a marked improvement as Ebitda amounted to US$319 million, nearly three times the US$112 million achieved in the previous year. It was also significantly higher than the amount recorded in 1Q2022.
Genting Singapore has yet to release its 2Q2022 earnings and it would be interesting to see if it registers a similar trend.
An analyst says that RWS tends to attract more international tourists from China compared to MBS and hence believes the outlook for Genting Singapore looks bright in 2023 given that travel for Chinese nationals is still restricted at present.
"I think it is likely that Genting Singapore will be able to pay a four cent dividend as it did before the pandemic in 2023," he says.
The dividend payout is one reason why many think that Genting Bhd is unlikely to sell its 52.7% stake in Genting Singapore.
Analysts have also pointed out that Genting Singapore is a significant contributor to Genting Bhd, accounting for about 46% of Ebitda, or around RM3.6 billion, in 2019. Its revenue contribution was around RM7.54 billion, or 35% of group revenue.
The Ebitda contribution to the group is also slightly more than Malaysia's Resorts World Genting's (RWG) of RM3.54 billion — or 45% — on revenue of RM8.94 billion.
Even during the pandemic, Genting Singapore was the highest Ebitda contributor to the group. In 2021, it contributed about RM1.46 billion in Ebitda, or 36% to group earnings, and RM3.31 billion in revenue.
Genting Singapore also has a strong balance sheet. It was sitting in a net cash position of S$3.1 billion as at end-2021, implying that Genting Bhd can benefit from its dividend distribution.
At Thursday's close, Genting Bhd ended at RM4.60. In a period of one year, its share price has declined 20 sen from RM4.80 previously.