This article first appeared in The Edge Malaysia Weekly, on May 18, 2020 - May 24, 2020.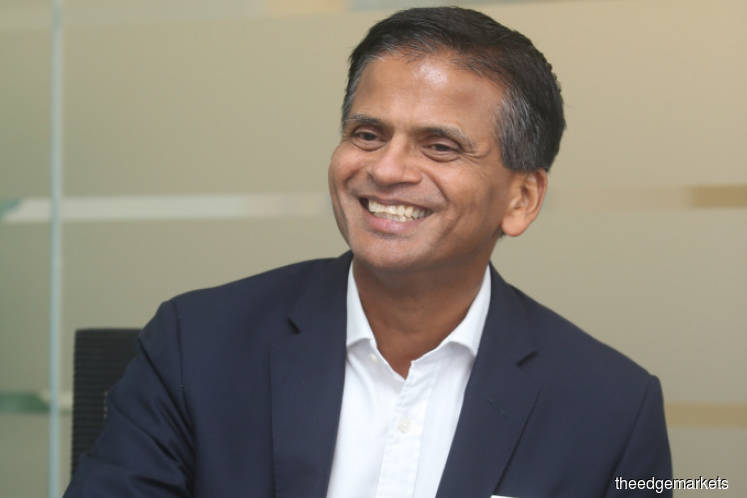 FOR a business that relies heavily on face-to-face interaction with its customers, it should come as no surprise that the insurance industry — specifically life insurance, whose products tend to be more long term in nature — has also been badly hurt by the Covid-19 crisis.
Allianz Life Insurance Malaysia Bhd CEO Joseph Gross says first-quarter statistics are telling.
"According to LIAM's (Life Insurance Association of Malaysia) statistics, the new business total premiums for life insurance in Malaysia grew 14.3% in 2019. For 1Q2020, however, it appears that all that growth has evaporated — new business premiums grew only 0.7%.
"It is worth noting that 1Q reflects only the first two weeks of the Movement Control Order (MCO)," he tells The Edge.
Allianz Life is a wholly-owned subsidiary of Main Market-listed insurer Allianz Malaysia Bhd.
The MCO's restrictions on mobility has affected new businesses substantially.
"As you know, the life insurance industry is still quite heavily skewed towards face-to-face interactions, be it the agency or bancassurance. The limited mobility has affected the ability to underwrite new business and generate future value for the company," Gross says.
Allianz Life is ranked No 5 in the local life insurance segment. In 2019, its market share stood at 8.5%. Its 1QFY2020 numbers will be released only in June.
"It would be good if Allianz [Life] could at least maintain, if not grow, our position. That will continue to be our yardstick. Our ambition is always to be at minimum as good as the market, if not better than the market, by growing our market share," he says.
While acknowledging that it is difficult times for the industry, especially when it comes to securing new business premiums, Gross says the core strategies that Allianz Malaysia has been pursuing over the last few years are "fully paying off" and ensuring its resilience in such a crisis.
The company's solvency position is solid, says Gross, above the minimum regulatory requirement of 130%. He adds that the insurer also has very well-matched assets and liabilities, where its duration gap — the difference in interest rate sensitivity between assets and liabilities — is slightly below one year.
Allianz Life also has a high persistency rate, which measures customer retention, well above 24 months. This ensures that the insurer's profits and revenue are secured through the crisis, he says.
Also worth noting is its stepped-up efforts in its digitisation strategy and the simplifying of its products and processes.
Gross says: "We digitise almost all our interfaces to our intermediaries, agents and bancassurance. Almost all of our new sales submissions via our agents are done electronically. The time it takes to issue a policy has been reduced to five minutes, from three to four days previously.
"By digitising, our agents and customers can operate digitally, especially during this time of the MCO. Simplifying processes and going digital also gives us better productivity and therefore scalability."
The combination of its strong capital position and operational efforts to simplify and digitise is key in shoring up its resilience amid the Covid-19 crisis.
At this point in time, Gross says Allianz Life has yet to see any dropouts in insurance premium payments, but he adds that it is still too early to assess the situation.
"We have not seen any cancellations or premium holidays so far, but the economic impact and cash flow crunch will be coming in the next weeks or months even. Nevertheless, the insurance industry has agreed to extend the deferment of premium payment for a period of 90 days without affecting the insurance coverage of customers," explains Gross.
Under the central bank's purview, the insurance industry is extending the deferment of premium payments for those affected by the Covid-19 pandemic, with the extension available until year-end.
That said, Gross sees no substantial dip in the premiums in force. He believes people are becoming more aware that it is important to have good medical coverage during this crisis, especially with a strong and resilient insurer.
Looking ahead, he believes the new normal for the life insurance industry will be increasingly digital, from gaining customers right up to payments.
He believes there will be a hybrid system in which some products will be sold more remotely while other product categories that are more long term in nature will continue with face-to-face interaction.
"For Allianz Life, [being more digital] plays into our cards because that has been our strategy, and we will accelerate and ride that wave. My vision has always been that any agent of Allianz in Malaysia will be able to do anything they need to on their iPad. We will and should be well equipped to manage this in the new normal."
While everyone hopes for a sharp rebound as the country attempts to reboot the economy after two months of movement restrictions, Gross cautions insurers against getting into a frenzy to recover losses suffered during the crisis.
"It is my wish that the trust that the industry has started to rebuild will not be destroyed by the chasing of new businesses, where companies go into a spree of promotional selling, tactical campaigns and pushing customers into insurance policies.
"For the Allianz brand, we will not go into the 'old world' of pushing volume at any cost. By doing that, it will ruin the profitability and revenue of the company."
Asked about growth targets this year, Gross says: "Allianz Malaysia achieved a record year in 2019 and it is fair to say that it is extremely challenging this year. Any outlook at this moment would be very 'crystal ball' because many aspects will be influencing the new business development."
For the financial year ended Dec 31, 2019, Allianz Life recorded profit before tax of RM340.7 million, up 66.7% from RM204.4 million a year earlier. Its new business value increased to RM258.8 million from RM199.77 million previously.
As a group, Allianz Malaysia recorded profit before tax of RM692.14 million, up 33.4% from RM519 million.