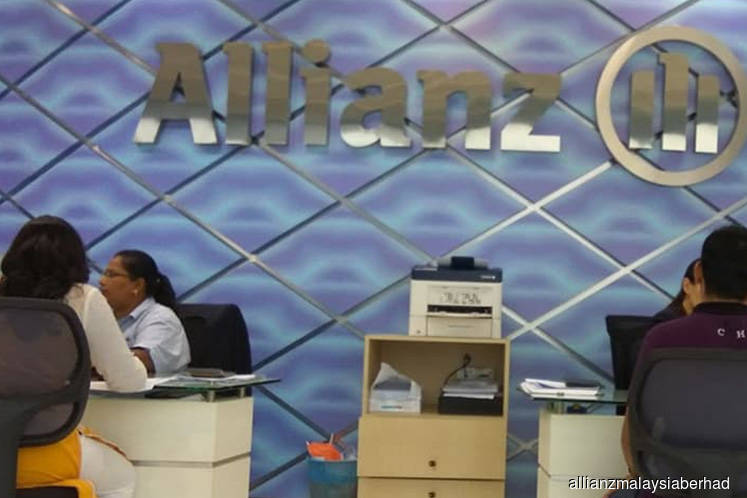 KUALA LUMPUR (Nov 7): RHB Research Institute Sdn Bhd has re-initiated its coverage on Malaysia's largest general insurer, Allianz Malaysia Bhd, with a "buy" call, and forecast the share price of the Main Market-listed insurer to reach RM17 within the next 12 months.
Describing the stock as "an insured buy", RHB Research said the market is "grossly undervaluing" Allianz's life insurance business, which is currently among the fastest-growth protection services provider in Malaysia.
"We expect Allianz's life insurance to be the driving force going forward, with gross earned premiums growing around 7% to 8% for financial year ending Dec 31, 2017 (FY17) to FY19," the research house wrote in a note to clients.
"This is driven in part by stronger economic growth in an underpenetrated market, the central bank's Life Insurance and Family Takaful Framework liberalisation effort, as well as its continued focus on investment-linked products," it added.
RHB Research said Allianz is poised for a better growth prospect ahead, riding on the potential disposal of the stake owned by foreign insurers, which would be a re-rating catalyst for the stock.
"This would benefit Allianz as the expected high price tag would serve as an anchor for listed insurers' valuations," it said.
In July, Bank Negara Malaysia had reminded insurance companies to adhere to the 70% foreign shareholding limit.
While the life insurance business will continue with the upward growth trajectory, RHB Research cautioned that growth in the general insurance space may ease, on intensifying competition in the near term, amid detariffication in the motor and fire insurance segments.
However, it added: "Allianz is better positioned, vis-à-vis its peers, due to its strong brand name, coupled with its ability to leverage on parent Allianz SE's expertise in risk-based pricing."
On prospects, RHB Research expects Allianz's overall insurance premium growth to clock in at 4.5% in FY17, and subsequently inch up to 5.3% in FY18 and 5.8% in FY19.
As for earnings contribution, RHB Research said the general insurance business will still make up the larger proportion of Allianz's overall earnings, but contributions from the segment to the pre-tax earnings is expected to decline to 62% by FY19, from 70% currently.
On the other hand, RHB Research said the contribution from the life insurance business to Allianz's pre-tax earnings is forecast to increase to 38% by FY19, from 30% at present.
For FY17, RHB Research said Allianz's full-year earnings is expected to be affected by RM27 million worth of one-off provisions from two ongoing legal battles.
However, stripping off the one-time item and excluding other income to be booked, RHB Research said Allianz's core net profit is expected to grow by 7% in FY17, 6.5% in FY18 and 10.5% in FY19.
On valuation, RHB Research said it has adopted a sum-of-parts approach, and valued Allianz at a book value of 1.6x, which "compares favourably against its peer average of 2.2x book-value".