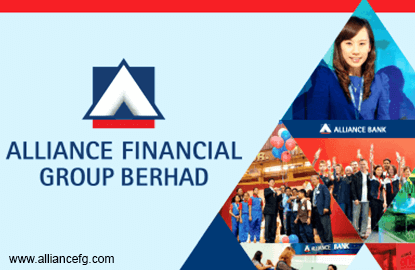 KUALA LUMPUR (May 26): Alliance Financial Group Bhd (AFG) reported a 40% jump in net profit for the fourth quarter ended March 2016 (4QFY16) to RM129.85 million or 8.5 sen per share, against RM93.27 million or 6.1 sen per share a year ago, on stronger small and medium enterprises (SME) loans.
The banking group said interest income rose 14.1% to RM492.81 million from RM432.03 million. Net interest income, meanwhile, grew to RM211.09 million from RM186.11 million.
In its stock exchange filing, AFG said the growth in the SME sector remained strong at 19.7% year-on-year, with an excellent gross impaired loans ratio at 1%.
The group declared a 6.5 sen dividend, payable on June 30. This brings its full-year payout to 14.5 sen compared with 15.4 sen last year.
For the full year (FY16), AFG posted a 1.6% fall in net profit to RM522.04 million or 34.2 sen per share from RM530.78 million or 34.8 sen in FY15.
Annual interest income came in 8.5% higher at RM1.92 billion from RM1.77 billion, while net interest income grew to RM847.79 million from RM820.6 million.
Its chief executive officer Joel Kornreich said the group's strategy of growing best performing segments and optimising its deposit mix continues to yield positive results.
"We were able to grow our SME loans nearly 20%, maintain our net interest margins at 2.15%, while holding our credit costs down," he said.
Kornreich said being selective in loans growth strategy has also helped the group to maintain a very healthy liquidity position, with a loan to deposit ratio of 84.2%, loan to fund ratio of 80.1% and current account and saving account (CASA) ratio of 32.1%.
"Meanwhile, our total capital ratio is now near the top of the industry, at 17.4% vs. 13% a year ago," he said.
"Reflecting our continuous efforts to enhance shareholder value, the return on equity for the year was 11.2%, while the net assets per share improved to RM3.13, from RM2.90 a year ago," he added.
Kornreich said excluding last year's one-off non-recurring gains, net profit after tax for the year at RM522 million was marginally lower by 1.6% on year mainly due to fewer write backs of loan loss provisions.
"On a similar basis, pre-provision operating profit improved slightly by 0.2% on year to RM735.2 million," he said.
At 3.30pm, AFG's share price was three sen or 0.76% lower at RM3.94.