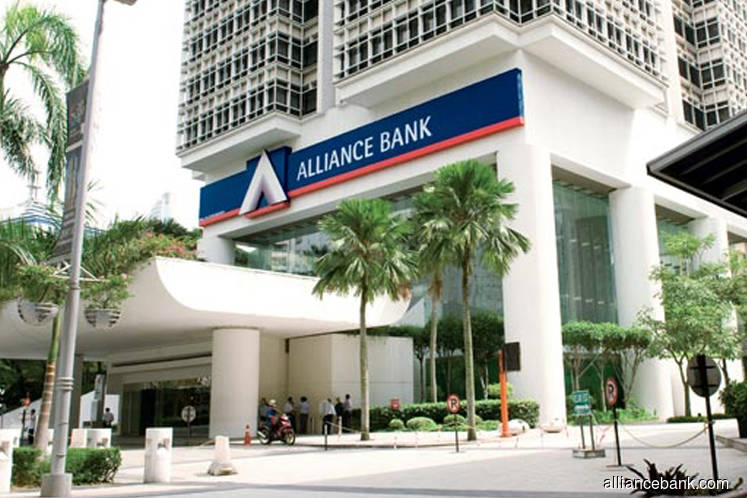 KUALA LUMPUR (May 8): Alliance Bank Malaysia Bhd and BIMB Holdings Bhd are deemed financial services providers that will be most affected by Bank Negara Malaysia's move to cut the overnight policy rate (OPR) to 3% from 3.25%, based on their high mix of variable loans at some 90% each, according to Hong Leong Investment Bank Bhd and MIDF Amanah Investment Bank Bhd.
According to a note by Hong Leong analyst Chan Jit Hoong, banks in Malaysia will lose from a falling interest rate environment. He said the impact of an OPR cut on banks is largely dependent upon the composition of variable and fixed rate loans, proportion of current account, savings account (CASA) and other deposits, besides non-interest income ratio and exposure percentage to overseas market.
"Biggest losers would be banks with high mix of variable loans and CASA, low non-interest income ratio and low percentage exposure to overseas market.
"From our sensitivity analysis, Alliance and BIMB would lose most in a falling interest rate climate while Affin Bank Bhd and AMMB Holdings Bhd are least affected," he said.
MIDF Amanah Investment Bank Bhd analyst Imran Yassin Yusof wrote in a note today that the investment bank expects earnings for banks to be negatively affected by short-term pressure on net interest margin. Imran Yassin, however, said the impact will not be significant.
On average, MIDF estimates a 3% decline to the earnings of banks under its coverage compared against its previous forecast. Banks with higher floating rate loans will be impacted the most, it added.
"We believe that BIMB (BUY, TP: RM4.85) and Alliance (BUY, TP: RM4.75) to see a higher drag to their earnings as floating rate loans comprised 91.0% and 89.9% of their loan books respectively. Meanwhile, we expect less-muted impact for Maybank (BUY, TP: RM11.40) due to more geographically diversified loan exposures and Affin (BUY, TP: RM2.70) due to less exposure in floating rate loans," Imran Yassin said.