This article first appeared in The Edge Financial Daily, on August 28, 2019.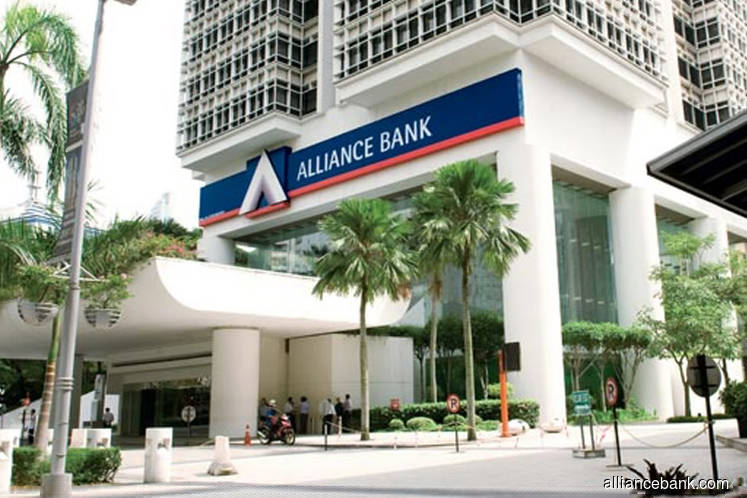 KUALA LUMPUR: Shares in Alliance Bank Malaysia Bhd slumped as much as 35 sen or 10.77% to RM2.90, after the group announced at noon break yesterday that its quarterly net profit for the three-month period ended June 30, 2019 (1QFY20) nearly halved.
The counter settled 33 sen or 10.15% down at RM2.92 after near 11 million shares crossed, trimming its market capitalisation by over half a billion ringgit to RM4.52 billion. It was the sixth largest decliner on the local course when the market closed for the day.
The banking group announced earlier in the day that its net profit fell 44% to RM76.69 million in 1QFY20, from RM136.37 million in the year-ago quarter, although net income rose 1.5% to RM406.93 million from RM401.07 million.
It blamed the weaker profitability to credit losses stemming from the impairment of several large accounts, as well as continued investment in the group's information technology infrastructure under its transformation initiatives.
Alliance Bank's rise in net income, despite the overnight policy (OPR) rate cut in May, was driven by net interest income growth of RM4.9 million or 2% year-on-year (y-o-y) from loan expansion and an improved loan mix from better risk adjusted return loans.
Gross loans and advances grew 6% y-o-y to RM42.7 billion, it said, though it noted there has been net interest margin compression arising from the OPR cut, while deposit competition moderated the progression of net interest income.
Net credit cost was at 13.1 basis points (bps), up 2.1 bps from the preceding quarter, due to the expected credit loss of a few large accounts, it said.
Gross impaired loans (GIL) ratio increased by 18 bps from last quarter to 1.3%, mainly from residential properties and personal financing portfolios, as well as a few large accounts. Cost-to-income ratio was within the group's expectation at 48.7%.
For the year ahead, the group said its continued focus on strategic transformation initiatives will generate progress in its performance, despite the banking industry's lacklustre outlook.
Group chief executive officer Joel Kornreich said Alliance Bank will remain vigilant in managing its credit portfolio, and prudent in its provisioning in view of the challenges the enterprises face.
"Our focus is to provide consistent and excellent customer experience. We will also launch new digital propositions to enhance speed and simplicity in our service. We believe that doing so will help us accelerate our growth especially in the consumer and SME (small to medium-sized enterprise) banking business," he explained in a separate statement.