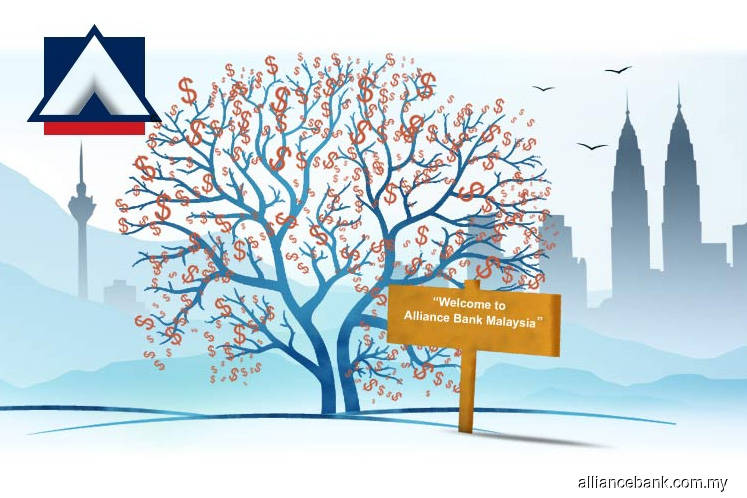 KUALA LUMPUR (Aug 30): Alliance Bank Malaysia Bhd posted its highest quarterly net profit in three years, of RM136.37 million in the first financial quarter ended June 30, 2018 (1QFY19), which was up slightly by 1% from RM135 million a year ago.
"This was driven by higher year-on-year net interest margin (NIM) as a result of our focus on growing better risk adjusted return (RAR) loans. Return on equity improved to 10.2%, a ratio in line with guidance," said its group chief executive officer Joel Kornreich in a statement today.
NIM improved to 2.43% in 1QFY19 from 2.32% a year ago. Earnings per share remained unchanged at 8.8 sen for 1QFY19.
Quarterly net income increased 3.7% to RM401.07 million from RM386.61 million a year ago, due to expansion of total gross loans/financing by RM1.5 billion.
Kornreich said better RAR loans grew 21.3% in 1QFY19, making up 37% of the group's portfolio compared with 32% a year ago.
"This was contributed primarily by growth in small and medium enterprise (SME), commercial, unsecured consumer loans, and Alliance One Account," he added.
In a filing with Bursa Malaysia today, Alliance Bank said other operating income including Islamic banking income recorded at RM79.8 million.
Operating expenses increased 3.8% due to strategic initiatives. Cost-to-income ratio is recorded at 45.7%.
Gross impaired loans stood at 1.6%, while loan loss coverage was at 79.7%.
The current account/savings account ratio was at 37.4%. Loans-to-deposits ratio increased to 96.4% as at June 30, 2018, while loan-to-fund ratio stood at 87%.
The group's total capital ratio was healthy at 17.8%, with a Common Equity Tier 1 Capital ratio of 12.8% and Tier 1 Capital ratio at 13.3% as at June 30, 2018.
On prospects, Alliance Bank said it will be scaling up for growth in its core businesses, that is, consumer lending and SME banking in the current financial year ending March 31, 2019 (FY19).
"For these businesses, we will drive productivity and increase our sales capacity to accelerate loans growth; aiming to outpace industry growth. This will be achieved via loan process automation to reduce processing and turnaround time.
"We will also enhance our leads generation and sales management through better customer and market analytics," it added.
"In FY19, we expect the group's profitability to improve, driven by the positive impact of our transformation initiatives," said Alliance Bank.
Alliance Bank shares ended the morning session unchanged at RM4.17, with 90,800 shares done, bringing a market capitalisation of RM6.44 billion.