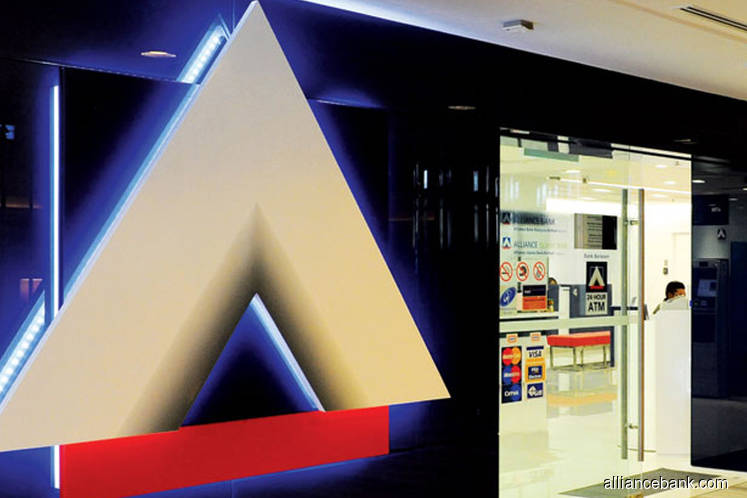 KUALA LUMPUR (Feb 28): Alliance Bank Malaysia Bhd's net profit rose 21.5 per cent to RM148.93 million in the third quarter ended Dec 31, 2018 compared with RM122.55 million in the same corresponding quarter in 2017.
Revenue jumped to RM418.40 million from RM388 million previously.
In a filing with Bursa Malaysia, the bank said net income grew by 7.8 per cent or RM30.4 million, mainly from net interest income, while other operating income was recorded at RM76.2 million.
"Operating expense was better off by 8.6 per cent or RM18.5 million, cost to income ratio improved by 8.5 per cent to 47 per cent and expected credit loss was recorded at RM32.6 million," it said.
For the nine-month period, the group recorded a net profit of RM425.8 million, representing an increase of 12 per cent compared with RM380.35 million in the corresponding period last year.
Revenue also surged to RM1.21 billion versus RM1.16 billion previously.
"In financial year 2019, we will continue to scale up for growth in our core businesses i.e. consumer lending and small and medium enterprise banking. For these businesses, we will drive productivity and increase our sales capacity to accelerate loan growth, aiming to outpace industry growth," said Alliance Bank.
The bank would also enhance its leads generation and sales management through better customer and market analytics, it said.
"[email protected] (our bank-at-work program) will continue to be an important acquisition channel to garner consumer current account savings account (CASA) and business CASA (via company payroll and online cash management)."
The bank said it has also been digitalizing key in-branch processes to deliver enhanced customer experience and to improve the efficiency of its operations.
Domestically,  the bank expects private consumption to remain as the main driver for growth, supported by stable labour market conditions, Bantuan Sara Hidup cash transfer initiatives and tax refunds to corporates and individuals.
"Investment wise, we expect private sector investment on manufacturing and commodity related sectors to remain robust. However, external risks persisted."
On public spending, the bank foresees lower capital expenditure, in-line with the government's ongoing expenditure rationalisation programme such as cancellation or postponement of several mega projects.
Furthermore, the new government is taking bold initiatives and structural reforms to strengthen public sector governance, efficiency, as well as emphasising on transparency to gain investor confidence, as well as to pursue more sustainable growth.
"Notwithstanding the challenging economic outlook, we expect the group's financial year 2019 profitability growth to remain on track," it added.