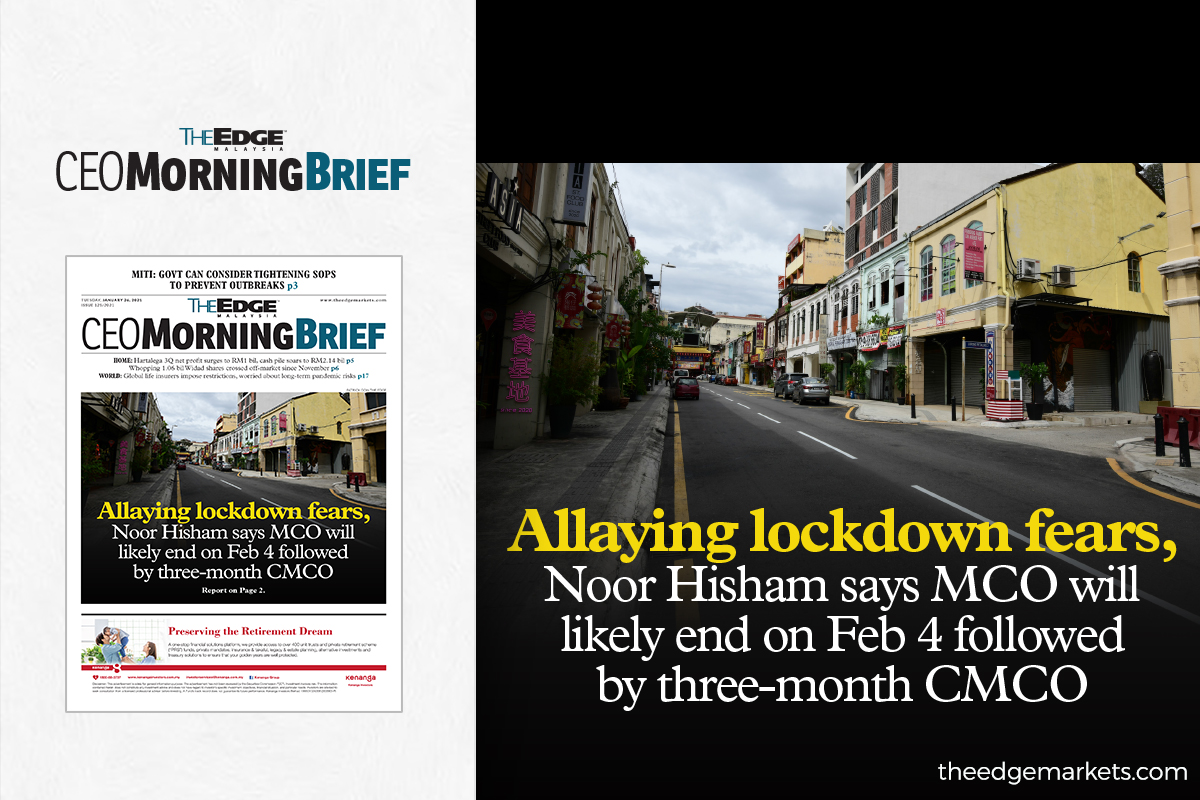 KUALA LUMPUR (Jan 25): Ministry of Health (MoH) director-general Tan Sri Dr Noor Hisham Abdullah said the government has no intention to extend the current Movement Control Order (MCO), which was implemented on Jan 13, beyond Feb 4 as there is a glimmer of hope that the curve will flatten soon.
His remarks came after manufacturer associations warned their members of a possible stricter lockdown if they remained lax in implementing measures to contain the spread of Covid-19 among their staff.
"We have implemented the MCO on Jan 13 and we decided to extend the MCO until Feb 4. We do not want to extend the MCO because this will affect our economy. So, we must balance between our economy and health," said Dr Noor Hisham at a virtual media briefing today.
The director-general did not mention the likelihood of implementing a total lockdown after Feb 4.
Over the past weekend, speculations of a stricter lockdown were rife after the media reported a leaked internal memo by the European Chamber of Commerce and Industry (Eurocham) Malaysia, warning its members that "should the infection rate not decrease, the Malaysian government will announce a shutdown/strict lockdown immediately after Feb 4, 2021".
Nonetheless, the chamber swiftly issued a press statement to deny that the government had mentioned the intention to implement a stricter lockdown during the Jan 22 meeting.
The Federation of Malaysian Manufacturers on Monday also told its members to tighten their standard operating procedures, as the manufacturing sector may not survive another round of closures.
Dr Noor Hisham pointed out that the government will implement the Conditional Movement Control Order (CMCO) for three months until May to continue curbing the number of new daily infections to double-digit cases.
"We expect the number of daily new infections to drop to double-digit cases in May," said Dr Noor Hisham.
While fears are looming on the country's effectiveness in containing the Covid-19 pandemic, Dr Noor Hisham, however, expressed hope that the number of new Covid-19 cases in the country will stabilise in two weeks. He added that the R0 — the rate of infectivity — dropped to 1.06 today from a high of 1.2 on Oct 29 last year.
R0 is an indicator of the degree of contagious infection. The indicator shows the average number of people who will contract the disease from a single infected person.
"Perhaps tomorrow, it will be lower than 1.06. We hope the number (R0) will be less than 1 in two weeks. We will avoid spikes and see stability [of new cases]," he said.
The MoH announced 3,048 new cases, down from 3,346 reported on Sunday — the lowest number in 10 days. The country's total cases have climbed to 186,849 from just 115,078 reported as at Jan 1.
Private hospitals to receive Covid-19 patients
According to Dr Noor Hisham, 95 out of 130 private hospitals have agreed to assist the MoH in coordinating Covid-19 responses and receive Covid-19 patients.
With the country's public healthcare system at breaking point and the number of active cases continuing to climb, he said the ministry has identified 130 private hospitals to help treat Covid-19 patients, especially those in Categories 3, 4 and 5.
According to the ministry, Category 3 patients have pneumonia, Category 4 patients have pneumonia and require oxygen, while Category 5 cases require breathing assistance.
He added the ministry is currently waiting for responses from the remaining 35 private hospitals within a short period of time.
"From 95 private hospitals, a total of 1,286 hospital beds will be provided, 65 beds allocated in intensive care units, with 64 ventilators to help to breathe," said Dr Noor Hisham.
It is worth noting the latest tally of active cases stood at 41,076 today, almost double the 28,674 beds in the public hospitals as at Dec 28, 2020. The rising active cases have strained the country's public healthcare system.
Read also:
Health DG expresses hope Covid-19 infections to stabilise in two weeks, target to see double-digit daily cases in May
Malaysia reports 3,048 new Covid-19 infections a year after first case was detected
Lam Jian Wyn & Kathy Fong