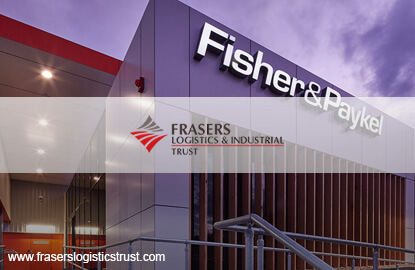 SINGAPORE (Feb 17): Amid growing concerns about the state of locally listed industrial property trusts, Frasers Logistics and Industrial Trust (FLT), which is part of the Frasers Centrepoint group, has been performing well since its IPO last June.
Units in FLT are currently trading 7.8% above their IPO price of 89 Singaporean cents. In addition, some 1.84 cents per unit has been paid out, in respect of the period from June 20 to Sept 30 last year.
That distribution per unit (DPU) was 2.8% more than forecast. FLT has since announced a further DPU of 1.74 cents for the three months to Dec 31, which exceeded forecast by 6.1%. However, FLT has a September year-end and pays its DPU on a semi-annual basis.
So, this 1QFY2017 DPU will be paid together with the yet-to-be announced DPU for 2QFY2017 later this year.
(See also: Frasers Logistics & Industrial Trust declares forecast-beating 1Q DPU of 1.74 cents)
What's the story behind the REIT's good performance?
According to Robert Wallace, CEO of FLT's manager, it's "a pretty clean" one based on long leases and good assets.
For the full story on how FLT's success came to be, and to find out why most analysts are positive on the REIT, be sure to pick up this week's issue of The Edge Singapore (Issue 767, week of Feb 20), now available at major bookstores, 7-11 stores, and selected petrol stations.