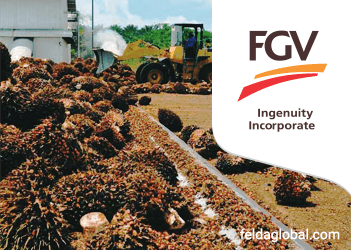 (June 18): All investors of Malaysian oil palm giant Felda Global Ventures Holdings (FGV) should oppose its purchase of the PR Rajawali's stake in Eagle High Plantations, which gives the Indonesian firm a RM1.23 billion profit if the deal goes through, DAP said today.
Petaling Jaya Utara MP Tony Pua said these investors, including the Employee Provident Fund (EPF), Lembaga Tabung Haji, Retirement Fund Incorporated (KWAP) and the Pahang government, should raise their objections to the deal which would further cripple FGV's already dwindling performance.
"We call upon all other institutional funds which invest on behalf of Malaysian taxpayers to oppose the deal to ensure that FGV performance does not get any worse than it already is," he said in a statement today.
"The above funds and institutions must publicly pledge their opposition to the exercise because the entire deal stinks to high heavens with the insidious objective of allowing PT Rajawali Capita shares to profit astronomically."
The Rajawali group, controlled by Indonesian tycoon Tan Sri Peter Sondakh, acquired the stakes in Eagle High in December 2014, at an average price of Rp400. This raised the question as to why FGV was proposing to buy the 37% stake at a higher price of Rp755, just six months later, Pua said.
"Less than six months later, FGV decides to buy the said 37% stake at Rp775, giving Peter Sondakh an eye-popping profit of US$328 million (RM1.23 billion)," the DAP national publicity secretary said.  
"Why is a Malaysian government-linked company helping to enrich an Indonesian tycoon, who just happens to be the prime minister's friend?"
Pua's statement follows EPF's call to FGV yesterday to explain why it was paying a hefty premium for a non-controlling stake in Eagle High.
EPF chief executive officer Datuk Shahril Ridza Ridzuan was reported by The Edge Financial Daily as saying that there were "a lot more issues", including the structure of the deal, that were raised in FGV's annual general meeting on Tuesday.
Besides the above funds, Lembaga Kemajuan Tanah Persekutuan (Felda), Felda Assets Holding Company and Koperasi Permodalan Felda Malaysia own 20%, 13.66% and 5.75% of FGV, respectively.
"If the above funds were to combine their shareholding strength of 62.8%, the acquisition exercise will be stillborn and further losses to FGV can be consequently averted," Pua said.
Pua praised EPF for questioning the proposed purchase of Eagle High, adding that the acquisition was traded at 72% above its last traded price and 267% above CIMB Research's fair valuation of the company.
CIMB, Pua said, had warned FGV that it may have to write down the value of Eagle High after the acquisition to reflect the current market price.
The write down could amount to RM1.07 billion, CIMB had said.
"The amount is massive relative to FGV Holdings's (FGVH) net profits of only RM306.4 million for its financial year-ending December 2014, a 69% drop from RM982.2 million in the previous year.
"FGVH has been the undisputed worst plantation stock performer ever since its initial public offering (IPO) in July 2012.  The share price decline was so bad that the company was removed from the Bursa Malaysia KLSE Index stocks," Pua said, adding that as of yesterday, FGVH share prices were down 63% since its IPO. – The Malaysian Insider