This article first appeared in The Edge Malaysia Weekly, on July 23, 2018 - July 29, 2018.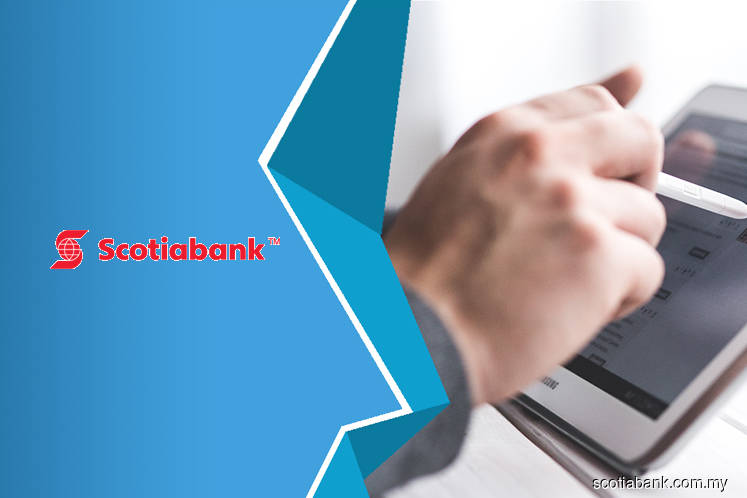 NOW that The Bank of Nova Scotia Bhd (Scotiabank)'s planned acquisition by Taiwan's Cathay Financial Holdings Co has been scrapped, questions are being raised about the lender's future amid its dwindling assets and liabilities.
There is strong speculation in the industry that Scotiabank will wind down its operations in Malaysia, with some bankers pointing out that it hardly seems to be doing new business.
A few, however, reckon it is not likely to give up so easily and may look for another buyer once things are more settled following the recent change of government.
"I think they're going to wait a bit and see what happens. It's hard for a bank to make a decision now, with so many changes happening post-general election," an industry source tells The Edge.
Low-key but profitable, Scotiabank, which has a 45-year history in Malaysia, is wholly-owned by Canada's third largest lender by assets, Bank of Nova Scotia.
"We have no comment at this point," a Singapore-based representative of Bank of Nova Scotia tells The Edge when asked if Scotiabank was winding down its operations.
On April 11, after almost a year of waiting for Bank Negara Malaysia to approve the acquisition, Cathay Financial announced through a filing with the Taiwan Stock Exchange that it had terminated the agreement to acquire Scotiabank because certain terms had not been fulfilled.
It did not provide details but Cathay Financial's vice-president Teng Chung-yi was reported as saying that the acquisition price was not the problem. In Malaysia, Scotiabank stayed mum on the scrapped deal.
Under their May 27, 2017, agreement, Cathay Financial was to acquire Scotiabank for US$225 million — or about 1.15 times its book value then — via two wholly-owned subsidiaries, Cathay United Bank and Cathay Life, which would take a 51% and 49% stake respectively in the Kuala Lumpur-based bank.
A source familiar with the deal says the acquisition was mutually called off by Scotiabank and Cathay Financial as Bank Negara's approval process had taken too long. Taiwan's banking regulator had approved the acquisition in June last year.
"There was a lot of information requests from Bank Negara and this kept going on for too long. It didn't help that Malaysia was heading into a [general] election and there was just too much uncertainty, so the parties decided to call it off," the source says.
Had the deal gone through, Cathay Financial, the largest financial group there, would have been the first from Taiwan to have a banking subsidiary in Malaysia.
Interestingly, it is not the first financial group from Taiwan to have tried and failed to acquire a bank in Malaysia. In 2016, CTBC Financial Holding Co Ltd agreed to buy The Royal Bank of Scotland Bhd (RBS Malaysia) for US$189.7 million, or 0.95 times the latter's book value, but called off the purchase four months later in August, citing slow progress on the planned acquisition.
RBS Malaysia, a profitable entity, then went on to wind down its operations, ending its over-120-year history in the country. Its UK-based parent company RBS Group had been loss-making at the time and wanted to exit a number of countries either through outright closures or sales.
In Bank of Nova Scotia's case, the profitable Canadian group had been exploring the sale of its Malaysian subsidiary as part of a wider plan to scale back in Asia and focus on its domestic market and certain key South American markets.
In Malaysia, Scotiabank's unaudited financial statements for the first quarter ended Jan 31, 2018, show that it made a lower net profit of RM4.8 million compared with RM6.76 million in the same quarter a year ago. Net income fell slightly to RM17.08 million from RM18.83 million.
In its last financial year ended Oct 31, 2017, the bank's net profit grew 24.7% to RM26.04 million. Net income fell 14.7% to RM12.7 million as a result of a smaller loan base and increased funding costs. However, decreases in loan provision charges and operating expenses by RM7.8 million and RM6.7 million respectively helped improve profit.
The bank's total assets have progressively declined over the years to just RM2.21 billion as at end-January compared with RM4.82 billion as at Oct 31, 2013. Loans and advances fell to a mere RM1.33 billion from RM2.89 billion over the same period.
Liabilities have dwindled as well, from RM3.99 billion to RM1.23 billion over the same period. "No new business seems to have been done," remarks an industry source.
Scotiabank CEO and country head Sivadas Menon did not respond to requests for comment.
Save by subscribing to us for your print and/or digital copy.
P/S: The Edge is also available on Apple's AppStore and Androids' Google Play.