This article first appeared in The Edge Malaysia Weekly, on April 22, 2019 - April 28, 2019.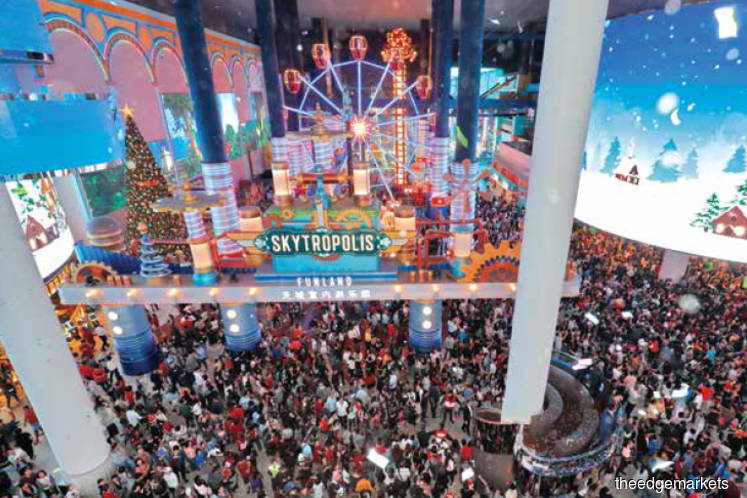 The 400,000 sq ft Skytropolis Funland indoor theme park was opened a few months ago. Photo By Annual Report

Source: Genting Malaysia Bhd Annual Report

Source: Bursa Malaysia
INVESTORS will be keeping a watchful eye on Genting Malaysia Bhd's results for the first quarter ended March 31 (1QFY2019), which are due next month. They will be interested to see how well the casino operator is handling the hike in gaming taxes that came into effect in January.
The additional taxes are estimated to total at least RM650 million this year, based on the gross gaming revenue for the group's Malaysian business last year.
Industry observers and gaming analysts say the group has only a few cards to play this year when it comes to boosting its earnings, but what it can do is to manage cost efficiently to help ease the blow.
"There is expectation that Genting Malaysia's FY2019 earnings will fall 41% year on year due to the 10-percentage-point casino duty rate hike this year. The group has been hit on multiple fronts of late ... from the delayed outdoor theme park project to the additional gaming taxes. Given the circumstances, Genting Malaysia will have to look at what it can control in terms of financials, and that is clearly cost. It would need to be very mindful of cost," says an analyst with a local bank.
"A cost-cutting exercise makes sense," another analyst tells The Edge.
Genting Malaysia chairman and CEO Tan Sri Lim Kok Thay had acknowledged in his chairman's statement for the group's 2018 annual report that the revision of casino duties and casino licence fee will impact the group's earnings from FY2019 onwards.
He noted that in view of the severity of the increases in casino duties, the group will continue reviewing and managing its cost structure, and this includes reducing or delaying capital expenditure as well as implementing various cost rationalisation initiatives such as "manpower optimisation".
While he did not elaborate on what manpower optimisation means, analysts point out that the possibility of job cuts could be possible for certain high cost segments.
"It had to recruit people for the outdoor theme park and this included some high-cost hires. Now that the project is on hold due to litigation, perhaps Genting Malaysia will need to relook its cost structure for that," says the analyst with a local bank.
Asked to comment, Genting Malaysia tells The Edge that talk about potential job cuts at the group is "speculative".
However, a spokesperson says the group has been mindful of its headcount since 2013, when the outdoor theme park closed for the construction of the new theme park, and adopted a strategy not to replace headcount when staff leave certain positions.
Another potential manpower rationalisation strategy would be to instal more machine-enabled games and look at managing its margins when it comes to commission rates and junkets, says the analyst.
"Understandably, it can look at cutting commission rates for junkets and the rebates it gives VIPs, but this can be a double-edged sword because it could also deter VIPs and high rollers from visiting. It is important to maintain the business volume. The regional trend now is for casinos to increase their commission rates and rebates," he says.
The analyst says another cost-cutting measure would be to increase the number of gaming tables a pit manager looks after. For example, instead of one pit manager managing three or four tables, he or she would have to manage five or six. "At the end of the day, the group will have to ensure any cost-cutting exercise it embarks on is sufficient and enough to help ease the blow from the higher gaming taxes."
Casino duties were raised to 35% from 25% on gross gaming income — said to be the first hike in casino duties in 20 years — and gaming machine duties rose to 30% from 20% on gross collection. The last hike in casino duty, from 22% to 25%, was in 1998, when the government needed the extra revenue boost for pump-priming measures during the 1997/98 Asian financial crisis.
Duties on gross collection refer to taxes taken straight from the top line prior to deducting expenses.
Taking the FY2018 figures as a guide, a back-of-the-envelope calculation shows that gross gaming revenue is estimated at RM6.5 billion, and an additional 10% hike in casino duties on that would result in RM650 million in additional taxes.
In addition to higher duties, the Ministry of Finance increased the annual casino licence fees by RM30 million to RM150 million, and machine dealer's licence fees to RM50,000 a year from RM10,000 a year.
Over the years, Genting Malaysia's stra­tegy has been to diversify into hospitality to transform itself into more than a gaming group. The outdoor theme park is one of the strategies for this diversification, but its timing is unclear given the lawsuits against Fox Entertainment Group LLC and The Walt Disney Co.
Genting Malaysia is suing the two companies for alleged breach of contract related to the Fox World theme park in Genting Highlands, which was set to open this year. Disney's acquisition of 21st Century Fox apparently raised issues because the Genting resort includes a casino, which conflicts with Disney's stance against gambling. Fox units have filed a counterclaim against Genting Malaysia.
Nevertheless, the 400,000 sq ft Skytropolis Funland indoor theme park was recently opened as well as Imaginatrix, an attraction that combines physical rides with state-of-the-art virtual reality gaming technology.
It also recently acquired Equanimity, the super yacht formerly owned by fugitive businessman Low Taek Jho, for US$126 million, but it has yet to reveal what it intends to do with the luxury vessel.
Genting Malaysia's share price was battered in November last year following the announcement of the increase in gaming taxes and closed at a 7½-year low of RM2.72 on Dec 14. It has since recovered 19% to close at RM3.24 last Friday. At RM3.24, the stock is still trading at a 44% discount to its 7½-year closing high of RM5.77 in August 2017.
According to Bloomberg data, 35% of ana­lysts covering the stock have a "buy" recommendation, with 45% calling a "hold" and 20%, a "sell". The 12-month consensus target price stood at RM3.46.
At RM3.24 per share, Genting Malaysia is trading at one times book value and has an estimated forward price-earnings ratio of 15.12 times.