This article first appeared in The Edge Malaysia Weekly, on April 26, 2021 - May 02, 2021.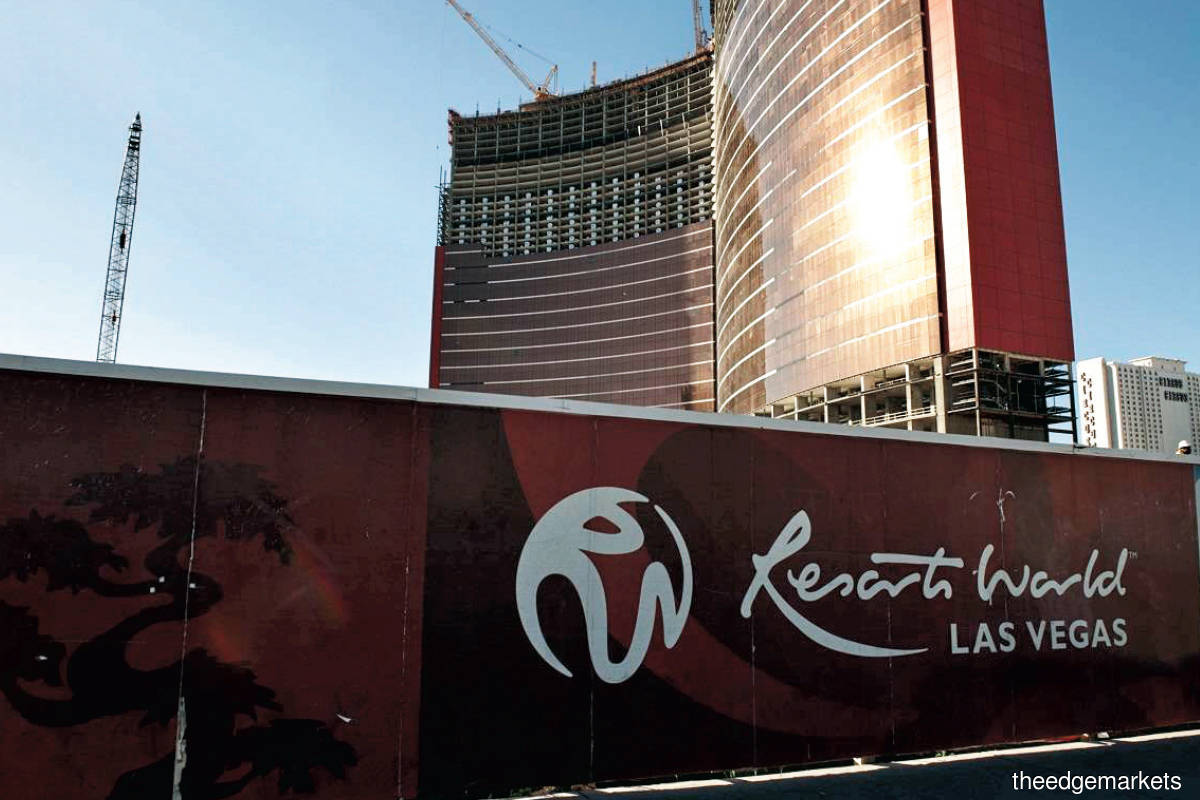 AFTER a six-year wait, Genting Bhd's Resorts World Las Vegas (RWLV) in the US will finally open its doors to the public come June 24. The US$4.3 billion (RM17.7 billion) integrated resort will be the first major resort to open on the Las Vegas Strip in more than a decade.
In a statement recently, RWLV president Scott Sibella said he hopes the resort will play a role in the economic rebound of Las Vegas after a challenging 2020 that saw movement restrictions imposed to curb the spread of Covid-19.
As Las Vegas and all the counties in Nevada gear up for a state-wide reopening at 100% capacity by June 1, will Genting be able to exceed critics' expectations?
For investors and casino enthusiasts alike, it has been a long wait for the new integrated resort, which held its groundbreaking ceremony in May 2015.
For comparison, Resorts World Singapore (RWS) under Genting Singapore Ltd, which welcomed visitors in phased openings since January 2010, took 34 months to open from its groundbreaking ceremony in April 2007. Genting Singapore is a 52.7%-owned subsidiary of Genting.
Back then, RWS was the first of its kind in the city state and hosted 15 million visitors in the first year of operations alone, achieving revenue of S$2.8 billion and delivering earnings before interest, tax, depreciation and amortisation (Ebitda) of S$1.3 billion. The responses from tourists exceeded management's target.
However, the circumstances are vastly different this time round amid the pandemic that continues unabated globally.
Analysts are expecting Genting's Las Vegas integrated resort to remain in net loss in the initial years of operations as tourism and conventions are likely to see a slow buildup in the post-Covid-19 era.
In an April 21 report, RHB Research noted that it would take time for RWLV to ramp up its business volumes and is forecasting a negative Ebitda for Genting in the financial year ending Dec 31, 2021 (FY2021). It said RWLV would probably see a revenue split between gaming and non-gaming activities similar to other Las Vegas Strip operators, with 35% from gaming and 65% from non-gaming activities.
"Nevertheless, RWLV should be able to achieve positive Ebitda by FY2022, given the steepening of the vaccination curve and Genting's proven track record in managing integrated resorts globally," it added.
The research house only expects the integrated resort to turn a profit from FY2024.
Fitch Ratings — which assigned a "BBB" rating on the senior unsecured notes of Genting's indirect wholly-owned subsidiaries Resorts World Las Vegas LCC and RWLV Capital Inc — shares a similar view. The rating agency says the pandemic will likely delay operational ramp-up and is expecting inbound flights and demand for large-scale conventions in Las Vegas to remain soft this year.
"We estimate aggregate revenue for Las Vegas Strip operators will only recover to 90% of 2019 levels by end-2023, and expect RWLV to reach a fully ramped-up Ebitda of US$350 million by end-2024," it said in its March 28 commentary.
While the projections do not look great at the moment, perhaps there will be a silver lining for Genting. According to the Las Vegas Convention and Visitors Authority, February saw 1.54 million visitors, representing a month-on-month (m-o-m) increase of 18.9%. The agency attributed the rise in visitor volume to vaccine rollouts and continued protocols that have helped bring under control spikes in Covid-19 cases, which happened in December last year and January this year.
But on a year-on-year basis, the number of visitors to Las Vegas was lower by 53.8%, with the total number of visitors amounting to 3.33 million in February 2020.
Other initial positive signs include the increase in weekend occupancy to 62.8% from the previous month, and the improvement in Las Vegas Strip occupancy to 41.5% from 31% previously. This meant that the average daily room rate on the Las Vegas Strip had inched up 7.8% m-o-m to US$104.04.
In tandem with the increase in visitors, gaming revenue on the Las Vegas Strip also saw an improvement, up 8.4% m-o-m to US$348.46 million.
It is worth noting that the Covid-19 vaccination rollout in the US has been progressing well. Data provided by the Centers for Disease Control and Prevention (CDC) shows that 89.25 million people, or 26.9% of the total US population, had been fully vaccinated as at April 22.
Clark County — of which Las Vegas is a part — reported the highest number of completed vaccinations in the state of Nevada at 561,485 out of 756,742 as at April 21.
Meanwhile, the CDC reported that the number of new daily Covid-19 cases in the US had subsided substantially from the spike in January, which peaked at 313,310 cases per day. As at April 21, the number of new daily cases amounted to 62,827, of which Nevada contributed 436.
Should all these factors continue to hold up, it bodes well for the Las Vegas Strip operators, who rely heavily on domestic tourists.
RHB Research noted that prior to the pandemic, total revenue of the Las Vegas Strip had been growing steadily at a 10-year compound annual growth rate of 3% to reach US$18.5 billion in 2019, indicating that while competitive, it is still an attractive place for RWLV to be. "Moving forward, some notable projects there such as the Las Vegas Convention Centre's expansion, a new 18,000-seat music arena at the Venetian, the Allegiant Stadium, and the Vegas Loop can lead to higher footfall for RWLV," it added.
Genting's share price closed at RM4.95 last Thursday, valuing the group at RM19 billion. In the last six months, the counter had risen 63% from RM3.02 on Oct 23, 2020, as it is seen as a recovery play by investors.
Apart from its 52.7% stake in Genting Singapore, the conglomerate is also the parent of Bursa Malaysia-listed Genting Malaysia Bhd (49.5%) and Genting Plantations Bhd (55.4%), as well as privately held Genting Energy Ltd (100%).
In FY2020, Genting slipped into a net loss of RM2.1 billion as revenue halved to RM11.6 billion from the previous year. Its leisure and hospitality segment, which contributes the most to revenue and earnings, took a beating from the pandemic, falling 58% from FY2019.