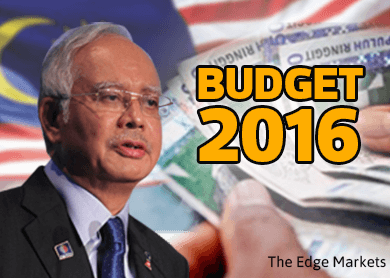 KUALA LUMPUR (June 15): Prime Minister Datuk Seri Najib Tun Razak said the 2016 Budget Consultation Council meeting at Putrjaya earlier today was a good platform to get views from representatives of various industries on government finances.
 
Najib said via Twitter everyone at the meeting agreed that Malaysia's national budget had to be "inclusive".
 
"It was a good session with representatives of various sectors this morning for Budget 2016. All agreed the budget had to be inclusive," Najib said.
At the meeting, Bernama quoted Najib as saying Budget 2016 would be tabled at Parliament on October 23, 2015.
Najib, who is also finance minister, said the budget would focus on strengthening growth, enhancing inclusiveness and ensuring fiscal sustainability. It will be the first budget to be tabled under the 11th Malaysia Plan (11MP).
"The macro targets and broad strategies outlined in the 11MP will be realised through the annual budget," he was quoted as saying.
Najib said he was confident of achieving the gross national income per capita target of US$15,000 (RM56,516) and that the government needed to manage the distribution of wealth in an equitable manner.
He said wealth distribution would be based on the people and capital economy approach moving forward.
"Moving forward, this approach would be the backbone for formulating our annual budgets," he said.