This article first appeared in The Edge Financial Daily, on July 9, 2018.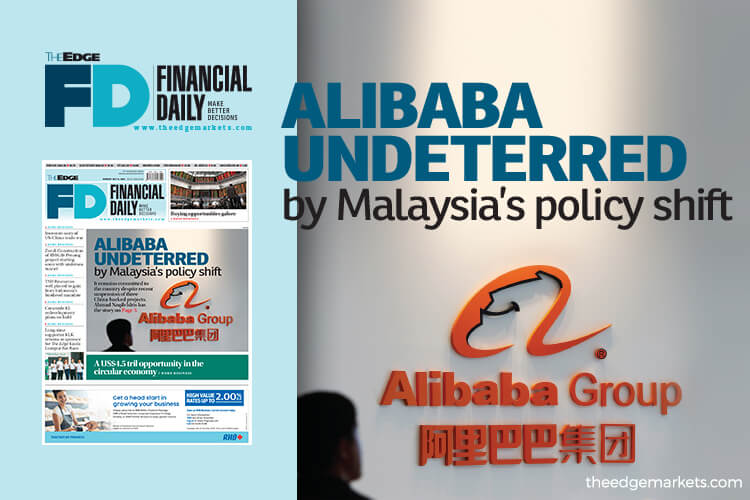 HANGZHOU (China): Chinese e-commerce giant Alibaba Group Holding Ltd said it remains committed to its plans in Malaysia despite uncertainty created by the Malaysian government's review of megaprojects awarded by the previous administration.
Alibaba's chief representative in Malaysia James Song said the group is still committed to its investments in Malaysia, noting that concern about relations between Malaysia and China was one of the main reasons for Alibaba founder and executive chairman Jack Ma's recent visit to Kuala Lumpur in conjunction with the opening of the group's office in Bangsar South.
He believes that bilateral relations between Malaysia and China remain positive.
Song's remarks follow reports that Malaysia has suspended three major China-backed projects worth billions of dollars namely the controversial East Coast Rail Link (ECRL) and two pipeline projects under Suria Strategic Energy Resources Sdn Bhd.
"That was why Jack [Ma] paid a visit to Malaysia [on June 18]. He spoke with the [Malaysian] prime minister and also had the chance to speak to several ministers from the ministries of finance, and communications and multimedia," Song told reporters during a media familiarisation trip here last week, held in conjunction with the launch of Malaysia Week.
"Based on our meetings, it proves that there is nothing wrong in the bilateral relations between Malaysia and China. As a commercial company, we will invest a lot in Malaysia so we pay a lot of attention to the bilateral relationship," he added.
Finance Minister Lim Guan Eng said the suspension notice was issued last Tuesday via the Ministry of Finance Inc, on the instruction of Prime Minister Tun Dr Mahathir Mohamad, which is effective until further notice.
Dr Mahathir had said that he will be looking to reduce the interest rates relating to loans that have been drawn down for the ECRL and gas pipeline projects during a meeting with Chinese President Xi Jinping next month.
Besides Alibaba, Song said several other companies are also concerned over the recent developments, but said there are no "negative signs" between China and Malaysia.
"We are very positive about the bilateral relationship and at the same time we are confident in Malaysia's future and our projects in the country. We have never changed our commitment to the local people and we will continue to do that," said Song.
To date, Alibaba's investment in Malaysia has reached US$100 million (RM404 million), with Ma hinting at more investments to come.
The Chinese billionaire has made it clear that the group is not looking to acquire land or build infrastructure in Malaysia, but rather to develop technology and local capabilities.
Alibaba made its first significant venture into Malaysia via the partnership with the government for the Digital Free Trade Zone (DFTZ) and the Electronic World Trade Platform — launched in March last year — aimed at assisting small and medium enterprises in cross-border trading.
Besides that, there is also the construction of the RM800 million KLIA Aeropolis logistics hub via a joint venture between its logistics arm Cainiao Smart Logistics Network (Hong Kong) Ltd and Malaysia Airports Holdings Bhd, which is a key component of the DFTZ.