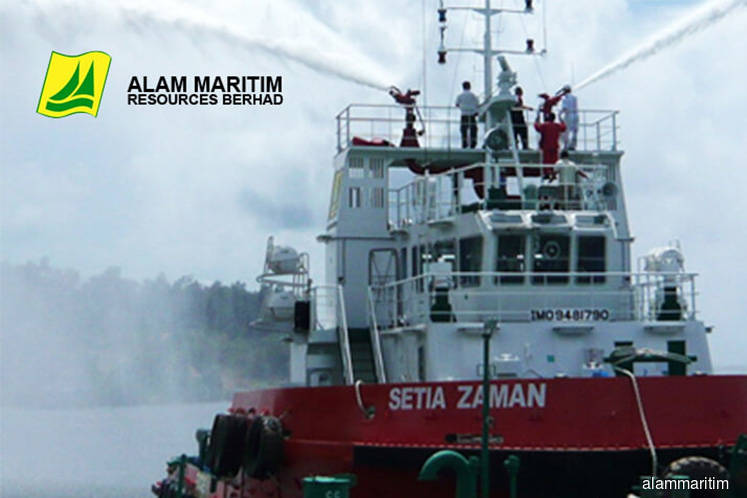 KUALA LUMPUR (June 27): Offshore support vessel (OSV) provider Alam Maritim Resources Bhd expects its vessel utilisation to pick up to 55%-60% this year and more than 70% in 2019. 
The vessel utilisation has plunged in the past few years, in line with weak offshore oil and gas (O&G) explorations. In 2015, the utilisation level averaged 63% and fell to 52% in 2016. However, its vessel utilisation has improved to 51% in in the first quarter ended March 31, 2018 (1QFY18), from 47% in 4QFY17.
Speaking to reporters after the group's annual general meeting today, Alam Maritim managing director and chief executive officer Datuk Azmi Ahmad said he expects the utilisation level to improve, supported by existing and new contracts.
The group is confident of securing another new contract from "a large O&G company that has local presence" by the third quarter of this year,  Azmi said, which will further boost its revenue and utilisation rate.
This is in addition to the RM226.08 million worth of OSV contracts that it had recently won from O&G companies and main contractors in Malaysia and the Middle East. The contracts are a mixture of short- and long-term ones, with a primary period of six months to three years.
On the potential contract, Azmi said the group is tendering an inspection, repair and maintenance (IRM) project, adding that the "the value of the entire project is higher than the contracts it had secured recently".
The potential project consists of three packages with different work scopes, and the work is carried out on an on-call basis, Azmi added.
Azmi also said Alam Maritim's tenderbook stands at RM1.2 billion, with an estimated success rate of between 10% and 15%.
Amid the challenging outlook for the OSV segment this year, the group is undertaking cost optimisation measures, including cutting down its fleet size to half from its current size in the long term and no new hiring to replace for any workers who have left the group.
Azmi said the group is also looking to dispose of its vessels that are more than 15 years old. It currently has a fleet of 42 vessels.
"We target to reduce our fleet size to 35 from 38 by the end of this year," he said, adding that the group had disposed of three barges for RM3 million.
On Alam Maritim's proposed restructuring scheme (PRS), Azmi said it is set to be completed by the third or fourth quarter of this year.
The current progress of the PRS is coming to a "tail end", waiting to sign a bilateral settlement between each borrowing entity and its respective lenders by amending and extending the terms and conditions of the existing borrowing/facilities, based on their respective cash flow forecast, he added.  
In April, Alam Maritim announced that the group and its subsidiaries, joint-venture (JV) companies and associated companies had received the requisite approval-in-principle to date from the respective lenders/financiers of 87% of the secured debt and the requisite approval-in-principle, representing 100% of the unsecured debt. 
Alam Maritim shares closed up one sen or 7.69% at 14 sen today, with 11.43 million shares done, bringing a market capitalisation of RM134.6 million.